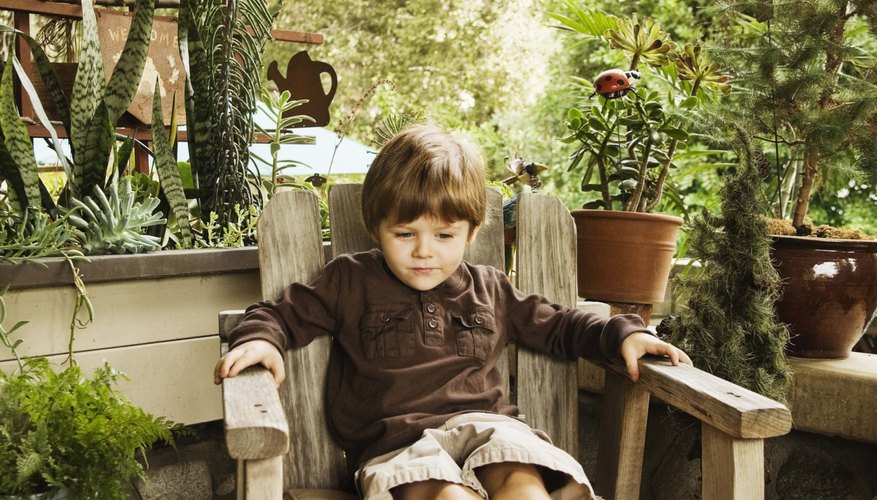 Sometimes children seem like perpetual motion machines. All that energy is great on the soccer field or playground, but it can make a classroom or dinner party hectic. Children find it hard to stay in a seat for a wide range of reasons. Toddlers and preschoolers may lack the self control necessary to stay in one place for very long. Older children may struggle with an attention deficit disorder. But there are many things that parents can do to help settle children down.
Comfort
The first thing to consider in keeping your child in his seat is the seat itself. Most furniture around the house is sized for adults. Children sitting in adult-sized chairs experience discomfort. Little legs dangle in thin air. The back of the chair may be too far away. The chair itself may be too hard or too soft. Make sure that your child sits in a chair the right size. If you don't have a chair exactly the right size, secure a child seat to the chair to make a seat that fits your child.
Modeling
Teaching your child proper behavior means modeling good behavior yourself. If you, as the parent, are constantly leaving the table to get food, toys or other necessary things, your child learns that getting up from the table is proper. So stop and think ahead. Make sure that you have everything for your meal or lesson before sitting down. It is also helpful to have other children model good behavior for the child. Siblings or friends can help model good behavior for your child.
Incentives
Help your child see the advantages of staying in her chair with incentives. Incentives aren't bribes. They shouldn't be large or expensive. Instead, start with praise. Say: "What a good job you are doing staying at the table tonight," or "Look how many puzzles you could do when you stay in your seat." These statements point out your child's accomplishments. For longer term rewards, hang a calendar low enough for the child to reach. Let him add a sticker every day that he stays in his seat. When he earns a specific number of stickers, he wins a trip to the park or special time with Mom or Dad.
Consequences
Part of learning proper behavior is learning the consequences of improper behavior. Set specific consequences for children who leave their seats. Tell your child: "Dinner isn't over. If you choose to get out of your seat, you won't get anything else to eat." But you must follow through with the consequences you set. If the child cries for a snack, you must let her wait until the next meal. This is how she learns to stay at the table during mealtimes.