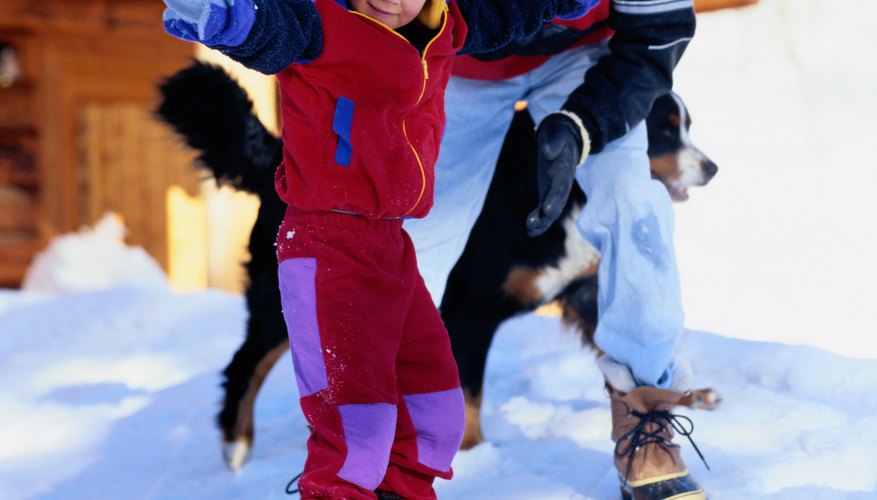 Snowboarding is an activity that the whole family can enjoy together. Snowboarding encourages children to be active while promoting development of gross motor skills and coordination. If you are planning to visit or live in the Long Island area, there are a number of different facilities within driving distance that offer beginner courses and snowboarding lessons for children of all ages.
Belleayre Mountain
Belleayre Mountain in Highmount, a ski and snowboarding facility, includes a number of different trails, parks, glades and lifts. It is the only center in the Catskill mountains to offer cat-skiing and boarding, offering off-trail experiences that can only be accessed by a snowcat. Belleayre Mountain features a learning zone for snowboarders ages 8 and up where instructors teach the basics, including equipment, balance in motion, sliding, turning and control. It also offers a full-day instructional kids' camp for snowboarders ages 7-12 from mid-December through the end of March. Belleayre Mountain is approximately a three-hour drive from Long Island.
Sawkill Family Ski Center
Located in Kingston, NY, roughly 2 1/2 hours away from Long Island, the Sawkill Family Ski Center offers a complete ski and snowboarding facility that's open for winter fun from December to March. Included in Sawkill Ski Center is a ski and snowboard shop where you can rent or buy new or gently used equipment including snowboards, boots and helmets. Children of all ages can take private snowboarding or group lessons, offered the children ages 12 and up. The Sawkill Family Ski Center also features a snow tubing run and a snack bar. Purchase passes for a whole or half day, with discounted rates offered for kids 12 and under.
Tuxedo Ridge
The Tuxedo Ridge Ski Center at Sterling Forest in Hudson Valley is located less than two hours from Long Island, providing a beginner area and seven trails, a snow tubing park and a pro shop with a full rental service department. It also features a cafeteria and picnic tables in and near a lodge called the Warming Hut. Tuxedo Ridge offers a ski school that provides group lessons to snowboarders ages 7 and older, while children as young as 3 can take private lessons with instructors.
Holiday Mountain
Approximately 2 1/2 hours from Long Island in Monticello, the Holiday Mountain Ski and Fun Park is specifically geared toward providing ski and snowboarding experiences to families. It features seven trails that vary in skill level as well as a "magic carpet" area for beginners. Holiday Mountain caters to kids who are learning to snowboard and ski. Children can participate in snowboarding lessons beginning at age 3 1/2. Private, semi-private and group lessons are available depending on the age of the child. Holiday Mountain also offers a ski and snowboarding club that teaches children ages 8 and older how to safely enjoy the slopes. Kids can attend the program beginning in December, and participate in classes and races every weekend throughout the season.