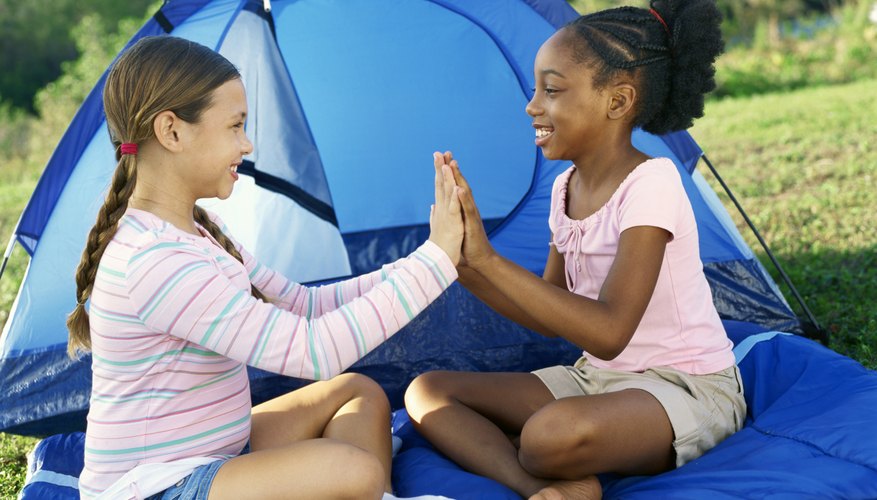 If you're planning to pack the kids off to summer camp sometime soon, you'd better start saving your pennies. While the cost of overnight camp can vary widely from state to state and camp to camp, it's still going to cost you in the hundreds -- or even thousands -- to leave your little ones there for any length of time. But since kids typically learn new skills, spend a lot of time outside and come back with a host of new, fun friends, the cost may be well worth it.
Average Cost
According to a 2012 report from the American Camp Association, the average cost for an overnight camp is about $690 per week. On the higher end, camps can cost as much as $2,000 per week. Sure, that's a pretty penny, but according to the ACA, parents report that kids tend to gain more self-confidence by attending camp, show more leadership skills, get more adventurous and increase their social skills when attending.
For-Profit vs Non-Profit
If you're looking for a camp that is less likely to burn your entire summer budget in a single week, aim for the camps run by non-profits such as the YMCA, Girl Scouts or a local church, advises the online Summer Camp Handbook. Non-profit groups are in it for the kids' experience, while for-profit camps are in it to make money, reminds the Summer Camp Handbook. Generally, non-profit groups will offer a wide range of activities such as swimming, archery or horseback riding, while for-profit camps tend to specialize in one area, such as dance or baseball.
Extras
While the fees of camp is the first cost to consider, you'll also need to keep the extras in mind. Your child is likely to need her own sleeping bag, toiletries, proper footwear for the outdoors, a headlamp and other outdoor gear when she heads to camp. Depending on what you already have around the house, you may need to invest an additional $50 to $200 on gear she'll need before she goes. Some camps also offer a camp store where campers can buy t-shirts, hoodies and other camp souvenirs, so if this is something your child might want, budget accordingly.
Financial Assistance
If the costs are starting to add up and you don't think you can afford the expense, you may have options to help you out. According to the ACA, about 90 percent of ACA-accredited camps offer some type of financial aid for families who can't afford camp, have medical needs or have other special circumstances that would keep them from attending. Check with the camp itself for details, but generally, you have to apply early to be approved for scholarships or other assistance.