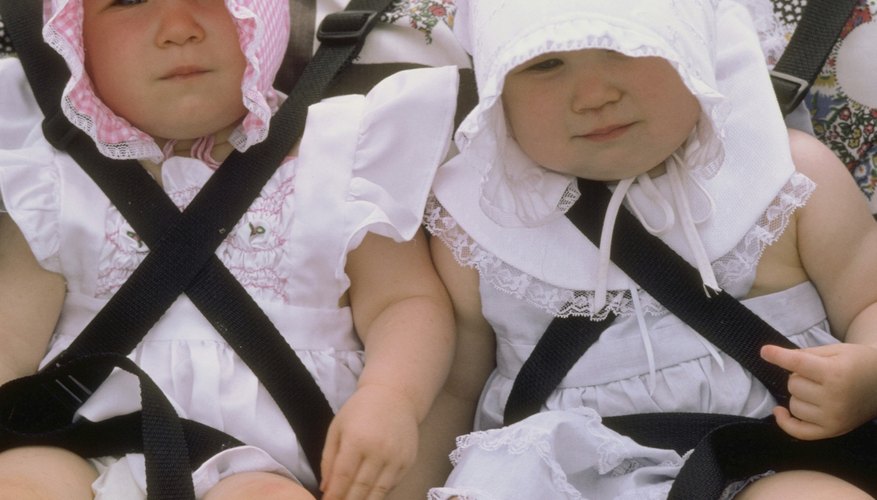 Double strollers can make pushing twins or two children who are close in age a breeze. However, double strollers can also be expensive, especially for a family raising two small children. Umbrella strollers are inexpensive and lightweight, making them easy to use and transport. Joining two umbrella strollers together with stroller connectors can create a makeshift double stroller for little cost.
Buy two umbrella strollers. If possible, buy the exact same make and model. This will make it easier for you to line up your strollers to connect them. If not, buy strollers that are similar in height and have a similar frame.
Buy stroller connectors. These are plastic clips that are typically sold in packages of two or three. You should only need one package.
Line up your umbrella strollers side by side.
Clip a stroller connector to the inside handle. Most clips come in two parts. Hook one part around the handle on each stroller, and then snap the other part into place on the other side of the handle to join the strollers.
Clip another stroller connector to the bar on the inside back wheels of each of the strollers. If you have a third connector, clip it to the bar on the inside front wheels of each of the strollers.
Things You Will Need
Two umbrella strollers
Stroller connectors
Tip
Disconnect the stroller connectors before trying to collapse the strollers.
Use the same process to connect a third umbrella stroller.
Warning
Do not use bungee cords or other improvisational items to connect your strollers. They can shift when the strollers are in motion, causing the strollers to move into one another and become entwined.
Do not put an infant who cannot hold up his head in an umbrella stroller. Only older children should be put in an umbrella stroller.