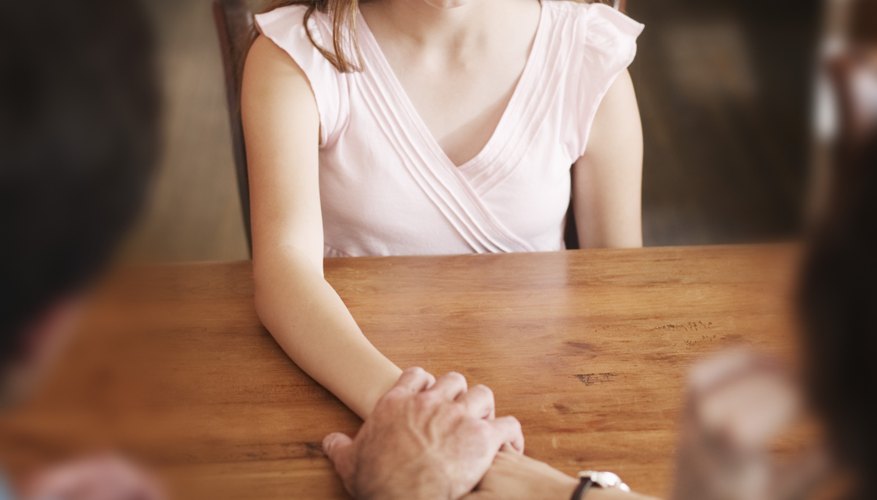 Sexual abuse is frightening and alarming. As unpleasant as it is, you must approach this topic head-on if you have concerns about your child's safety. Proceed carefully and calmly if you suspect abuse. The conversation you have with your child about inappropriate touching should not cause your her additional anxiety as this can make a difficult situation even worse.
Choose the time and the place for your conversation carefully, advises the Rape Abuse and Incest National Network. Both your child and you should feel relaxed and unhurried and you should have privacy. The time you choose for your discussion should give you ample time to have the entire conversation without interruption.
Use a calm tone when you speak to your child about inappropriate touching. Also, maintain a relaxed demeanor so you don't project anxiety to your child, recommends the National Child Traumatic Stress Network.
Ask your child if anyone touched him in a way that made him feel nervous, uncomfortable or frightened. Avoid asking if anyone hurt him because it's possible that he didn't feel pain when he was touched inappropriately.
Explore the differences between good and bad touches so your child understands. Give your child examples of good touches like a friendly hug or holding hands. Discuss bad touches, explaining that bad and inappropriate touches are those that hurt, or make you feel uncomfortable or embarrassed. Discuss that if a person touches your child's private parts, it can be a bad touch.
Reassure your child that keeping secrets isn't necessary -- even if someone urged or directed her to do so, suggests the U. S. Department of Justice National Sex Offender Public Website. Keep in mind that an abuser might instruct a child to keep all incidents a secret, threatening her the she will get in trouble if she tells anyone or that it would hurt or upset him if she tells. In such cases, your child might feel anxious about revealing this information.
Tip
If your child shares alarming information about inappropriate touching, keep calm and listen to everything she tells you. Tell your child "thank you" for trusting you with the information and promise that you will help and support her. Contact authorities immediately to get help.