Fun Things to Do for a Teen Birthday Party in Charlotte, NC
Parks
Enjoy the beauty of Charlotte and organize an outdoor event. Plan a birthday picnic for your teen at Independence Park, which offers 19 acres of amenities to entertain your teenager's party guests. Keep sports lovers busy with the baseball fields, tennis courts, basketball courts and volleyball courts. The park has shelters available for reservations that are equipped with seating, grills and electricity upon request. Reedy Creek Park -- a 146-acre park and nature center -- provides a beautiful outdoor setting for your teen's celebration. Picnic shelters -- including one indoor shelter -- are available for reservations. Choose activities for your guests and bring your own gear for fishing, disc golf, volleyball, cricket or soccer.
Bowling
Bowling alleys in Charlotte make party planning easy by offering packages and services to accommodate your guests. Plan your party with Strike City and entertain your teen's guests with a game of bowling, food from the venue's award-winning restaurant and sports games that are showcased on large screen televisions. AMF Centennial Lanes provides birthday party packages to help plan your event. The packages include bowling, shoe rental and food to provide your teen with everything his guests need for a memorable birthday celebration.
Banquet Halls
A banquet hall is an excellent location choice for milestone birthday celebrations such as sweet 16 parties, quinceanera celebrations or bar mitzvahs. The ample space provided by a banquet hall allows the versatility for customizing your teen's party with a dance floor, sit-down dinner or buffet-style meal. South Charlotte Banquet Center has available space for up to 250 people. The venue also has a warming kitchen on the premises for your caterers. Banquet Hall Charlotte is located at Country Hearth Inn and Suites. In addition to the banquet hall, a large pool and picnic area are available for use. Both facilities provide recommendations for services such as photographers, caterers and music.
Family Fun
Charlotte's family fun centers and amusement parks make birthday parties an exhilarating experience. Adventure Landing has attractions such as mini-golf, go-karts, bumper boats and an arcade. The venue offers a party package specifically for teenage parties. The package includes activities, arcade tokens, food and fountain beverages. Add-ons are available for an additional charge. Carowinds amusement park has rides, a water park, live entertainment and food. Thrill-seekers will race to ride on one of the park's roller coasters such as the Carolina Cobra or the Intimidator. The water rides will cool down your teen's guests on warm summer days. Group pricing is available for parties as small as 15 guests.
Places in Fargo, North Dakota for Teens to Have Their Birthday Party
YMCA
Let your teen's friends run around and burn off some energy at the birthday party you are planning. Two YMCA facilities in Fargo provide party packages and rentals. The Fercho YMCA has a gym, a swimming pool and a XerZone area that offers Dance Dance Revolution, Wii access, Xbox connect and other activities. The Schlossman YMCA has an XerZone area that offers the same amenities as the Fercho branch, but it also has pingpong, air hockey and foosball tables. This venue also has a climbing wall and a basketball gym.
Bowling
The Bowler has 24 lanes, an arcade and a restaurant. The venue is available for birthday parties. Red River Lanes has facilities available to host a teen party. It also offers Extreme Bowling on Friday and Saturday nights when guests can watch music videos while they bowl. West Acres Bowl is complete with 32 lanes and the bowling alley accepts reservations for birthday parties.
Avalon Events Center
Avalon Events Center is a venue in downtown Fargo that can handle birthday parties, including bar or bat mitzvahs. The venue has room choices available for parties as small as 10 people or as large as 325 people. Birthday parties hosted at the Avalon Events Center allow you to rent a DJ or hire a band to dance the night away. The venue also helps organize catering to help you plan the special event with ease.
Thunder Road Family Fun Park
When planning a birthday party in the summer months, Thunder Road Family Fun Park is a place to host a teenager's birthday party. The venue has an assortment of activities, including an arcade, laser tag, mini golf, bumper cars, batting cages and go-carts. The venue also has party packages to help you plan the event with ease. The park is open May through September and the staff will reschedule in case of inclement weather.
18th Birthday Party Ideas for Teen Girls
Surprise
Milestone birthdays usually call for a surprise party. A surprise 18th, however, is risky, since you will have to convince all her friends to keep quiet. Also, the guest of honour may have such a busy schedule, it may be difficult for her to find time for the party. Your best bet is to hold the party at a friend or neighbour's house, so you can decorate without attracting too much attention from the birthday girl. Come up with a creative reason to get her to the location, but don't act too suspicious so you will not tip your hand.
Sophisticated
Help your 18-year-old ease into adulthood with a sophisticated bash. Hire a limousine to pick her and a few of her closest girfriends up at your house. Reserve a room or suite at a hotel for them to party throughout the night. You may want to reserve an adjoining room so you can keep an eye on things to ensure no one gets out of hand. Have room service deliver snacks and the birthday cake to the suite. Look for a hotel that has plenty of fun on-site options, such as a swimming pool or jacuzzi.
Over The Top
If your daughter did not get a Sweet 16 party, her 18th birthday may be the time to throw her that once-in-a-lifetime, over-the-top party. Rent a reception hall for the evening and hire a band or deejay. Cater the party and hire waiters to pass appetizers and nonalcoholic drinks. Tell the guests to dress up as much as they can and buy your daughter a special dress or outfit. If you want to continue the over-the-top theme, pick out an elaborate birthday present, such as a new car or vacation.
Adventure
Some 18-year-olds will appreciate a party that lets them get in touch with their wild side. If your teenager is a thrill seeker, consider throwing her a party that lets her run around and explore. You could send her and several of her friends white water rafting or rock climbing. Give her party a twist on the old sleepover and reserve a campsite for her and her friends. Bring along an extra tent for yourself.
Camouflage & Hunting Birthday Party Ideas for Kids
Invitations
Your invitation is the first indication that guests will have of the camo or hunting theme of your party. Send guests invitations that are printed on camouflage card stock. Another option is to use colored card stock with camouflage stickers or a camouflage tattoo. For an added touch, include the time on the invitation in military time. You may also want to ask guests to come dressed up in camouflage or army garb.
Venue
A camping destination may provide an appropriate backdrop for your hunting themed party. Lakes, ponds, community parks or state parks provide other natural options. A banquet room may be available at a local hunting lodge, military museum or veterans' center. With enough creativity, you can transform your living room or backyard into a hunting-themed space.
Decorations
Decorate the venue with camouflage-colored balloons, tablecloths and decorative paper. As an alternative, use brown, black, green and tan colored items for a similar effect. Tear up green and black butcher paper into small and large sections to form do-it-yourself tablecloths. Camouflage in more feminine colors is also available for girl birthday parties. Duck calls can hang around stair banisters or tree branches. Stream crepe paper from the ceiling or around rails. If the party is outside, prop up some tents for your guests and hang lanterns on branches. If the party is indoors, make centerpieces out of branches in galvanized buckets or bowls full of rocks, moss and pine cones.
Activities
The activity portion of the event helps you to bring out the camo or hunting theme. Take the kids fishing off the bank or teach them how to use duck callers while traipsing through the woods. Set up an obstacle course for the kids like they are going through basic training. Make some smores and tell scary stories around the campfire.
Food
Cookie cutters can help you cut baked goods into ducks, trees, tractors or other shapes. Add some green and brown icing to finish them off. Another option is to serve foods that are the same colors as camouflage colors, such as vegetables. Present foods in trays to look like rations. Finish the event with a camo themed cake.
Places to Have a 40th Birthday Party
Boat
If you are near water, you can have a 40th birthday party on a boat. You can rent a boat for the day, or you can book a party on a sunset cruise. There are many companies that rent boats you can take out yourself or that let you book parties on their boats. Check around for the best deal.
Casino
A casino can be a good choice for a 40th birthday party. You can fly to Las Vegas, or you can hold the party at a nearby casino. Check with casinos to see if they have party rooms for rent or party packages available. If there is no casino nearby, you can rent blackjack and roulette tables and turn your party into a casino game night.
Restaurant
For a more traditional 40th birthday party, rent a room at a local restaurant. Make the party more personal by choosing a favorite restaurant or one with special meaning. For example, if the birthday celebrant has always dreamed of going to Paris, book a room at a French restaurant and ask people to come dressed in French attire.
Museum
Consider booking a local museum to host a truly historical 40th birthday celebration. Many museums rent rooms for private events, and this could make for a truly unique party venue. Choose a museum that fits the guest of honor's interests.
Where to Have Birthday Parties for Kids in Orland Park, Illinois
Pump It Up
Pump It Up is an indoor play center for children. It features inflatable play structures and obstacle courses on which kids can jump, slide and climb. Pump It Up in Orland Park offers party packages, which include use of a party room for birthday celebrations and food. Party guests can play in the facility's play areas from 90 minutes to two hours, depending on the party package that you choose. Fourteen to 25 children can attend the event. You will be given the option of purchasing pizza, balloons and treat bags. You may bring your own birthday cake.
Arctic Ice Arena
Arctic Ice Arena in Orland Park also has birthday party packages. Purchase of a party package includes admission for a minimum of 10 guests to the ice arena during open skate times, skate rentals and use of a party room. The party rooms are available on Fridays, Saturdays and Sundays. In the party room, guests will be given pizza and soda. Hosts may also provide each guest with game tokens that can be used in the arcade located on the premises. Additionally, the whole ice rink may be rented for a private party if you do not wish for your party guests to participate in open skate.
Centennial Park Aquatic Center
The Centennial Park Aquatic Center in Orland Park offers pool party packages, which are called "Splash Parties." Up to 25 guests may attend a Splash Party. In addition to admission to the pool for each guest, the party package includes 90 minutes of party time in the nearby party pavilion. Guests will be served pizza or hot dogs and soda in souvenir bottles. Party hosts may bring birthday cake and decorations to the pavilion.
Space Golf
Space Golf is an outer space themed indoor miniature golf center in Orland Park. It also has an arcade with video games. Space Golf offers a standard and a deluxe party package. Both packages provide for up to 10 guests and impose a fee for each additional guest. They also include use of a private party room, a round of glow-in-the-dark miniature golf for all of the party guests, party invitations and game tokens for guests. Additionally, the deluxe package includes pizza and soda. You may bring birthday cakes or cupcakes to the venue.
Cheap Birthday Party Ideas for 16-Year-Olds
DVD Party
Supplying popcorn, pretzels, other snacks and drinks is all that is needed to make a DVD party a success. Grab a dozen or so of the latest movies from the $1 rental box and borrow several DVD players and TVs from friends. Set up all the machines in the designated party room and have multiple movies playing at once. Give each partygoer a list of phrases, objects or people in the various movies and make a scavenger game of it. The person who first spots the listed item gets credit, and the winner gets a token prize.
Sweet 16 Scavenger Hunt
Send the partygoers out into the community on a "Sweet 16" scavenger hunt. Have all the items revolve around "16." For instance, have one of the scavenger items be something from the supermarket with "sixteen" or "16" on the label. Other ideas would be 16 discarded movie tickets, a birthday card signed by 16 strangers, and 16 coins dated with the birthday's child's birth year.
Fast-Food Surprise
Make arrangements in advance with a local fast-food restaurant that has a semi-private section. Have friends and family agree to keep it a secret, and spring a surprise birthday party on your 16-year-old, who will think you're just taking him for a hamburger. Have balloons and banners hung up with everyone shouting "happy birthday" as you escort him into the restaurant. With everyone ordering on their own from the menu, the cost for decorations will be your only expense.
Picnic Party
An old-fashioned picnic party in a local park with the guests bringing baskets of food spreads the costs out for everyone. Blankets to sit on and lemonade and soda to drink round out the party. Frisbees to chase and catch, a football to toss around and a even a beanbag toss works off excessive teenage energy. If the birthday falls during the winter then a creative approach to the location pays off. A church gym is ideal and if you're a church member it is often available for free.
Places to Have a Child's Birthday Party in Richmond, VA
Active Birthday Parties
If the kids are full of energy, a birthday party at Master Yi's Taekwondo and Martial Arts (masteryitkd.com) may be up your alley. Not only will the kids dine on the typical party fare of pizza, soda pop, snacks and birthday cake, but they will also get to participate in board breaking. Children ages 3 and older are also welcome to visit the gym at Twist Gymnastics (twistgymnastics.com). Birthday parties are 90 minutes, with an hour of that time spent taking on obstacle courses and jumping on trampolines. Instructors lead games and other activities for birthday party participants.
Hobby Birthday Parties
Maybe your little one is less active but still looking forward to an engaging birthday party. Melody Magic Music Studio (melodymagicmusic.com) can engage your child with dance, stories and music. Unusual objects like balls, parachutes and hula hoops are used, and parents can pick themes for the child's party, such as "A Trip to the Zoo" or "Rock/Pop Star." Parties last a total of two hours, including clean-up. If your little one is a budding chef, Young Chef's Academy (youngchefsacademy.com) may also be a treat. All of the children spend 90 minutes participating in cooking activities, making creations ranging from edible microphones to pink pizza and pink lemonade.
Unusual Birthday Parties
If your child has a taste for history, head to Maymont Mansion (maymont.org), which was built in the 1890s. The kids will get to interact with animals, tour the mansion and get a ride on a horse-drawn carriage. Parents can also choose specific party packages, so kids can enjoy afternoon tea and lemonade at a Victorian tea party or visit the nature center and its exhibits. If packing up the kids seems like a hassle, the Fun Bus (funbuses.com) can bring the party to your house. The bus is a converted seatless school bus filled with gym accessories and toys. Instructors lead classes while the bus is parked.
Sports and Game Parties
If your child eats, breathes and drinks sports, a birthday party at the Sports Center of Richmond (scor-richmond.com) may be the best choice. All birthday parties include an hour of sports on the field for 10 children, as well as a t-shirt for each child. During the summer, parents can also choose a party package that allows the kids to play water games on the field. If something a little more relaxed sounds enticing, Patterson Sports Park (pattersonsportspark.com) can seat up to 80 people in its pavilion. Participants can play miniature golf or head to the driving range. Different packages are available to customize your child's birthday party.
Etiquette for a Father-Daughter Birthday Dinner
Schedule
As the organizer of the father-daughter birthday dinner, you are responsible for scheduling the event and giving guests proper notice so that they can attend. Whether you're hosting the event at a restaurant or in your home, you should give your guests at least a few days' notice, according to etiquette expert Emily Post. Doing so ensures that guests can attend and make proper arrangements, such as babysitters, if necessary. If you're celebrating the birthdays at a popular restaurant, you might want to make the plans even further in advance to secure reservations on the proper time and date.
Payment
If the father-daughter birthday dinner is outside of your home, you might wonder who is responsible for paying for the dinner. Emily Post explains that the birthday guy and gal should not have to pick up their own tab. As the party organizer, you can pay their way or you can have guests chip in to cover the meal for the father and daughter. However, in a public space, you do not have to worry about paying for your guests' meals. If you host the dinner in your home, the cost of food is yours, unless you set up a potluck where everyone contributes a dish.
Gifts
Gifts are a thoughtful way to send the father and daughter birthday wishes. While you might choose to get each guest of honor a special gift, do not ask or expect your party guests to do the same. Some may opt to bring a gift, but your party invitation should not mention gifts -- either by requesting them or instructing guests not to bring them. Leave the gift decision making up to your guests.
Guest List
When you're planning a joint party, you want to welcome friends of both the father and the daughter to celebrate their birthdays. If you're inviting children from your daughter's school, do not hand out the invitations in the classroom unless you're inviting the entire class. Likewise, if you're only inviting a few of the father's coworkers, stick to mailed invitations to avoid excluding certain coworkers or friends.
Fun surprise birthday ideas
Surprise Birthdays For Adults
For a birthday girl that may feel a bit down because she is getting older, consider a birthday party theme that celebrates all the "cool" things that are linked to the generation she comes from. For instance, the decade she went to high school or college would be a good choice. Host a dinner at the recipient's favourite restaurant or outdoor setting. There are a variety of venues you can consider as a location for an adult birthday celebration including a playhouse, if the recipient enjoys the theatre, or a park if the recipient is the outdoorsy type. Since it is often difficult to actually surprise an adult, one approach would be to hold this party the day before the actual birthday.
Surprise Birthdays For Children
For a child, a themed birthday party can be a fun approach to take. For example, you might do a party that reflects his favourite superhero or includes characters from his favourite television program. A Sesame Street theme can be the perfect way to celebrate an upcoming birthday. For the surprise, hire a children's party entertainer or rent a costume from a party shop that matches your theme. Then an adult can dress up and come running out to surprise your child with his favourite character at his party.
Surprise Birthdays for Teens
As any parent knows, most teens are focused on friends and therefore no birthday party would be complete without inviting your teen's friends. While it isn't always easy to judge what type of party your teen might like, there are a few ideas that you can use to plan a teen birthday party. One approach is to plan a surprise birthday party at your teen's favourite hangout, whether that's a skating ring, bowling alley or his favourite restaurant. Arrange it so your teen's friends just seem to be taking him to that place, and then you and the rest of the guests can spring the surprise.
Seniors
Most seniors who are having a birthday want to have their friends and family gather for the occasion. A good approach would be to treat the birthday as a kind of family reunion, with guests and activities that are geared toward allowing the recipient to reminisce. This can include a surprise "this is your life" kind of approach in which friends and family relate anecdotes about the guest of honor's life.
Things to do for a teenage girl's birthday
Slumber Party
Throw a slumber party for your teenager's birthday. That way she can hang out with her friends all night long. Instruct your guests to bring sleeping bags and pillows. Set up the sleeping/party area in a family room or finished basement where the girls have plenty of room to play games, giggle and sleep. Supply a takeout dinner, such as pizza, as well as a variety of snacks like chips, pretzels, crackers and popcorn. Don't forget the birthday cake. Rent a bunch of chick flicks or scary movies for the kids to watch or let the girls play "Guitar Hero" or Wii games. Play classic slumber party games such as "Truth or Dare" or "Light as a Feather, Stiff as a Board." In the morning, have a breakfast of bagels or cold cereal for the girls.
Mall Scavenger Hunt
If your teenage daughter spends all her free time at the mall, arrange a mall scavenger hunt for her birthday. Divide your daughter and her friends into groups of partners. Make a list of information or items the kids must gather. Examples include: "Get the signature of a mall security guard," "Take a picture with a store mannequin that's wearing a green shirt," or "Find the funniest birthday card in the Hallmark store." If you expect the kids to buy items or take pictures, arm each team with money and a camera. The first group to complete all the tasks on the list wins. Give out a gift card to one of the mall stores as a prize. (See Reference 2.)
Makeover Party
Most teenage girls love make-up and looking pretty. Hold a makeover party for your daughter and her friends. You can throw this type of party three different ways. Invest in a bunch of facial masks, make-up samples, nail polish and hair products and let the girls give each other makeovers in your own home. Make an appointment at a salon to have professionals give the girls manicures and pedicures, style their hair and do their make-up for them. Or you can hire a hair stylist and make-up artist to come to your home to teach the girls about the correct way to apply make-up as they give the girls makeovers. Once everyone looks gorgeous go out for dinner and cake. (See Reference 1.)
Day at the Beach
Let your teenage daughter spend her birthday at the beach with her friends. Pack a cooler full of cold beverages, sandwiches and snacks. Bring plenty of sunscreen, towels, beach chairs and umbrellas. The kids can swim, sunbathe, build sandcastles, bury each other in the sand, play frisbee or volleyball and hang out with their friends --- not a bad way to spend a birthday. If your teen's birthday falls during the winter months, bring the beach indoors. Crank up the heat, have everyone wear their swimsuits and decorate with blow-up pool toys. Kids can hang out, listen to music, play video games or watch beach movies.
Places to Have Children's Birthday Parties in Ohio
Outdoor Entertainment Venue
For a party group full of energy, plan a birthday party at an outdoor entertainment venue in Ohio. At the Magic Mountain Fun Centers in Columbus, Ohio, birthday party guests can ride around in go-karts, play a round of miniature golf or laser tag, ride the bumper boats and play in the KidsGym Climbing Playland or the video arcade. The Memphis Kiddie Park in Brooklyn, Ohio, offers miniature golf, train rides, a carousel and other kiddie rides. Both venues have party packages that include unlimited access to the attractions throughout the party, along with food and beverages for your whole party and a gift for the birthday child.
Science Center or Discovery Museum
For a group of children with inquisitive minds, host a birthday party at a venue that combines learning with entertainment. The Boonshoft Museum of Discovery in Dayton, Ohio, includes exhibits,such as the PNC Be Green House, which shows visitors how natural resources can be incorporated into architecture, engineering and construction, and the African Room, with African artifacts and a mummy. The Center of Science and Industry in Columbus, Ohio, is home to exhibits with mazes, a hands-on laboratory and Morse code machines. Both centers offer a variety of themed packages to cater the party to the age and size of the group.
Ship Party
For something a bit different, host a birthday party on a ship. Parents can arrange a birthday party for young children aboard the Santa Maria with up to 20 guests. The hour-and-a-half-long pirate party includes a tour of the ship, a felt pirate hat for each guest, pirate-themed birthday cake, party supplies, a treasure hunt, games and loot bags. Children are welcome to explore the ship under the supervision of accompanying adults; on board, they can learn about swabbing decks and climbing ship ladders.
Zoo Party
Consider a birthday party at the zoo for an animal-loving birthday child. Many zoos remain open throughout the year, offering animal exhibits, train rides, simulated safari rides, tropical rainstorms, face painting, carousels and interactive play areas. For children between the ages of two and 12, the Cleveland Metroparks Zoo offers two-hour party packages that include a private party area, pizza lunch and a gift for the birthday child. Birthday party packages at the Toledo Zoo include 90 minutes at the zoo, a private party room, pizza and birthday cake, souvenirs for each guest and games led by a staff party host.
Cheap Birthday Ideas for a 4 Year Old
Barbecue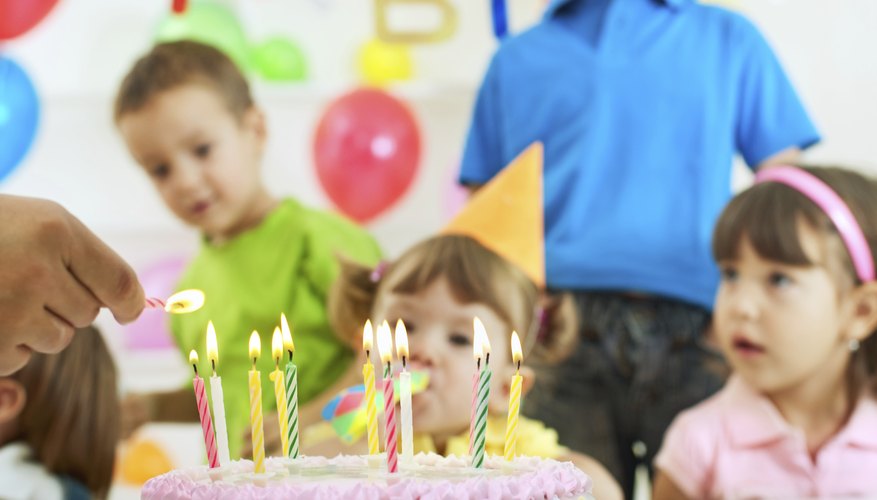 If your child's birthday falls in a warmer month, such as June or July, celebrate with a Barbecue. Find a park in your neighborhood with plenty of benches and a playground. Since you can use the park for free you only pay for food, gifts and decorations. Throw some hot dogs and hamburgers on the grill and enjoy a meal for cheap without the added costs of servers and chefs. Bake the birthday cake yourself using store-bought mix and icing. Visit your nearest dollar store and buy plenty of decorations like balloons and streamers at just $1 each. Your child won't know how much you spent, but he'll have fun with his friends and family no matter what.
Pot Luck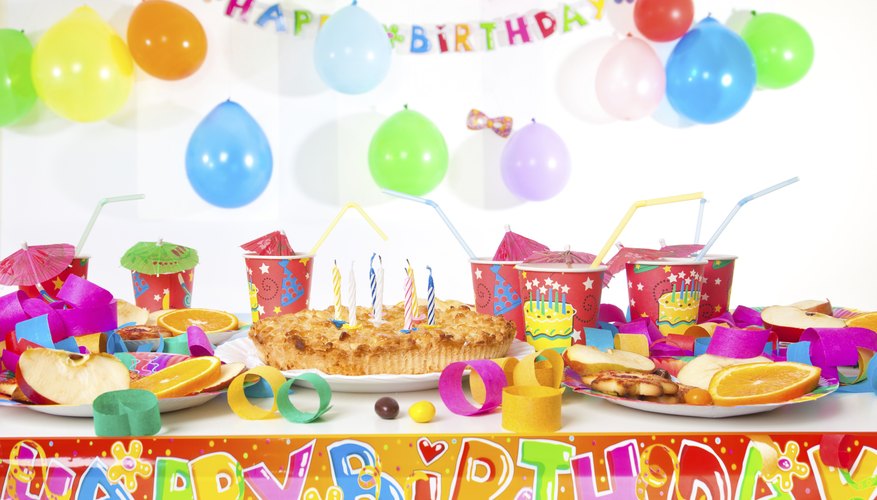 Invite the family over for your child's birthday but ask everyone to bring a favorite dish. This will save on food costs for you and will allow for variations on the menu. Have the celebration in your home to save on location costs. Decorate with items such as balloons and banners from the local dollar store. Organize simple games to keep child guests occupied and having fun. Play easy and free games like bingo, musical chairs and Simon says. Create small gift bags as prizes for winners of each game. You may use candy, gum and other novelties to fill the bags for around $5 each.
Arts and Crafts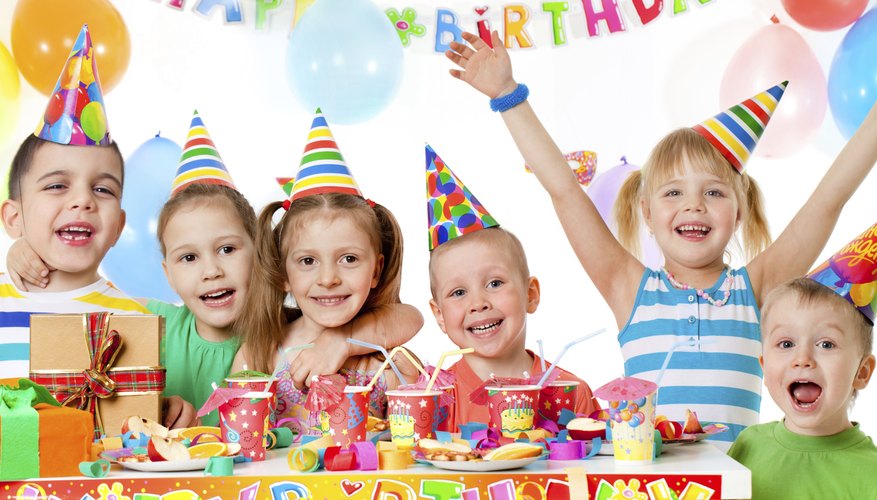 Save money on favors and licensed themes by creating your own craft theme. Purchase supplies from a craft store or dollar store like pipe cleaners, glitter, crayons, construction paper, embellishments and stickers. Invite all the children to compete in a contest to make the most creative craft. The craft serves as an activity to keep the guests occupied during the party and for a favor. Find a cheap prize for the most creative decorator, such as a grab bag of small candies and gum from a convenience store. Schedule the party between lunch and dinner so you do not need to make a meal. Serve cheap snacks such as chips and fruit than finish the party with a homemade slice of cake for each guest.