Children's Handprints Activities
Reindeer Christmas Ornaments
For a fun and useable Christmas craft, trace your child's handprint, fingers spread wide, onto brown felt or card stock. Make one or several. Cut out the handprint, then, with the fingers pointing down, punch a small hole in the top center and tie a ribbon for hanging. Your child can decorate the reindeer, using hot glue or craft glue. Googly eyes and little felt pieces for the nose can go on the thumb area, with cardboard antlers glued on the top of the head.
Handprint Turkey
For a festive Thanksgiving turkey activity, paint your child's palm and thumb completely with brown nontoxic paint, then paint each finger separately red, green, orange and yellow. Have her press down to make a handprint on sturdy card stock. The fingers are the turkey feathers, and the thumb is the head. Once dry, your child can use markers to draw a waddle, beak, eye and feet in the appropriate places. Now she can either cut the turkey out or decorate the background.
Poem with a Handprint
Make an easy and thoughtful card by painting your child's hand, then pressing it down on the center of a card that has already been folded in half. A sweet poem can be added, such as "Keep this print of my hand so you can recall just what size my fingers were when I was very small." You can also help your child create her own poem, tailored to the card recipient.
Salt Dough Handprints
Salt dough can be made with a simple recipe of 1 cup salt, 1 cup flour and 1/2 cup of water. Kids will love to help you measure and mix the ingredients, form the dough into a ball then roll it out to make a circle. Have your child press his hand into the center of the circle of dough to leave a handprint. Set the dough on a parchment paper lined baking sheet and cook it in the over at 200 degrees Fahrenheit for about 1 hour, or until it is very hard. Once cooled off, it can be painted for extra flair. If you wish to make a hanging piece of art, punch a hole in the top center before baking the piece.
How to Make No-Cook Play-Doh
Combine water, flour, salt and oil in a large bowl. Select a bowl with high sides and plenty of room in the center for mixing to decrease the likelihood that your mixture overflows the bowl.
Mix with a spoon. Stir patiently until all ingredients are incorporated and the mixture consistency resembles that of cookie dough.
Add food coloring to create the desired tint. Start with several drops of the food coloring of a hue of your choice, and then gradually add more to increase the intensity of the color.
Mix with the spoon again. Stir to evenly distribute the coloring through the mixture.
Kneed the mixture to finish the mixing. Using your hands, squeeze the dough and press it onto a hard surface like a counter top or table to finish the mixing process.
Store play-doh in an airtight container. Use a freezer bag, and press all of the air out of the container to ensure the maximum shelf-life of your hand-crafted play-doh.
Things You Will Need
1 cup water
3 cups flour
1 1/2 cup salt
1/4 cup vegetable oil
Food coloring
Bowl
Spoon
Freezer bag
Kid's Banana Oatmeal Cookies
Making Dough
Banana oatmeal cookies are one-bowl wonders that allow you to dump all of your ingredients into the mixing bowl at one time and simply blend them together. Mashed banana, old-fashioned rolled oats, vanilla, ground cinnamon and applesauce form the base of these cookies. Once the batter is moist, you can drop the batter by the spoonful onto a cookie sheet and bake them. The cookies do not spread out while baking, so you can keep the dough in a ball shape, or squish it down into a flatter circle before sticking the pan into the oven.
Add-Ins
With a little creativity you can add your own personal flair to a basic banana oatmeal cookie recipe by adding unexpected flavors or colors. Plain or golden raisins, dried cranberries and chopped dried cherries add a tart, chewy taste. According to HealthyKids.org, a website associated with the American Academy of Pediatrics, the goal is to cut food into bite-size pieces for toddlers and preschoolers that are no larger than 1/2 inch to prevent choking. Dark chocolate chips, peanut butter and colored sprinkles are other kid-friendly add-ins for the cookie dough. Choose one favorite, or mix in several for a tasty surprise.
Including Kids
Kids can help with many of the steps in making these healthy cookies. Teach your child the art of smashing up ripe bananas with the back of a fork and how to measure ingredients with measuring spoons and cups. Toddlers enjoy pouring pre-measured ingredients into the mixing bowl and helping Mom stir everything together. Your child may also be entertained by scooping up spoonfuls of cookie dough and plopping them onto the baking sheet.
Nutritional Information
The nutritional facts for the banana oatmeal cookie dough depends on the specific items that you include in your batter, for example, using unsweetened applesauce versus sweetened or adding raisins instead of chocolate. However, banana oatmeal cookies give you an opportunity to sneak healthful ingredients into a treat your children will love.
Playtime: Fun with Cloud Dough
If you have young children, you've likely spent more than one rainy afternoon cooking up homemade play dough. But have you tried making cloud dough? This newer concoction is quickly becoming a classic. The malleable dough is silky smooth and, in large quantities, can be used to create a mini indoor sandbox. It holds its shape well, and kids absolutely love running their fingers through the stuff, sometimes for unheard of amounts of time.
This activity requires a moderate amount of mess tolerance on your part — the best projects always do. It's a great sensory experience for even the youngest of toddlers and provides lots of open-ended opportunities for creativity in bigger kids. Plus, the dough consists of only two ingredients, flour and oil, so it's incredibly cheap and easy to make.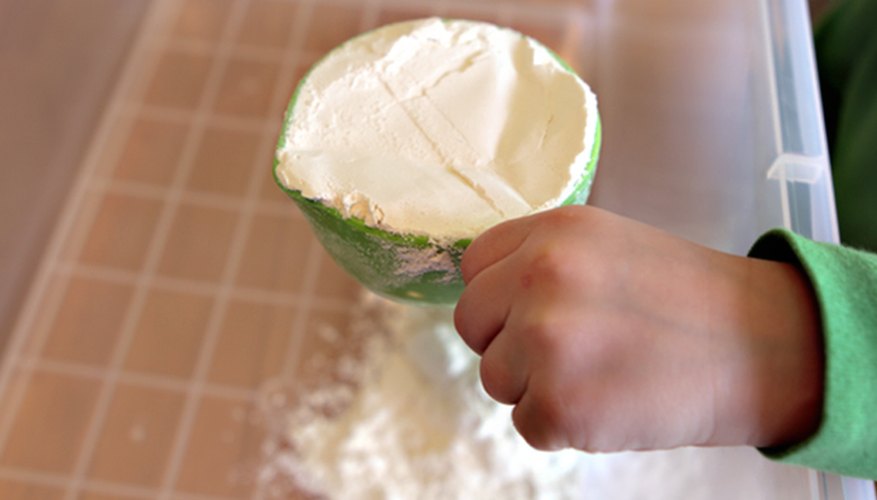 To begin, find a large plastic container (preferably one with a lid) to house the dough. Add eight cups of flour. Don't miss the opportunity to get your kids involved in making the dough. It's a great way to extend the duration of the fun.
Try to keep the flour in a mound in order to facilitate easy mixing later on.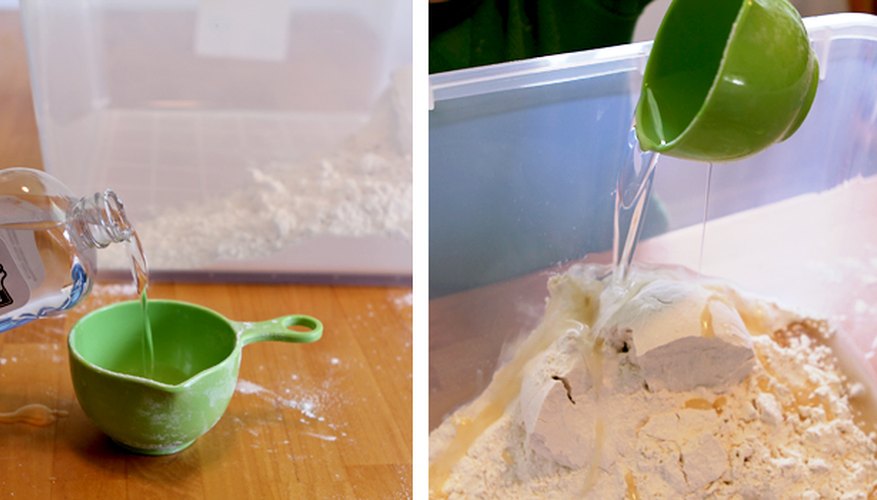 Next, add one cup of baby oil. (Please note: baby oil can be harmful if ingested, so substitute canola oil if you have a child who likes to munch. Of course, adult supervision is always recommended when playing with edible materials.)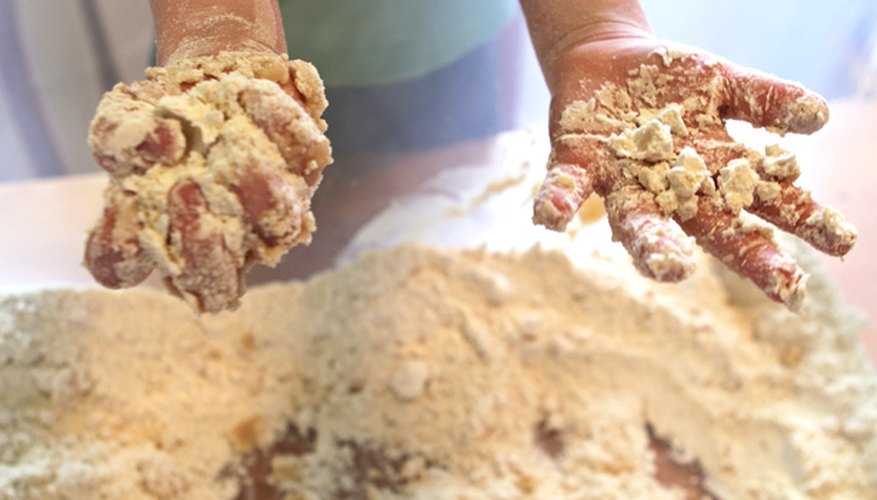 Now comes the fun part, let the kids dig their hands in and mix to their heart's content. After a minute or two the dough will still have a crumbly texture but it should also be able to hold a shape. This recipe produces the perfect amount of dough for one child. I would recommend doubling or even tripling the recipe for a group activity. As long as you stick to a ratio of eight parts flour to one part oil, you can make as much or as little as you need. (A huge trough of this stuff would be the perfect play station for an indoor beach party!)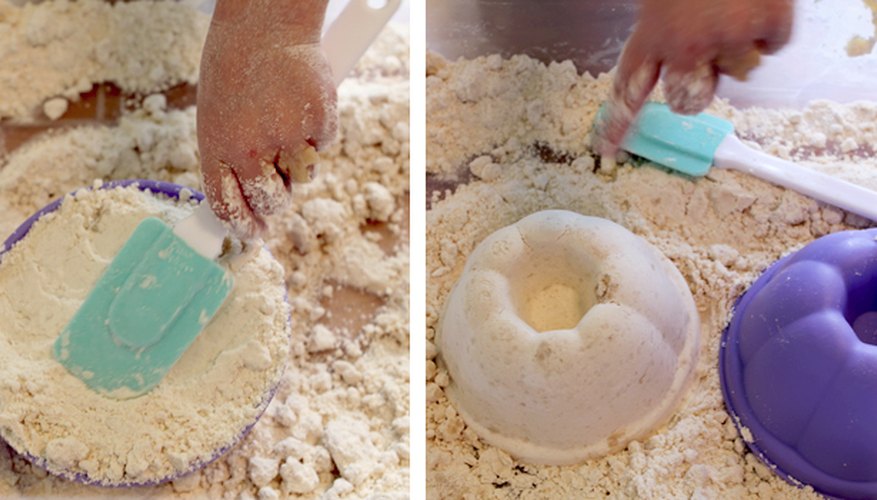 As for how to play with your new dough, sand toys are the most obvious choice for tools. Use shovels and buckets or store bought molds to create castles and other structures. Just as we like to make mud pies in the sandbox, the kids and I also like to "bake" with the cloud dough. Use a combination of play utensils and the real things to create cakes, muffins, cookies and more.
Another favorite activity, especially for my three-year-old son, is to bring in small construction vehicles. The cloud dough is perfect for scooping, plowing, and smoothing dough.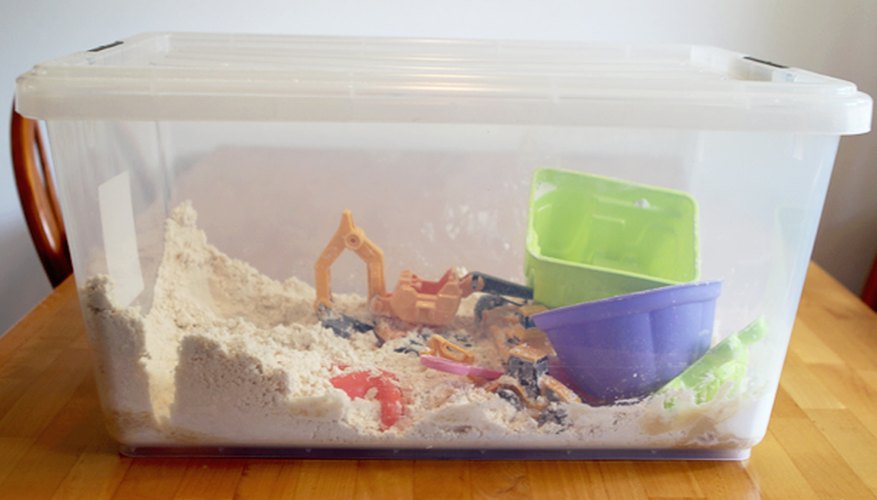 When you're finished playing for the day, simply pile your tools into the container and secure the lid. The dough will stay fresh for weeks when stored this way.
One last note on making cloud dough: A few industrious parents have tried to color their dough with mixed results. Using liquid food coloring causes clumping and does not evenly disperse. Adding Kool-Aid or even Jell-O powder will provide some color, as well as a nice smell, but it takes no less than three packs per cup of dough to get even a light hue. If you really want to enhance the look of your dough, your best bet is to use glitter. It will distribute evenly and provides nice sparkle!
Photo Credits: Stephanie Morgan
Making Pretzels With Preschool Children
Dough
Your preschooler can help you make the pretzel dough by measuring out the ingredients and mixing the ingredients in the bowl. Use self-rising flour or add active dry yeast, so that your child won't have to wait for the dough to rise before bending the pretzels into shape. Read out the ingredients to your preschooler as he helps you combine them: all-purpose flour, warm water, sugar, salt, eggs and the other items in the recipe. Make sure you are working on a clean and sanitized surface as your preschooler will drop and pick up ingredients. If you are using an electric mixer to knead the dough, ensure that your inquisitive child cannot reach it or pull the machine towards himself by grabbing the cord.
Pretzel Twisting
This is the fun and creative part. Wash your child's hands again, and give him an apron to protect his clothes. Next, dole out pieces of dough and show him how to roll it like a snake to begin twisting pretzels. Give your preschooler free reign to shape the soft dough into whatever he can imagine. Beyond the traditional pretzel shape and spirals, children can create animal figures, spell out letters and form numbers and shapes.
Flavors
A good thing about homemade pretzels is that you can control the ingredients, while also creating custom-flavored pretzels. These doughy bites can be sweet or savory and you can add flavors into the dough while mixing them – or, after baking them. Plain pretzels typically have sprinkles of sea salt or sesame seeds on them. For cheesy pizza pretzels, add herbs such as dried or fresh oregano into the dough and top each one with pizza sauce and grated cheese before baking. Make a sweet dessert by dusting each pretzel with powdered sugar and cinnamon or spreading a dollop of jam on the top.
Considerations
Freshly baked pretzels will be very hot. Ensure that they cool down sufficiently before letting your preschooler handle and eat one. Using whole wheat flour instead of white, refined flour adds more fiber, minerals and vitamins to your pretzels. If your preschooler has a gluten allergy, he can still enjoy homemade pretzels by making them from gluten-free spelt or barley flour, instead of wheat.