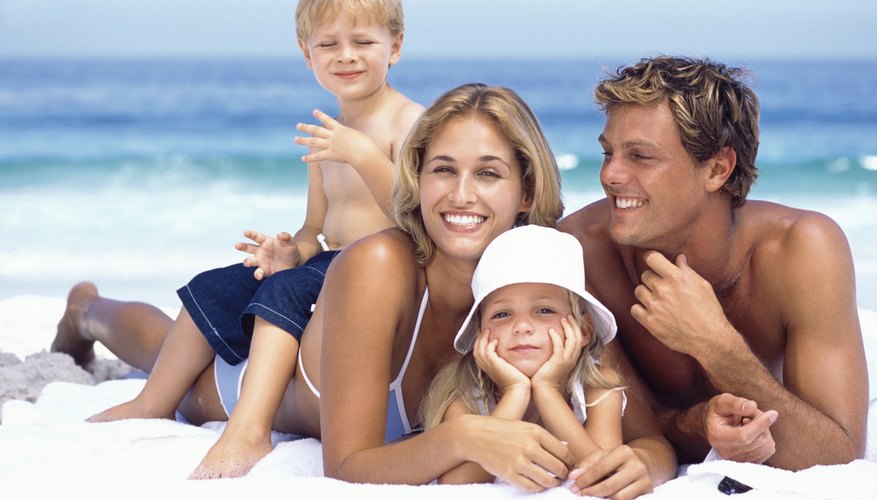 Brigantine, an island off the coast of New Jersey, near Atlantic City, is a small town with an easygoing way of life -- the perfect respite for families outside the hustle and bustle of the casinos and tourists looking to win their fortune. Families with children can enjoy a lot of activities in Brigantine, whether they are looking to relocate or to simply visit.
Water Fun
As you'd expect from a city that's an island, a lot of opportunities for fun in the water exist. Take the kids and head down to one of the many Brigantine beaches for some fun in the waves, kite flying and feeding the seagulls. Each section of the beach has different rules, so make sure you know the right place to go. Head to Second Street, where a lifeguard is on duty, and your kids can swim without worrying about colliding with surfers. For kite flying, head over to the stretch of beach from 34th Street to 38th Street. If you like, walk down to one of the piers between 45th Street and 47th Street and enjoy some fishing.
If the weather's not warm enough for a swim outside, or if the sun is too hot for you to spend a lot of time outside safely, head indoors at the Brigantine Aquatic Center for a swim. Kids can also take swim lessons or even sign up for the competitive swim team sponsored by the center.
Learning About Animals
It can be hard seeing ocean life up close and personal when it's so far beneath the surface most of the time. Help your little ones to learn more about sea life by taking a trip to the Marine Mammal Stranding Center. Stranded sea creatures are rescued and rehabilitated here, and visitors can learn more about them and their habitat. There are even summer camps in which children can either learn how to be a rescue technician themselves or can pretend to be a pirate on a treasure hunt in the sea.
Play Time
Kids don't usually need much to enjoy themselves. A playground will usually be enough to keep them entertained for hours. The Playroom at the Brigantine Community Center is right off the beach, and it offers a cool respite from the hot sun. The indoor playroom has slides, climbing gyms, a ball pit and more. You can even host a birthday party there. Walk over to the 26th Street field to find Shark Park, which features a community-built playground which includes a rambling play set with lots of nooks and crannies to explore, slides, swings and other small rides, like a wooden rocking boat.
Community Events and Festivals
Plenty of great community events and festivals are held in Brigantine throughout the year that are appropriate for families with children. The Summer Fine Arts Festival takes place each June in the Brigantine Historical Museum, and it features the work of local artists. In August, the annual Brigantine Beach Sand Castle Building Contest takes place. Kids of all ages will love watching amateurs show off their skills in creating beautiful and amazing works of art out of sand. Other family-friendly events include fishing contests, races and cook-offs.