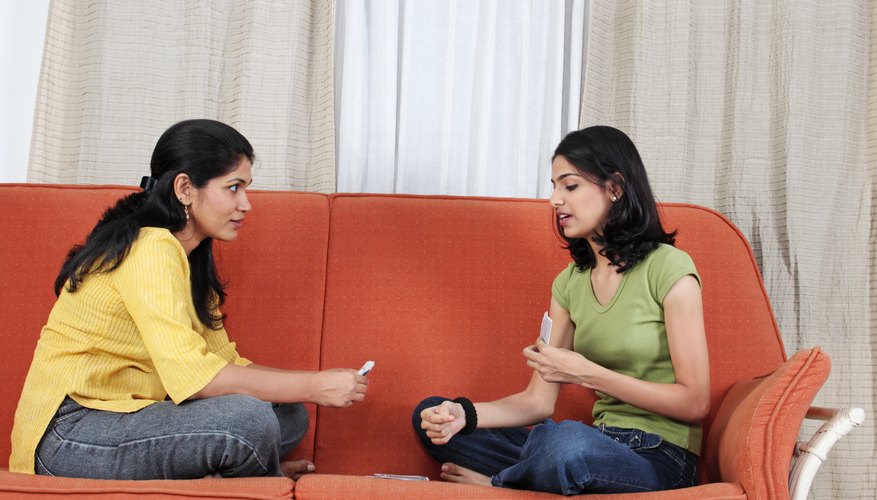 Autism is a developmental disability that has a wide range of symptoms, characteristics and level of severity. While symptoms vary from one person to the next, most children with autism have trouble in social and sensory development and with communication skills. Plan activities for your autistic adolescent that are enjoyable for teens and promote development in common problem areas.
Activities that Promote Social Skills
Social development blossoms in adolescence for most children, but teens with autism often have a difficult time speaking, answering questions and expressing ideas. These communication problems tend to negatively impact an autistic child's ability to interact with others. Promote social skills with activities that help your teen practice and focus on communication. Group or collaborative art activities, among a group of friends of family members, provide a meaningful way for autistic teens with limited speech to communicate feelings and ideas in a non-verbal mode of expression. Encourage creative thinking and communication skills in verbal teens with structured language games, like 21 Questions, which encourage kids to recall memories, imagine scenarios and express interests.
Hearing and Vision
Since children with autism often require more sensory stimulation than their peers to interact with and process information from the environment, activities that stimulate and encourage specific senses are effective ways to provide developmental opportunities for autistic teens. Promote your teen's senses of sound and sight at the same time with a nature scavenger hunt. Before setting out on a leisurely walk through the community park, open field or even around the block, create a list of things to watch and listen for -- a daisy or a blue jay, for example, or the sound of a cricket chirping or a car horn. Each time you hear or see an item on the list, cross it off. Point out sights and sounds to your teen, encouraging her observational skills through those senses.
Touch
Touch is a sense that many take for granted, but is vital to people's ability to make safe, healthy decisions. A person's sense of touch reveals important information about temperature, sharpness and consistency, allowing him to avoid contact with potentially dangerous things. Touch also enables people to bond and express emotions through caresses, kisses and friendly pats on the back. Help your adolescent develop and refine his sense of touch with activities that encourage him to physically and directly interact with his environment. Finger painting activities promote self-expression through texture and motor coordination, while an object box game promotes interpretation through touch by requiring players to reach down and identify concealed objects based solely on what they feel like.
Taste and Smell
Encourage your teen's ability to explore her environment in unique ways with activities that promote taste and smell. Play guessing games with different food items and a blindfold. Take turns guessing different items based on how they taste and smell. Encourage your teen to use scented markers to draw related pictures of flowers, fruit or other fragrant things. Experiment with different tastes in the kitchen together by adding different spices and seasonings to favorite family recipes.