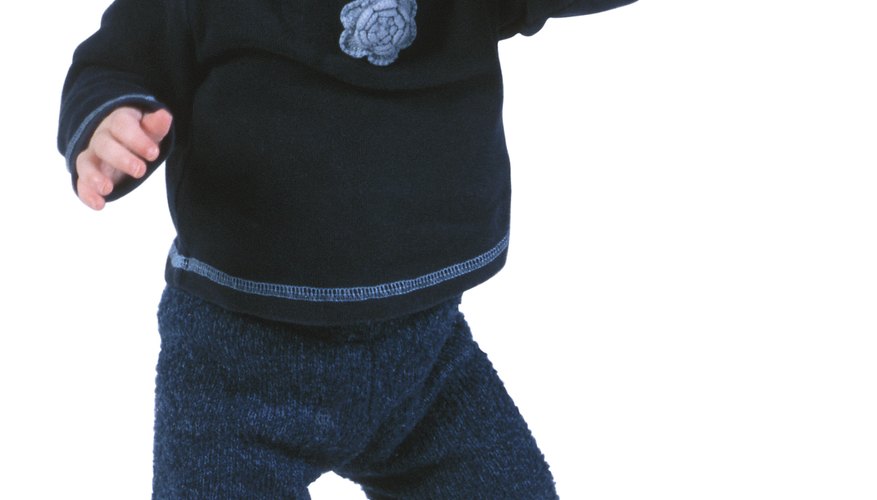 Most toddlers are in the pre-writing stage and cannot yet read and write independently. During this stage, you can prepare them to read and write through some simple writing experiences. Remember that writing is more than just putting pencil to paper; it prepares a child for reading fluency and comprehension. Help your young child create memories of letter formation as he engages in writing activities.
Clay Pre-Writing
Most homes with toddlers have modeling clay sitting on the shelf or in the toy box. Dig it out to make a tactile writing activity. Roll out a ball of modeling clay to flatten it. Cut several colorful drinking straws until they're about two inches each. Decide on a letter of the day or study several letters at a time. Make holes in the clay with a straw to represent a letter and let your little one place straws into the holes to form the letter. The colorful straws will appeal to his sense of vision. Once he completes the letter, practice making its sound and brainstorm words beginning with that letter.
Drawing as Pre-Writing
Drawing may sound like a simple task, but it actually helps toddlers become writers. They learn to grasp pencils and crayons, hold the paper correctly and apply the proper pressure onto the paper. Even scribbling across the paper sparks a young child's interest in the writing process. Keep drawing materials nearby and count any time spent drawing as a mini-writing session. Your little one will remember these skills when he begins to form his first letters.
Shaving Cream Letters
Squirt a pile of foam shaving cream on the table and get ready for some writing fun. Roll up your child's sleeves and practice writing the letters of his name in the cream, using his fingers. After all, this is most likely the first word he'll recognize and actually write. Practice saying each letter so he can learn to memorize his name's spelling. Once done, clear off all the cream from the table and you'll notice a sparkling shine.
Create a Journal
Work with your child to create a personal journal. Use a blank notebook or bind some pages together and make a construction paper cover. Think of a weekly theme sentence to write on each page such as, "My favorite animals are..." Give your little one a chance to complete the sentence and illustrate it. Journaling allows small children to make a connection between reading and writing at an early age. Your toddler will feel pride in his work as the two of you read his thoughts over and over.