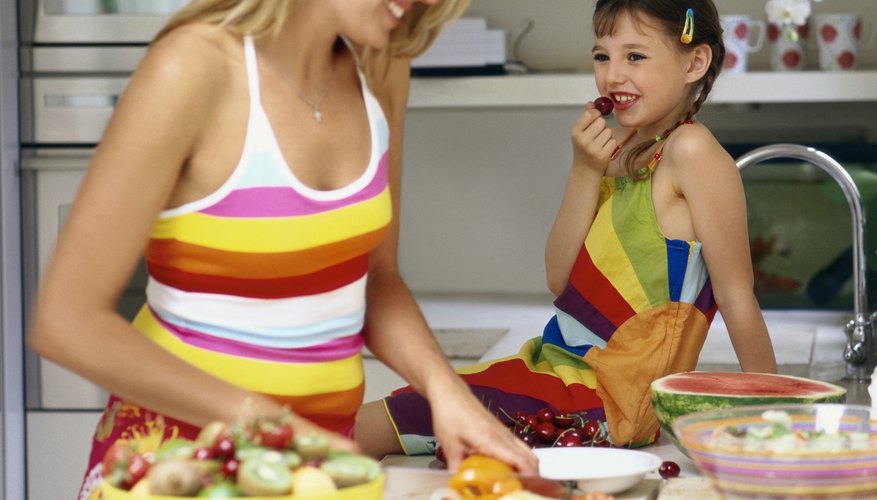 For most people, losing weight comes from a combination of making changes to diet and increasing physical activity. This may sound simple enough, but when you're a young mother, it's hard to find the time and energy to do these things. Finding a weight loss plan that fits within your lifestyle is the key to success.
Diet Plans
Following a specific diet plan takes some of the stress out of choosing what to eat. A plan like Weight Watchers, for example, offers an easy way for you to eat any food you want to eat, while staying in a calorie range that allows you to lose weight. The popularity of the plan may mean that you'll be able to easily find other young moms for support, either in your community or on the website. On the other hand, meal delivery plans like Jenny Craig may fit in better with your lifestyle. You simply have to microwave portion-controlled meals for yourself, while preparing meals for the rest of your family.
Eating With Kids
Switching to a healthier eating style will not only help you lose weight, it will teach your children good habits. Dr. Joel Fuhrman recommends a "nutritarian" lifestyle, focusing on eating the foods that contain the highest amount of nutrients in his books "Eat to Live" and "Disease-Proof Your Child." If you're not ready to make that type of commitment to healthy eating, simply tracking calories can stop you from picking at the leftovers on your kids' plates because you'll know they "count." Find free trackers at Sparkpeople.com or MyFitnessPal.com.
Exercise With Kids
According to a publication by the Harvard School of Public Health, healthy adults should get at least two and a half hours of moderate-intensity aerobic activity per week. Doing more can help you lose more weight. When you've got kids, it's difficult to spend hours at the gym, though, unless the gym offers a babysitting service, as some do. Packing the kids up in the stroller may be a good solution for you. In some areas, there are fitness classes like "Stroller Strides," where young moms can do specific exercises with their children in the stroller. If your kids are older, they might enjoy family Zumba or a long walk through the woods.
Breastfeeding and Weight Loss
If you're still breastfeeding, you have more specific concerns. According to La Leche League International, rapid weight loss in breastfeeding mothers can release the environmental contaminants stored in the mother's fat into the breast milk. Rather than try fad diets, LLLI suggests focusing on eating only healthy foods and eating until you are full. Weight Watchers recommends that breastfeeding mothers aim to lose about one pound per week.