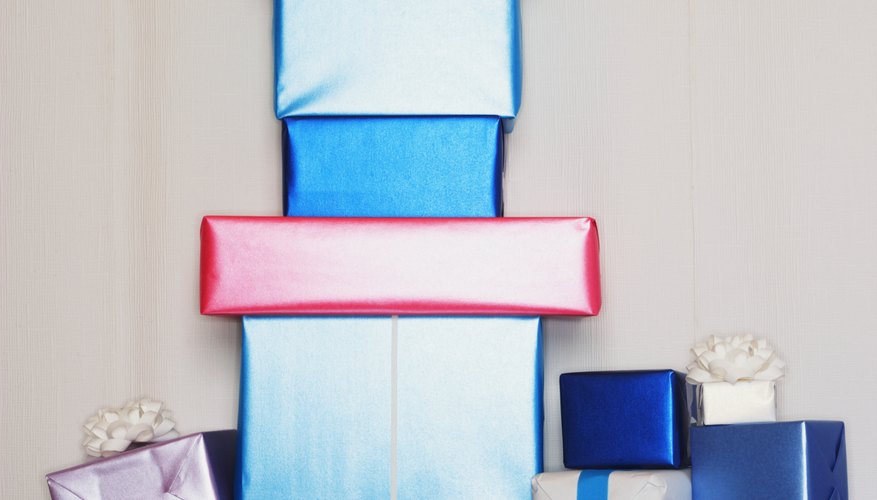 Gifts for new arrivals are typically fun and exciting to purchase. You can take the fun a step further by getting creative when it comes to wrapping a present. There are numerous effective and unusual ways to prepare gifts for a party or to give to the proud parents in private to make the gift just that much more thoughtful and special.
Paper
Even when you wrap your gifts in paper, you have opportunities to be ultra-creative. For example, you can blow up a page of a calendar with the baby's due date circled in a bright pink or blue color and wrap the present with the date in a very visible spot on the package. Or, type out congratulatory messages on plain paper and include your name. Copy and print out the paper, wrap the gift in the paper -- and eliminate the necessity of a greeting card. If you're giving the gift after the baby is born, wrap it in the local newspaper that came out on the day the baby was born. The proud parents can then save your gift wrap to commemorate this day for years to come.
Blankets
You can also wrap a gift in a blanket. Choose a baby blanket that is large enough to cover your gift, or if necessary, purchase more than one. Thin but soft receiving blankets are especially useful for this application. Use old-fashioned diaper pins to secure the "package" instead of scotch tape. Add a pink, blue or yellow bow for even more impact.
Fabric
For a "green" gift wrap, utilize fabric instead of paper to wrap the gift. Choose material that is eye appealing with colorful baby motifs -- or that matches the theme of the baby's room. The new mom can then use the fabric later to make an item for the infant's nursery or can re-use it to wrap a baby gift for another child in the future. If sewing is one of your talents, stitch a bag with a drawstring and place the gift inside. The mom can then use the bag for laundry, storage and/or travel.
Containers
You can also fill larger gifts with smaller purchases. For example, if your budget allows it, buy a toy box and fill it up with infant and toddler playthings that the child can enjoy for months -- or even years -- to come. All you need to add is a giant bow or ribbon and a heartfelt card for a perfect present. On a smaller scale, fill a child's decorative trash can, colorful plastic storage container or a small, reusable wicker basket with diaper necessities, clothing, bottles or blankets and decorate with a ribbon and/or bow.