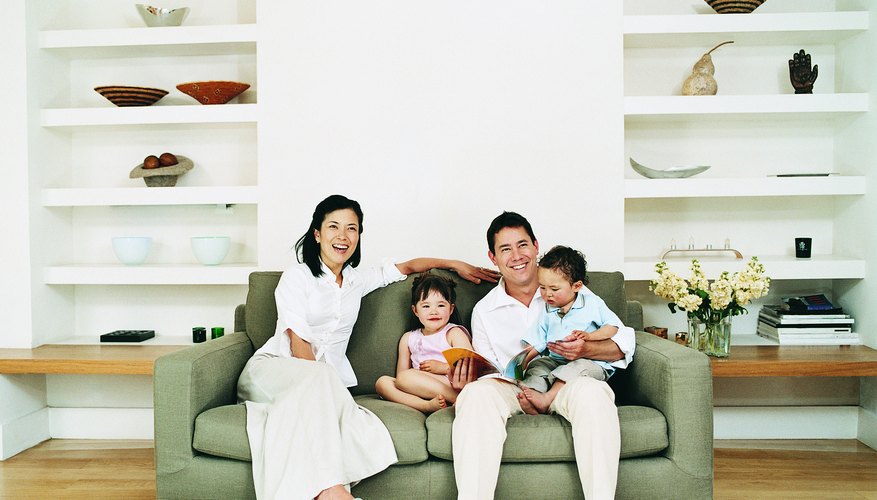 Whether you're looking for a unique solution to a blah rainy day or you are visiting New Jersey on vacation, you'll find family outing options for tots to teens that please the entire gang. If the kids seem bored with everyday outings -- such as going to the local playground -- check out some of New Jersey's more out-there options.
Modern Treasure Hunters
If your kids are nature lovers or you just want to get the family out into the open air, a geocaching outing provides an experience that goes beyond a simple trip to the park. You'll find an array of parks across the state -- such as Watssessing Park in Bloomfield, Winfield Scott Park in Elizabeth or Palisades Interstate Park in Fort Lee -- that offer geocaching by searching the national website Geocaching.com. This modern-day take on the treasure hunt requires you to use a GPS device -- such as your cellphone -- to track coordinates. Check for specific destination areas by searching New Jersey regions on Geocaching.com, and use your GPS to hunt for the hidden treasures. When you reach your destination -- typically an outdoor area in a local or state park -- you open the cache, take an object from it and leave another in its place.
Not-So-Major Museums
Families who are looking to take a day trip to a museum but want something more unique than the typical art or science center will find a few off-the-beaten-path options in New Jersey. If you're struggling to appease children with opposing interests, find a middle ground at Flemington's Northlandz Great American Railway and Doll Museum. With eight miles of model train track, 100 trains, an art gallery and a 94-room dollhouse that features more than 200 different dolls, Northlandz has sights to see for both your mini conductor and doll-loving princess. For the more adventurous families, the Sterling Hill Mining Museum -- in Ogdensburg -- offers underground mine tours, a Rainbow Tunnel with glowing fluorescent minerals and a fossil area where kids can dig up the past. Another New Jersey option is Space Farms Zoo and Museum in Sussex. Aside from the record-breaking animals that Space farms houses -- such as the oldest bobcat, jaguar and puma -- the museum is home to more than 50 antique vehicles, a doll museum, a blacksmith shop and a miniature circus.
Haunted Hideaways
You don't have to wait for Halloween to treat the kids to a spooky scene. Elaine's Ghost Tours, in Cape May, offers an hour-long walking tour of the Victorian town's most haunted sites. Before or after your ghostly tour, take the family to a meal at Elaine's Haunted Mansion Restaurant and get ready for a unique experience filled with illusionists and guest ghosts. If you don't want to walk around town looking for ghosts, the Ghosts of Cape May Trolley is a 30-minute ride that features a tour of the area's most famed haunts. Visitors to Ocean City can also check out the area's spooktacular sights while on the city's candlelit Ghost Tour.
Creatures and Features
Why go to the zoo when you can take a trip to see animals in their real habitat? The Lakota Wolf Preserve in Warren County provides visitors with the chance to watch -- and photograph -- arctic, timber and tundra wolves as they frolic through the park-like setting. If the howling packs are more than your little ones can handle seeing, try a more subdued -- yet equally as interesting -- trip to Troy Meadows in Morris County. This wetland environment is a natural habitat for birds, small mammals, reptiles and amphibians. Kids who are used to the same old fossil parade that natural history museums across the country present will get a thrill from Secaucus' Field Station. This imaginative alternative brings the Jurassic to life. With more than 30 life-sized dino replicas housed outdoors at the bottom of a 150-million-year-old rock formation, the Field Station sets these thundering giants into a realistic setting .