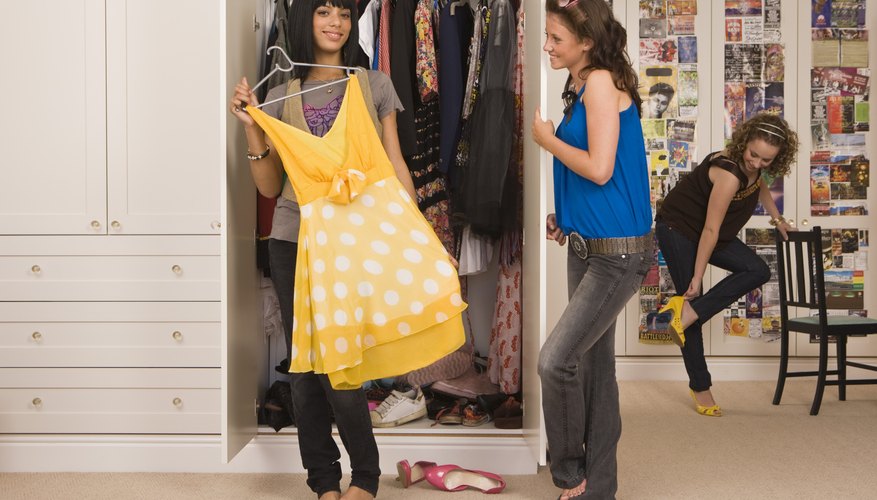 Teenagers strive to be independent thinkers and doers, pushing behavioral and expressive tendencies to the limit. Many occasions in the world of a teenager offer opportunities for singular style -- prom, graduation, weekend parties or even a trip to the movie theater warrant a teen's desire to be strikingly poignant with her fashion sense. A beneficial way to support your teen in her journey towards conquering individuality is to assist her in the search for the perfect dress.
Vintage, Retro-Inspired and Handmade
Explore the fashions offered through ModCloth, an online store specializing in indie, vintage and retro-style dresses. 1950s cuts, polka-dot designs and elegant lacy pieces are all incorporated into ModCloth's dress selection. Unique dresses, in a multitude of categories such as special occasion, party, casual and maxi, are priced reasonably from approximately $50 to $200.
Etsy is another online venue to check out with your teen. Etsy is an online community of crafty artisans creating unique, one-of-a-kind handmade pieces. Search specifically by the style, color or pattern of dress your teen is seeking. Certain sellers on Etsy also showcase a variety of authentic vintage dresses.
Classic and Timeless
Gather inspiration and ideas on the Teen Vogue website for dresses exhibiting classic and timeless appeal. Dresses for teens from Teen Vogue are categorized by occasion, season and price-range. Styles found here will appeal to teens who hope to dress uniquely, yet uphold a somewhat mainstream approach to their fashion.
Another uncommon site to discover is Lulu's, an online boutique founded by a mother-daughter team. Lulu's selection of dresses is provided by emerging new designers. Products are limited in quantity, as the business owners purchase the pieces directly from their designers' studios. You will find intriguing categories of dresses from which to choose such as skater, midi (having a hemline at mid-calf) and high-low (having a higher hemline in the front than the back).
Prom and Homecoming
Perhaps you are helping your teen search for an original prom or homecoming dress. Unique Vintage Boutique points shoppers towards affordable collections where dresses are available for under $100. The shop boasts affordability as well as a wide range of sizes, styles and colors to accommodate every type of teen. The shop's headquarters are located in Burbank, CA but their online shop and blog make individual prom and homecoming styles accessible to everyone.
Look around on the Seventeen website for further fashion insight. The prom special webpage advertises dramatically different styles with distinctive color schemes, patterns, hemlines and accessories. Dresses showcased here tend to be more pricey but offer elegant alternatives to common styles.
Bold and Bizarre
If your teen is the type of girl who thrives on being creative, standing out in the crowd and enjoys being crafty, encourage her passion for truly rare styles by exploring fashion alternatives. Unconventional approaches like handmade candy wrapper dresses, dresses made from duct tape, toilet paper or grocery bags and even edible dresses are all bizarre yet attention-grabbing fashion statements that your teen can delight in examining. Motivating your teen to express her own individuality through designing and creating an exclusive and thought-provoking dress is a sure way to support her transition into adulthood.
Be sure to check with your teen's school about dress code regulations for dances and special events. You want to ensure that whichever memorable dress your teen chooses is appropriate and will not cause heads to roll.