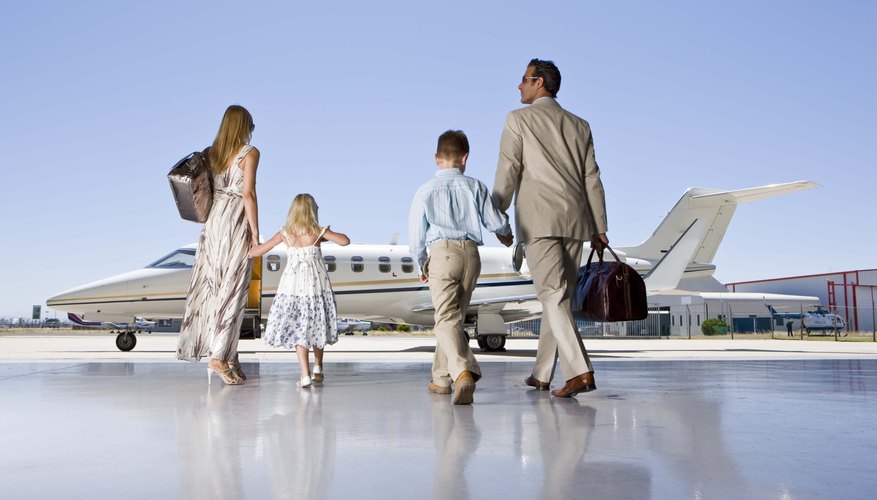 When planning a family trip to Bermuda, the first things that often come to mind are flip flops, bathing suits and your child playing in the surf along the pink-sand beaches. These daydreams can turn into a nightmare, however, if you don't have the correct documentation for your little one when traveling outside the United States. For those planning a vacation to Bermuda with a minor in tow, there are travel documents you will need to ensure a smooth journey.
Passports
For nearly all travel outside the United States-- including entry into Bermuda-- passports are required for both adults and children. Your toddler will need a child passport, which needs to be renewed every five years. To apply, both parents and the child must apply in person at an approved passport acceptance location, which is usually the local post office, and present the following information: child's birth certificate with both parent's names listed, Social Security number, completed DS-11 form, 2-inch by 2-inch photograph of the child and photo ID for parents. Apply for your tot's passport a few months before your trip to be sure you get it in time for departure. The Bureau of Consular Affairs provides detailed info on the process on its website, Travel.State.Gov.
Permission to Travel Letter
If your toddler is traveling outside the country with just one parent or guardian in tow -- be it Mom or Grandpa or Aunt Sally -- a Permission to Travel letter is required. Also called a Parental Consent to Travel letter, it must include the name of the child, name of accompanying adult, dates and location of travel, name and contact information of parent or legal guardian not traveling, and notarized signature for that adult. Many moms and dads forget this document when taking the kids on vacation and leaving the other parent at home, but most major airlines will deny boarding if you do not have a letter.
Medical Treatment Authorization
To avoid confusion in the case of a broken leg, severe food poisoning or other medical emergency, carry a notarized Medical Treatment Authorization letter, which gives permission from the non-traveling parent or guardian to treat the child. The letter should include the names of the child and accompanying adult, a statement granting permission to authorize medical care, the child's health insurance information and name of primary care physician, and notarized signature of non-traveling parent. If your toddler blows up like a balloon when he eats kiwi or has allergic reactions when stung by a bee, include that information in the letter as well, along with any other pertinent medical info.
Other Information
Before heading to Bermuda, find out from your insurance company what kind of coverage is provided for you and your family outside of the U.S. If medical coverage is not provided, consider taking out travel medical insurance and bring along documentation.
It's also important to prepare for the scary reality of a potential child abduction. According to National Center for Missing and Exploited Children, it is important to have basic information about your toddler on hand to give to authorities, such as height, weight, eye and hair color, and finger prints. Does your child have pierced ears? Glasses? Birthmarks or other distinct physical attributes? Include that information as well. Also keep an updated photo of your child on hand. Many local fire and police departments provide free child ID services to compile this information for you.