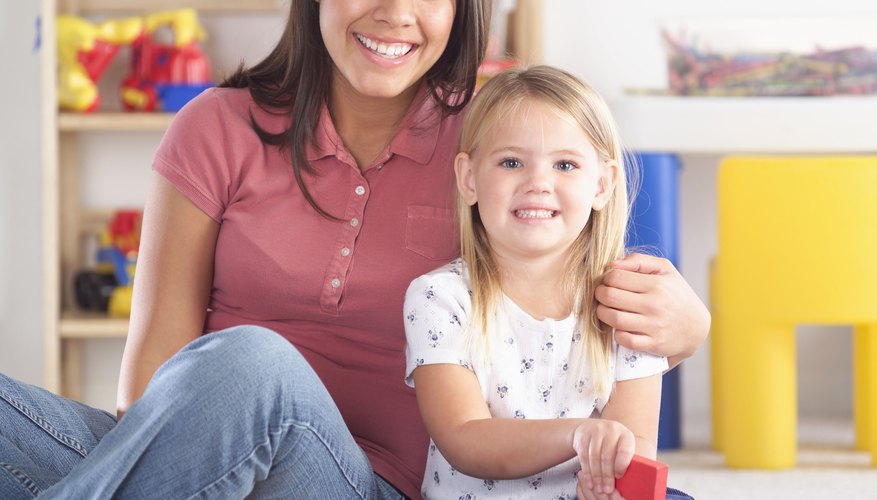 The transition from preschool to kindergarten marks a significant milestone for children and parents alike. Despite the positive effects of kindergarten, this advancement causes anxiety for preschoolers who aren't comfortable with new surroundings and the unknown. Parents also stress about kindergarten transition, with fears of letting go and giving up precious time with their children. Activities to familiarize your child with the ways of kindergarten will help ease you both into making this big step.
School Tour
A major part of the nervousness children have about kindergarten involves the mystery surrounding this place they keep hearing so much about. By taking a visit to the school, children get the opportunity to observe the classrooms and playgrounds, showing them how similar it is to the comfortable preschool setting. While at the school, arrange a meeting with your child's future teacher, allowing her to get familiar with a friendly face. This will personalize the experience and give her confidence for the first day of school.
Practice Independence
Once in kindergarten, children take on responsibilities previously handled by preschool teachers and parents. Having self-help skills empowers students to make a smooth transition to kindergarten and feel pride in their abilities. Before sending your little one off to kindergarten, practice restroom procedures, such as aiming, wiping, washing hands thoroughly, fastening and zipping up pants and disposing of trash. Prepare her for lunchtime by making sure she can open bags and drinks, use utensils properly and clean up after herself. Other skills, such as tying shoes and organizing school supplies will also make classroom time easier for her and the teacher.
Communication
Keeping a dialogue going about kindergarten leading up to the first day of school will comfort your child during this transition. Ask her questions like, "what excites/scares you about starting school?" or "do you have any questions about what kindergarten will be like?" You can even share stories with her about your experiences in grade school, including your favorite things to do on the playground and in the classroom. This communication will let her know she has someone to talk to about any fears she has during this change.
Skills Checklist
While in preschool, children are encouraged to explore the world and learn through play, kindergarten may bring higher expectations with learning goals and even report cards. Effective preschool programs focus on kindergarten-readiness skills, preparing children for the challenges they face when entering grade school. Make sure your child has the proper skills, including fine motor skills for beginning writing, cutting and gluing. They will also need emergent reading skills, such as the ability to recognize some letters and sounds. Practice math with your child, making sure she can not only rote count, but also assign numbers to items, along with sorting, matching and recognizing shapes and colors.