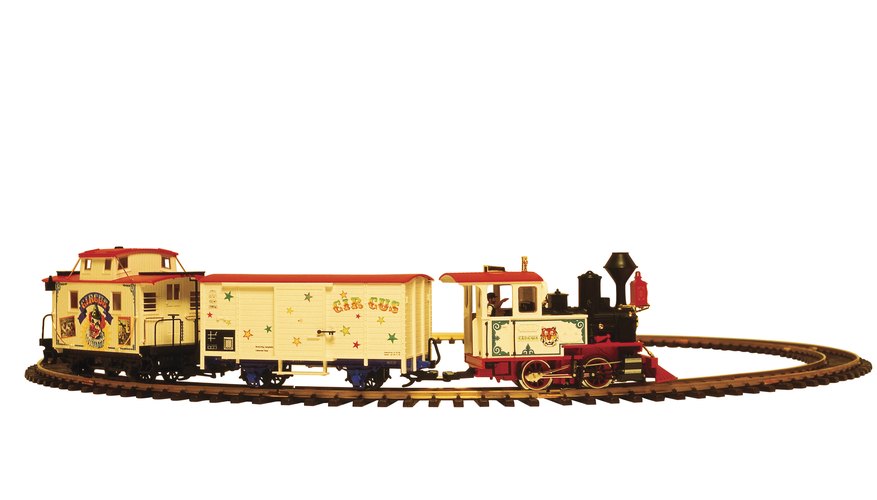 Seattle, Washington, has a long history of railway enthusiasm, going back to the opening of the city's Northern Pacific connection in 1883. The rail industry helped transport coal and lumber and contributed to huge population growths. Seattle still offers entertaining train rides for your transportation-loving child to enjoy. Whether tooting through a farm or past a waterfall, your kiddo will love riding the trains of the Seattle area.
The Iron Horse Railway at Country Village
The Country Village Shops, located about 20 miles southeast of Seattle, is a country-themed, partially outdoor mall and home of The Iron Horse Railway. Kids can hop aboard a child-sized train and enjoy the scenery. The train ride takes children around the back of the shops, through the shops and through a field. Country Village also features over 45 retail shops, a duck pond, pirate ship play structure, toy trains to play with, restaurants and a children's theater. Besides the ducks, kids will get a kick out of the chickens, roosters, rabbits and peacocks that roam about.
Fox Hollow Family Farm
Fox Hollow Family Farms is located about 20 miles southeast of the city. The farm features a little red train that kids can ride comfortably while enjoying the picturesque journey. The train chugs through the forest and stops at the Squak Mountain Station, where kids can relax indoors and watch others ride the train. Make a day of the farm. After the train ride, your family can check out the rope swings, hop a ride on one of many mini tractors and jeeps, and view and pet the many animals, including rabbits, horses, pigs, sheep, goats and peacocks.
Remlinger Farm and Family Fun Park
Remlinger Farm and Family Fun Park is well worth the 30-mile drive east of Seattle. Your young conductor in training can ride the Tolt River Railroad Steam Train Ride. The train is a genuine steam train, only half the size of an original. The train goes along the lovely Tolt River and through the farm. While there, kids can ride the miniature antique cars, roller coaster, Ferris wheel, canoes and barrel ride. Animals are on site, including goats, sheep, ponies, horses, rabbits, pigs, cows, alpacas and donkeys.
The Northwest Railway Museum
The Northwest Railway Museum is located 30 miles east of Seattle. The museum runs the Snoqualmie Valley Railroad, and children can board the train at the historic Snoqualmie Depot, which also houses exhibits about rail history. The antique train runs to North Bend Depot and back, offering views of Snoqualmie Falls and the scenic valley. The museum often offers special train rides, including the Santa Train and Day Out With Thomas.