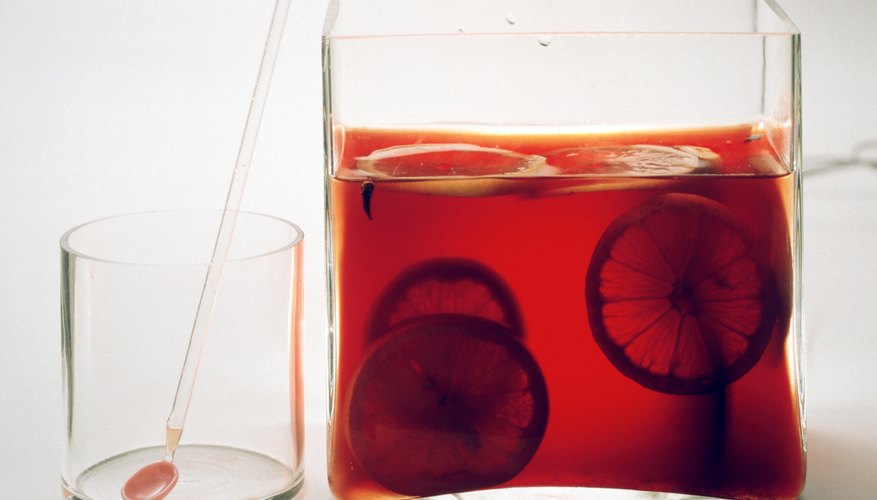 What party is complete without Jamaican fruit punch? The delicious secret behind this fruity drink is its flexibility -- add in Jamaican rum or other alcohol for the adults and omit the alcohol for the kids. Whether your children love drinking Jamaican fruit punch as a snack, or look forward to it at family parties, it can certainly satisfy tyke's sweet tooth. There are numerous ways to make this treat for a real punch of flavor!
Fresh Fruit Jamaican Punch
Your little one is likely to jump for joy when he tastes this fresh fruit Jamaican fruit punch. In a pitcher, stir together 1 cup of guava nectar, 1 cup of pineapple juice, 3/4 cup of orange juice and 1/4 cup of lime juice. Slice orange and lime slices to decorate glasses and serve. If you're in a pinch for time, use bottled juices instead of fresh-squeezed juice. Fill punch glasses with pineapple slices for an additional burst of flavor. You can add a few tablespoons of lemon-lime soda for a stronger taste.
Banana Jamaican Fruit Punch
You'll need to plug in the blender for this slushy take on Jamaican fruit punch. Put 1 tablespoon sugar, a medium banana, 3/4 cup of grenadine, 3/4 cup of pineapple juice and 3/4 cup of orange juice into a blender. Pulse, slowly adding ice until you reach the consistency you desire. Pour into glasses and drink up, but not too quickly -- no one enjoys brain freeze!
Cherry-Pineapple Jamaican Punch
There's plenty of fruit juice in a cherry-pineapple Jamaican drink! In a blender, puree 2 cups of pineapple juice, 2 cups of apple juice, 2 cups of cherry juice, 3/4 cup of orange juice, 3/4 cup of club soda and 2 cups of mashed bananas. Add ice cubes and a lime slice to adorn each glass. Let the kids drink up!
Simple Jamaican Punch
There's no need to purchase several fruits, containers or fruit juices for Jamaican punch. Simply fill a punch bowl with 6 cups of strawberry-flavored syrup, 2 cups of lemon or lime juice (or both) and 8 cups of water. Pour the water in slowly and test the punch for taste; stop adding water when you're happy with the punch's flavor. You can also substitute lemon and lime juices for lemon-lime soda. Stir up the punch and garnish each tyke's glass with fruit.