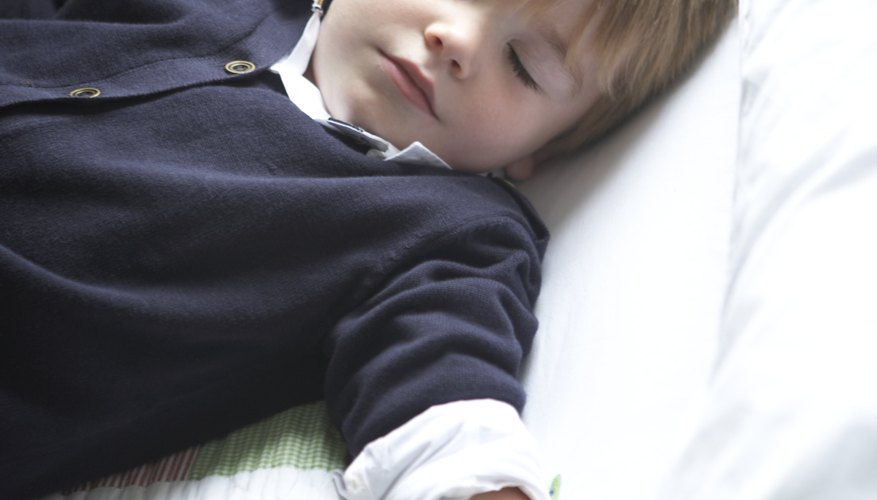 Moving your little tyke from his crib to a grown-up full mattress can be an emotional experience. Your baby is growing up and it's time to change the nursery into a big boy's room. Many times a mattress used by another family member, or an inexpensive mattress "that will do for now," is the choice. It's common for parents to put more thought into choosing headboards and accessories than a mattress that will provide your toddler with proper physical support and a comfortable night's sleep.
Growing Bodies
Little bodies quickly turn into bigger ones. To provide your little one with the best sleep possible, remember it's likely he'll be going from toddler to teen on the same mattress. Your toddler will also be spending upwards of 13 hours a night in bed so choosing a mattress for value over price is a big consideration. To ensure comfort for growing bodies, choose a mattress that he won't sink into. Maturing backs need support to ensure a good night's rest. According to ClevelandClinic.org, one of the top five reasons for childhood insomnia is an uncomfortable mattress.
Homework
Knowing the types of mattresses is a job unto itself. Manufacturers often take the same full mattress and put in different innersprings, a different fabric, padding or covering on it for different retailers or department stores. That means plush may mean soft at one store and may refer to the fabric or padding at another. Do your research before going shopping. Check out the manufacturer's sites as well as the retailer sites. Don't let price be your guide. Learn the terminology and understand mattress-speak before venturing out to the stores.
Top Ranked Mattresses
The top brands of mattresses are sold in most department and sleep specialty stores. The top five big boys in the Land of Nodd, as listed by ConsumerReports.org, will probably come as no surprise. Number one on the sleep list is Sealy with over $1 billion in total sales in 2011 from all lines of mattresses. Number two on the play list is Select Comfort. This particular type of mattress may not be the best for toddlers as it has moving parts and may be a safety issue. Number three is Serta, followed by Simmons and Tempur-Pedic. A word of caution when choosing a memory foam mattress for your little guy; foam can be hot and it may be a safety concern if your child likes to sleep on his belly.
Child Tested
Mattresses are unique to each individual. What may be comfortable for one child may not be right for your toddler. The best bet is to take Junior with you and let him have a ball picking out his new bed. Get him to lie on it every which way he usually does. If he sleeps on his side, his back or even at the foot of the bed, ask him which one feels the best. You may want to help him with his decision by joining him.