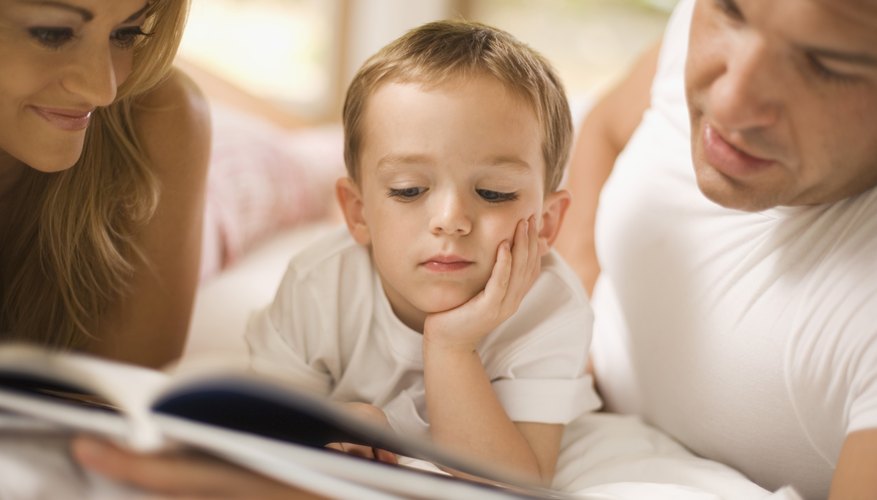 Choosing a curriculum for your home-schooled preschooler can be an intimidating task. An endless amount of preschool home-school programs are available, but it is time consuming to sort through them all. Choose a program that is engaging for your children and is based on scientific educational research. One program may not provide all of the instruction that you are looking for. Do not be afraid to use a variety of curricula to provide your children with a well-rounded education.
Religious Programs
Sonlight is a well-known Christian home-school curriculum. Each grade level is grouped according to historical topics. You can choose the appropriate age or grade level for your children when purchasing a Sonlight curriculum, but you should select a program that is based more on the content to which you want your children exposed. The curriculum is flexible and can be used for more than one age or grade level. Each core level comes with lesson plans and materials for one full school year. Another curriculum, Horizons, provides Bible-based lessons. Each lesson is specifically designed to provide fast-paced interactive activities for preschoolers with short attention spans. Scripture is directly woven into each lesson of this curriculum. The preschool program can be purchased with a year of lesson plans plus manipulatives to be used with each activity.
Secular Programs
Time4Learning is a non-religious curriculum that was designed around state content guidelines to prepare preschoolers for kindergarten. Engaging video lessons and worksheets are provided with this program. The multimedia lessons are entertaining and interactive. Children will feel like they are playing a video game rather than learning a specific concept. Calvert home-school curriculum is an accredited home-school program, which bases content off of Maryland state education standards. Learning is based around reading, writing and math. Science, history and the arts are woven into the core instruction. This program comes with engaging instruction as well as continuing support from Calvert's educational counselors.
Free Curriculum
Easy Peasy is a completely free curriculum developed by a home schooling mother. All lesson plans and resources are laid out online. Links to reading selections and educational videos are included with each day's lesson plan. The program has gentle Bible-believing influences woven throughout. Access the "getting ready" level to find preschool activities. Ambleside Online is based on the home-school teaching methods of Charlotte Mason and is provided at no charge. Ambleside focuses the curriculum around rich literary works. A list of books is provided for each grade level. Most books are available online for free. However, math and foreign language instruction are not included in the Ambleside curriculum.
Distance Education Programs
Oak Meadow Curriculum and School provides comprehensive and gratifying lessons for your children that are based off of state standards from around the nation. The school is based in Vermont but provides the home schooling option through distance education. Preschool curriculum focuses around nature and has a wide variety of hands-on learning activities. The program can be purchased in print or accessed online and is organized into 36 weekly lessons. A Beka Academy provides distance education through online video courses for preschoolers. Literature, textbooks and other learning materials are included. A Beka also provides mailing envelopes to return your child's completed work for evaluation. The K4 program, for the 4-year-old child, focuses on Bible curriculum, writing, language and the arts.