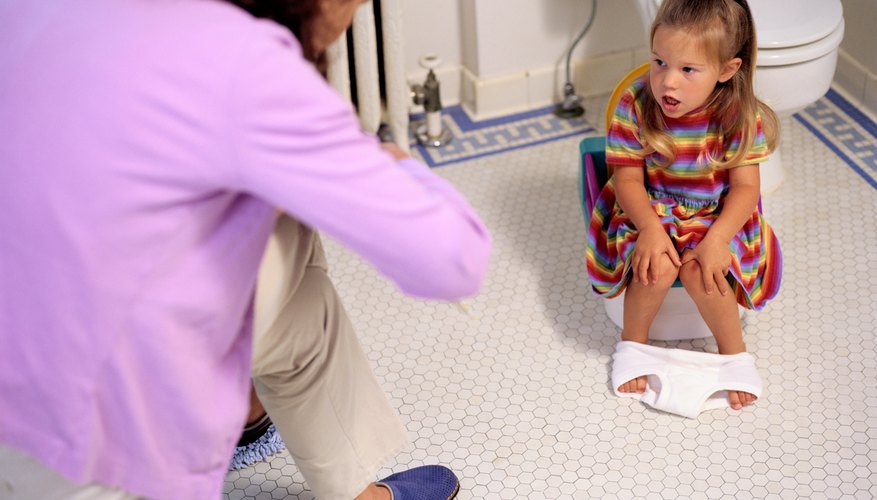 As your little girl enters the toddler years, it's time for her to hit the potty-training milestone. You want to encourage a sense of excitement about this time of growing into a "big girl." Little girls might be more likely to potty-train earlier, according to KidsHealth.org, because women are generally the primary caregivers and the child can easily watch mom use the toilet. If she's ready to start, the process can move quite quickly.
Look for signs of readiness. You don't want to push your daughter to toilet-training before she's ready. She should be able to stay dry for a few hours at a time, show an interest in the potty and seem to understand the need to go.
Ask for her input in choosing your toilet-training tools. You might want a child-size potty or a stool and potty seat for the big potty. You'll also have to decide between cotton training pants and disposable ones. Your little girl might feel more excited about the milestone if she has a potty in her favorite color or underwear featuring her favorite character.
Dress her appropriately for potty-training. When little ones have to go, they have to go. Pants with an elastic waistband or a dress will be easier on your child when she's doing the potty dance.
Encourage her to sit with her legs spread. Clenching the legs together might prevent her from fully eliminating her bladder, according to the American Academy of Pediatrics.
Teach her the proper way to wipe. Girls should wipe from front to back to avoid bacteria from the anus entering the vagina. As you wipe her, talk about how you always "Wipe from the front and go to the back."
Reward her when she uses the potty. She might enjoy some girly stickers or small pieces of candy.
Warning
Girls are more susceptible to urinary tract infections, particularly during potty-training. If she's complaining that it hurts to pee, talk to her doctor.