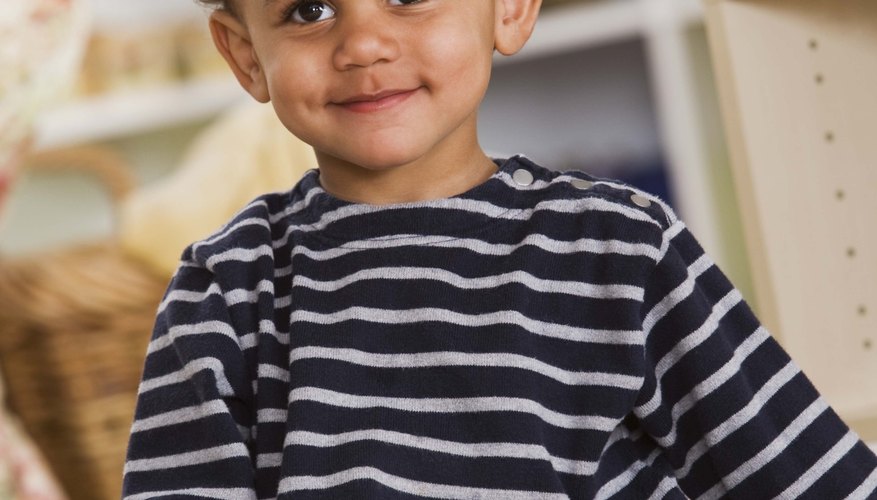 Setting up a toddler play area is much more than just putting together some toys to keep your little one occupied for a few minutes -- it can be a way to foster your toddler's development. By putting the right types of toys and activities into a play area, you help your toddler use his imagination, play and cooperate with others and of course, stay occupied and engaged.
Open-Ended Activities
While that electronic toy seems cute, it might only have a few ways in which it can be played. Instead, stock your toddler's play area with open-ended activities, suggests the National Center for Infants, Toddlers and Families. These are toys and activities that have a number of ways with which toddler's can engage, like blocks, stacking cups and sand and water tables. That way, your toddler is never limited by the few things that a fancy electronic toy can do.
Artistic Materials
Your toddler's inner Van Gogh starts to come out when given the appropriate materials. Art is an excellent way to develop fine motor skills and let your toddler express himself, so add materials like molding clay, crayons, construction paper, chalk and a chalkboard and foam stickers to an art area. Your toddler will love cutting, coloring and sticking as he tests out his creative abilities.
Cooperative Opportunities
If you expect to have a few playdates in the future, add some toys and activities that lend themselves well to cooperative play. After all, play is one of the main ways that toddlers learn how to interact with others and become a good friend, according to HealthyChildren.org. By adding a few simple games to the play area, you invite your child to play with other kids. Or, if your little one is still more interested in side-by-side play, add items like a pretend kitchen set, where a couple of toddlers can play concurrently without squabbling over one toy.
Active Space
If possible, a toddler play area should also include a safe outdoor space, like a backyard or even a patio area. Toddlers have energy to spare, so having a large space where jumping, running and playing without outdoor toys is ideal. If there is no outdoor space available, clear a large floor space indoors. You could even tape off a hopscotch grid or lay out big pillows or beanbag chairs to encourage jumping and tumbling.
Play Area Safety
While it's important to make a play area engaging and fun for your developing toddler, it should be safe above all. Get down to your toddler's level and survey the proposed play area, looking for potential hazards that could catch a little one's eye. Outlet covers, sharp corner covers and furniture wall anchors can all be used to ensure that a play area is a safe place to explore.