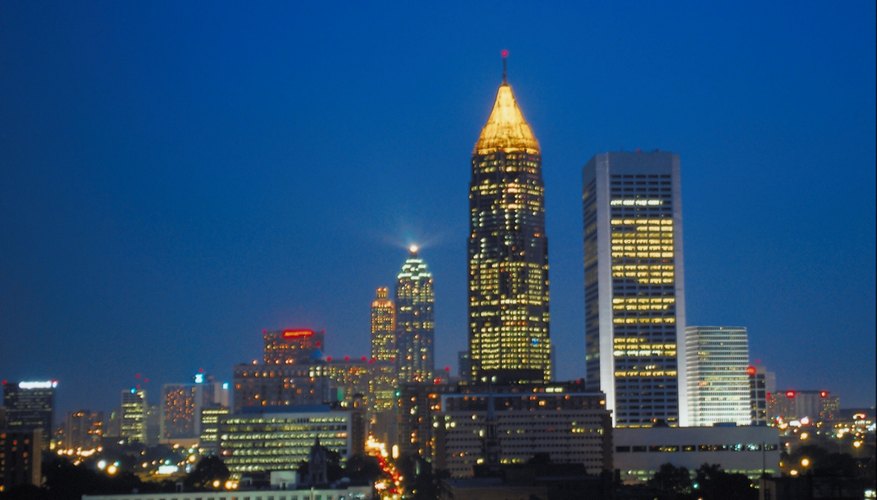 Billing itself as "Atlanta's Playground," Gwinnett County has numerous entertainment options to keep your toddler happy, busy and occupied. Playing, learning and having fun are all the same to your toddler -- and in Gwinnett County, you can find festivals and special events to meet all these toddler requirements.
Performing Arts
The Children's Playhouse at the Aurora Theatre (auroratheatre.com) presents toddler-suitable events, including productions such as 2012's "Tappin' for Tots" and 2013's "The Adventures of the Gingerbread Man." The theater also hosts other events, such as a performance by Wendy Bennett, who uses puppets and music to tell imaginative stories. Priceless Performers Dance & Theatre Arts (pricelessperformers.com) in Norcross holds classes for children starting at age 3. The Kinder Dance class, for ages 3 to 5, introduces the children to dance basics in jazz, tap and ballet. The Gym & Me class, for the same age group, helps the kids with their hand/eye coordination and flexibility. They kick balls, walk a balance beam, jump rope, climb bat balls – and sing to a music track. Each spring, the children present a spring performance on stage to showcase their skills.
Railroad
In April, the Southeastern Railroad Museum (srmduluth.org) in Duluth celebrates Caboose Days. Here, your child can learn about the cabooses, get temporary caboose tattoos, participate in a caboose hunt, make souvenir crafts and enjoy cookies and juice. The museum operates seasonal rides in the restored cabooses, which travel behind antique diesel locomotives. On the second Thursday of each month, the railway museum presents a program for children ages 1 to 4 and their caregivers that includes activities, crafts, songs and circle time. Mothers' groups can schedule special programs for their children ages 1 to 4, choosing a theme such as fire trucks, and of course, trains. Vines Garden Railroad (vinesgardenrailroad.com) in Loganville is a G-scale miniature railroad set in a historic garden with more than 1,000 feet of track. Your toddler will delight in its tiny towns, villages, airport tunnels and bridges. Thomas the Tank Engine, Percy the Small Engine and other miniature train engines traveling the tiny tracks. U.S.A. Amtrak has designated the second Saturday in May as National Train Day, a day that commemorates the completion of the first transcontinental railroad. Games and arts and crafts are part of the 2013 event at the Vines Garden Railroad to celebrate National Train Day.
Outdoor
Visiting the Yellow River Game Ranch (yellowrivergameranch.com) gives your toddler an opportunity to "meet" more than 600 animals, some of which he can pet. The ranch is home to bear, deer, ducks, squirrels and a variety of farm animals. Every February, hundreds of visitors come to see whether General Beauregard Lee, the ranch's resident groundhog weather predictor will see his shadow, indicating that we'll experience yet another six weeks of winter weather. In April, take your toddler to the ranch to enjoy the arrival of spring's baby chicks, ducklings, lambs, kid goats and bunny rabbits. Every Wednesday in October, the ranch holds "toddler treats" days in which children ages 2 or 3 are admitted free with a paying adult. Stone Mountain Park (stonemountainpark.com) in Snellville, which has a multitude of toddler-friendly activities such as the Yogi Bear 4-D Adventure and rides, also has special events to entertain your toddler. For example, spring's Yellow Daisy Festival has a special Kids Corner, and the Indian Festival & Pow-Wow, held each fall, hosts Native American dance-and-drum competitions with tipis set up for families to explore.
Learning at the Library
The Gwinnett County Library (gwinnetpl.org) offers special storytimes for kiddos up to age 5 and their caregivers at its various branches throughout Gwinnett County. These are interactive programs that incorporate stories and illustrations, rhymes and rhythms, music and movement. Special events include character visits such as the "Cat in the Hat," as well as musical performances for the whole family to enjoy.