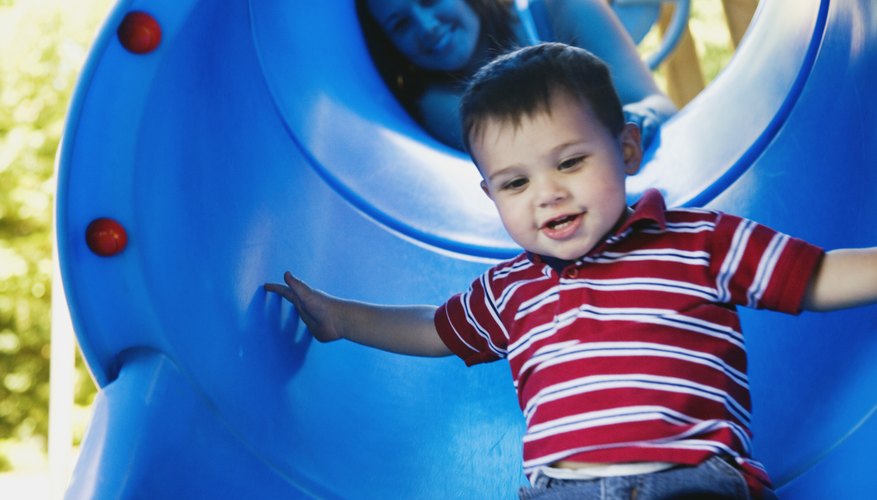 Toddlers are typically full of energy and excitement. Local activities are an excellent way to entertain your little one and keep him busy and happy. They also allow you some time to socialize with other parents and care providers. Several locations in and near Woodbury, Minnesota offer fun activities geared toward the spritely toddler in your life.
Park Play
Carver Lake Park is perfect for a casual day of outdoor play. The park features paved trails, a fishing pier, and a large play structure. Weather permitting, there is also a beach that provides lake access for swimming. Plenty of picnic tables are available so that you and your toddler can enjoy a picnic lunch. Central Park is Woodbury's unique indoor park, which features Lookout Ridge, an indoor play area. Lookout Ridge is the perfect inclement weather destination for an active toddler. This play area offers multiple attractions including a tree house, a cave, a 30-foot slide, cliffs and a maze-like obstacle course.
Music
Music Together in the Valley provides a well-rounded musical experience for toddlers. During each 45-minute class, an instructor guides participants through a wide variety of music-related activities, such as singing, moving about creatively and the playing of instruments. Tuition includes a book of songs as well as CDs that contain the music featured during your session. Sessions are offered seasonally and last for eight to 10 weeks, depending on the season. Approximately 18 miles from Woodbury is Children's Yamaha Music School in Roseville. This specialty music school offers a 24-week course for 3-year-olds. The keyboard-based program introduces your child to music basics and helps develop his listening and communication abilities. An important goal of Yamaha Music School is to nurture your child's fondness of music through singing, dancing and socialization. Parents are required to attend the weekly 45-minute sessions.
Dance
Let your toddler dance his wiggles away at the Woodbury Dance Center. The Mommy & Me class caters to children age 18 months and older who aren't quite ready for independent instruction. This 30-minute class helps little ones develop coordination, rhythm and gross motor skills. The Tots class is for 2-year-olds who can follow simple directions. It incorporates fun props to help the toddlers develop rhythm, dance skills and coordination. Woodbury's 5 Star Dance Studio offers weekly classes for children ages 3 and older. Classes teach tap, ballet and jazz techniques and last for one hour.
Gymnastics
Perpetual Motion Gymnastics offers four progressive classes starting for toddlers as young as age 16 months. Parental participation is required for the first two classes. The Cyclone class for 3-year-olds is the first level without parental assistance. Not only do these 45-minute classes focus on motor development and gymnastics techniques, but they also foster social skills and cognitive development. Located 6 miles from Woodbury in Oakdale is Rising Stars Gymnastics Academy, which offers an introductory program for children between the ages of 18 months and 4 years. Here, your toddler will work on developing his tumbling skills and learn how to navigate gymnastics props, such as a trampoline and balance beam.