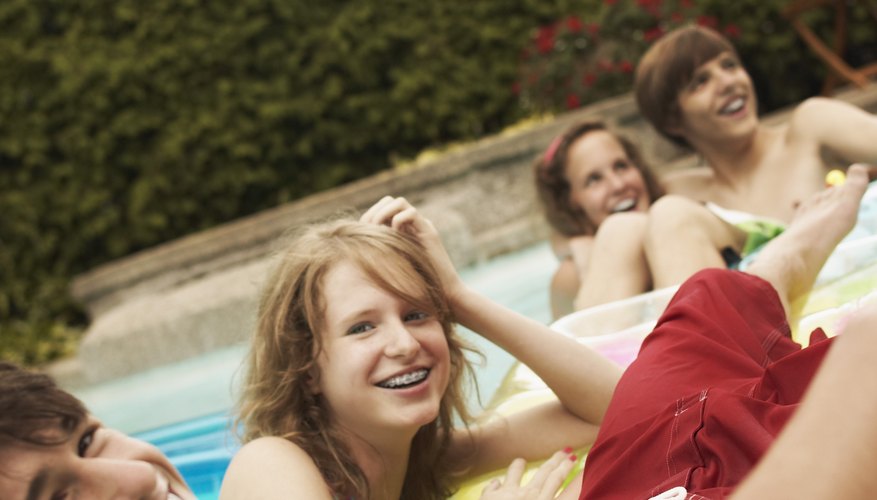 Although it may be the most magical place on Earth for some people, teens may not enjoy Disney as much if they have to wait in a line for hours with their younger brother to board Dumbo. Both Disneyland in California and Disney World in Florida offer attractions that are geared specifically for teens so they can get just as much out of the vacation as the little kids with minimal hassle.
Make a Plan
Well ahead of the time that you travel, have the teens review the parks, attractions and other features in which they are interested in participating. Disney World and Disneyland feature expansive websites that list each park separately, along with detailed information about the attractions and age recommendations. If traveling with multiple teenagers, have them make a priority list so that everyone can at least get their top few picks. At Disney World, teens may enjoy rollercoasters like the Rockin' Rollercoaster Starring Aerosmith Attraction, the elevator drop offered by Twilight Zone Tower of Terror or the virtual experience of Soarin' which will make them feel like they are hang gliding. Teens may also enjoy the 24-plex movie theater located in Downtown Disney. At Disneyland, teens will enjoy the refreshing splash that they will feel after dropping five stories at Splash Mountain, the thrill of careening around tight turns through a cave on the 104-foot Big Thunder Mountain Railroad and the creepy and mysterious Haunted Mansion. If possible, plan to visit when the crowds are slightly smaller, such as in January, October, November or before Christmas break, according to travel writer Ellen H. Parlapiano.
Leave Some Open Time
In the midst of seeing dozens of characters, standing in lines and trying to get the biggest bang for your buck, try not to forget the reason for going to Disney: it's a vacation. Be sure to leave some time built into the schedule for relaxing by the pool, playing arcade games or just lounging around. Disney's Animal Kingdom Lodge features a large pool with waterslides and Disney's Beach Club Resort has a beachside recreation area. Disneyland's Paradise Pier Hotel has a rooftop pool and waterslide. Disney's Grand Californian Hotel & Spa offers three pools, private cabanas and storytelling experiences.
Make a Splash
Disney World offers a variety of water activities for the family, including two water parks, Blizzard Beach and Typhoon Lagoon. Teens can let their adventurous streak show by going down a 120-foot slide at a speed of 60 miles per hour at Blizzard Beach. More cautious teens can enjoy a wave pool or snorkeling at Shark Reef in Typhoon Lagoon. Disney's Contemporary Resort offers water skiing, parasailing, wakeboarding and kneeboarding. Disney World resorts with marinas offer water racers, pontoons, paddle boats and kayaks. While Disneyland does not have separate water parks, Disneyland Hotel has a monorail pool with two large waterslides for guests to enjoy.
Grab Some Grub
Teens are known for their neverending appetites. Fortunately, Disney has plenty of options they can choose from. Epcot in Disney World offers a variety of foods that can quell their hunger, especially during the International Food and Wine Festival held in the fall season of each year. Another safe bet is the Beaches and Cream Soda Shop that offers such teen staples as burgers, hot dogs and sundaes in the Beach Club Resort. For Cajun cuisine, try the variety of foods offered at Disneyland during the New Orleans Bayou Bash. For the biggest teen staple, try Redd Rockett's Pizza Port for giant slices of pizza in Disneyland.