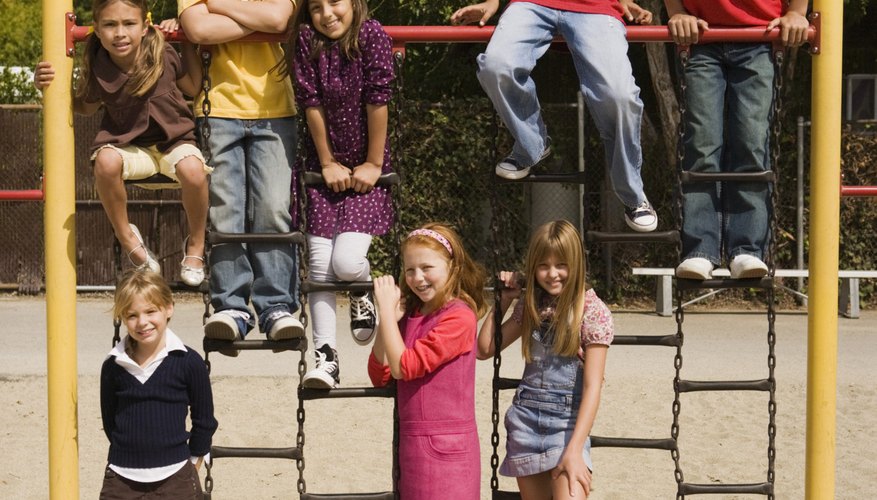 The city of Fort Dodge sits along the Des Moines River in central Iowa. The rural setting in this small town of 24,981, according to the 2011 U.S. Census estimate, makes for an excellent place for kids to enjoy the outdoors. The town's emphasis on family has led to many amenities for kids.
Parks and Playgrounds
Recently, the city of Fort Dodge (fortdodgeiowa.org) added several new play structures to the city parks. Oleson Park and Zoo (no website; 12th Avenue S; 515-573-7144) has many climbing toys and slides, a splash pad and swing sets. The park also has a zoo, grills, picnic tables and volleyball courts. Loomis Park (no website; Hawkeye Avenue; 515-573-7144) has a tall play structure with a tube slide, climbing walls, horseshoe pits and other games. The park overlooks the Des Moines River with picnic shelters. Snell Crawford Park (no website; Williams Drive; 515-573-7144) provides a two-level play structure with slides, sand volleyball and disc golf.
Library and Museums
The Fort Dodge Public Library (youseemore.com/nilc/FortDodgePL) offers story time for preschoolers, open house times for kids that feature crafts and games, and reading programs for kids. The Fort Museum (fortmuseum.com) would be an interesting visit for the kids. Fort Dodge was built on an abandoned military outpost of the 1800s. The museum preserves many of the historical buildings and artifacts, such as an old jail and a blacksmith shop. Kids can tour through these sites, developing an appreciation for the history of Fort Dodge. The Blanden Memorial Art Museum (blanden.org) not only has an exhibit hall full of masterful art pieces, but also provides art classes for children.
Dance and Gymnastics Classes
Hollingsworth School of Dance and Gymnastics (hollingsworthdance.com) provides classes for all ages seeking to develop strength, coordination and positive self-esteem in young people. It has jazz, tap, ballet, gymnastics, tumbling and fitness classes. Jill's Jazz Pizazz (wccta.net/gallery/jillsjazzpizazz) features classes in jazz, tap, ballet, gymnastics, tumbling, hip-hop, musical theater, cheerleading and lyrical. Children regularly participate in recitals to display all that they have learned.
Family Fun Centers
The Family Bowling Center (familybowl.net) provides a family-friendly environment to take the kids bowling. It has 24 lanes with automatic scoring, a large game room, bumper lanes for the younger kids and a pizza parlor. Ridgewood Lanes (ridgewoodlanes.com) features 16 lanes of bowling, both for recreational and league play. Youth leagues are set up in different levels with coaches alongside to lead the way. Ridgewood also has a 2,000-square-foot laser tag arena for team or individual games.