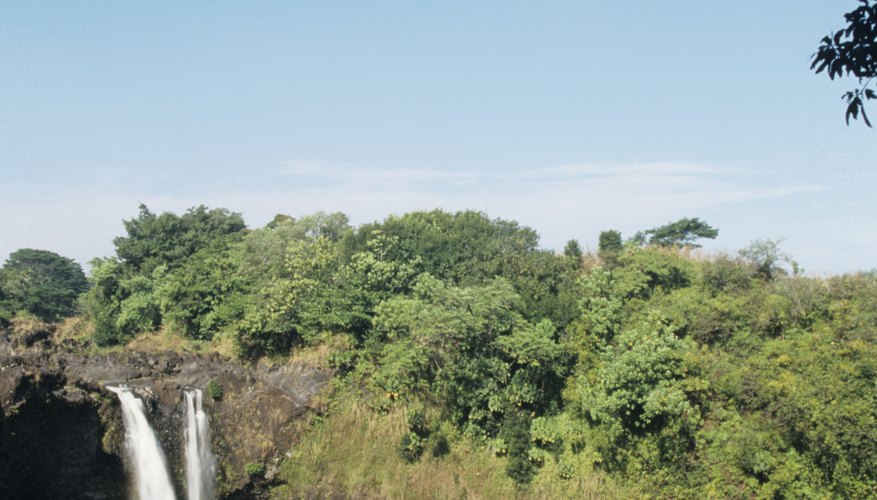 Hawaii has so much to offer your family that your biggest challenge won't be what to do, but how to find the time to do it all. Kids and teenagers might not want to relax at the spa all day, but will love exploring the culture and beauty of Hawaii. From volcanoes to beaches, this will be a vacation filled with excitement.
Water Activities
Hawaii has no shortage of water-related activities. Boys and girls can learn to surf at North Shore Surf Girls Surf School (northshoresurfgirls.com) on the North Shore of Oahu. Qualified instructors offer lessons for all ages and abilities. Kids and teens will be thrilled when you take them on a catamaran and snorkel outing. Hawaii Nautical (hawaiinautical.com) offers a Dolphins, Whales, Snorkel, Sail package, which includes a sailing day trip on a catamaran, snorkeling, breakfast and lunch, plus guaranteed dolphin or whale spotting. You will all be in water heaven at Wet'n'Wild Hawaii (wetnwildhawaii.com). This is a 29-acre water park with tropical surroundings and more than 25 rides and attractions, including the Tornado and a lazy river.
Natural Wonders
For quality bonding time, explore the natural beauty of Hawaii with your family. Haleakala National Park (nps.gov/hale) on Maui is a remote area, with coastal, rainforest and volcanic landscape. Just the 22-mile drive up is a fascinating journey of winding roads and various ecological zones. Waimea Canyon (hawaiistateparks.org) on Kauai can be accessed by a long and slow 11-mile drive. The drive is well worth the mesmerizing views this 3,500-foot deep canyon offers of waterfalls, birds, the Pacific Ocean and greenery.
Tasty Activities
Take your junior foodie on a gastronomical adventure with Hawaii Food Tours (hawaiifoodtours.com). The Hole in the Wall Tour is a day spent tasting the foods of Hawaii, including a two-hour tasting tour of Chinatown, a trip to two bakeries, plus samples of Korean barbeque, Portuguese doughnuts, crack seed and dim sum noodles. The Dole Plantation (dole-plantation.com) is a sprawling pineapple plantation with tons to see. Hop on the Pineapple Express train for 2 miles of lovely scenery, along with a narrated history of Hawaiian agriculture. The plantation also features a permanent botanical maze that is almost 2 1/2 miles of paths and showcases a giant pineapple in the middle.
Educational Activities
The educational activities of Hawaii are so fun, kids and teens will not even realize that they are learning. Imiloa Astronomy Center (imiloahawaii.org) is an astronomy and Hawaiian culture center. The center features exhibit subjects ranging from the cosmos to Hawaiian canoeing, plus a native garden and planetarium. The Polynesian Cultural Center (polynesia.com) is a 42-acre recreated village, where exhibits and performances bring to life traditional Hawaiian culture. Have your youngsters check out an ancient form of checkers (konane) and bowling (ulu maika and moa pahe'e).