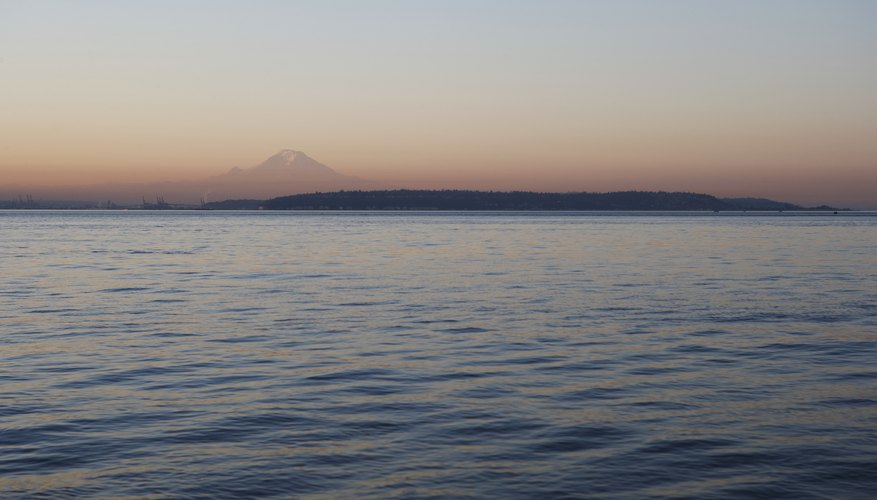 Port Orchard, Washington is located along Puget Sound, about 20 miles west of Seattle. Although Port Orchard is a small town, the waterfront location, bustling historic downtown and views of the Olympic Mountains make it a popular tourist destination. Whether you are just stopping through or are a permanent resident, you are will find plenty of activities for your kids. From museums to indoor playgrounds to festivals, Port Orchard offers many choices for family fun.
Festivals
Fathoms O' Fun (fathomsofun.org) is a community service organization that provides family-friendly activities and festivals. Held weekly from June to September, "Concerts by the Bay" at Waterfront Park give families the opportunity to hear music from a variety of genres, including jazz, rock, blues and R&B. The Fathoms Summer Festival Craft and Vendor Show features a Grand Parade, a pageant, craft and vendor booths, pony rides and puppet shows. The Kitsap Harbor Festival (kitsapharborfestival.org) spans both the Port Orchard and Bremerton boardwalks, and includes vendor booths, costume contests, a beer garden, car show, pancake breakfast and boat viewing.
Parks
Herd the kiddos over to one of Port Orchard's (kitsapgov.com/parks/) many parks for some fresh air and active fun. Horseshoe Lake County Park features lake access with swimming, a playground, trails and picnic areas. South Kitsap Regional Park is the stomping grounds for the Kitsap Live Steamers (kitsaplivesteamers.org) and their scale railroad. Kids can hop on the miniature steam locomotive and ride along a 4,000-foot stretch of track. The park is also home to ball fields, a basketball hoop, a playground, horseshoe pits, a skate park, batting cages and trails.
Museums
Take your child on a learning adventure at the Log Cabin Museum (sidneymuseumandarts.com). Your children can get a glimpse of what life was like over the past 100 years with the changing home-life exhibits. The museum is housed in a cabin built in 1914, still on its original site. The Sidney Museum (sidneymuseumandarts.com) is located on the upstairs floor of a 1908 building, with an art gallery downstairs. The museum features informative displays including a general store, doctor's office and school that offer a glimpse into early life in Port Orchard.
Indoor Activities
When the weather turns unpleasant, head over to Imagination Station (imaginationstationenrichmentcenter.com). Children up to age 6 can play in the 2,200-square-foot enclosed area, featuring a clubhouse with a slide, a playhouse with a kitchen and a variety of toys. Older children and parents will enjoy the free Wi-Fi and can purchase food and drinks. Sk8 Town (sk8townpo.com) is an indoor roller skating rink. Lessons are available. Special events, like the "End of the School Year All Night Lock-In" are offered, where kids can skate all night, get breakfast, snacks, music and games.