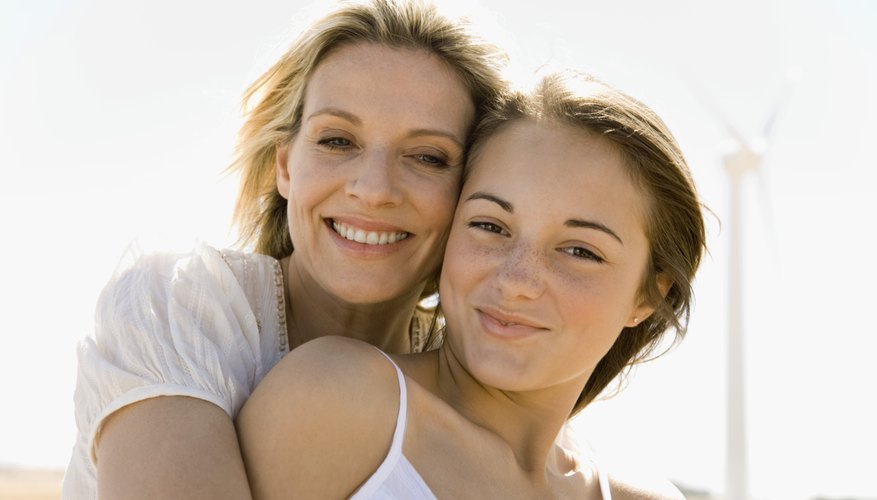 If you're under the impression that teenagers resent all parental involvement in their lives, you might be surprised to learn that teenagers whose parents are more involved thrive in many aspects of life and go on to do better as adults than teens whose parents take a hands-off approach. The trouble is not when parents are involved, but when they don't let teens make their own decisions.
Advantages of Parental Involvement
A report by the Council of Economic Advisers on "Teens and Their Parents in the 21st Century" found that teens whose parents were involved in their lives had fewer problems in many areas. Teens who reported being close with their parents and eating dinner with them frequently were less likely to drink alcohol, use drugs, be sexually active, get in fights or have suicidal thoughts. The report recommended that parents eat dinner with their teens at least five nights out of every seven to stay involved in their lives.
Helicopter Parenting
Some parents go beyond being involved and seek to rescue their kids from anything that could possibly go wrong in their lives. This trend is referred to as "helicopter parenting," as if the parents were swooping down in a helicopter to save the teenager from harm. Although helicopter parenting is often criticized, a 2012 University of Texas study found that teens whose parents offered extensive financial and emotional support did better than those whose parents did not. Teens with supportive parents were more successful at school and in their adult lives after school.
Control
The problem is not necessarily parental involvement, but parental control. A researcher named Dan Neuharth, Ph.D., categorized unhealthy parenting strategies into eight types of inappropriate control. According to Neuharth, some parents demand too much perfection from their kids. Some use emotional manipulation and are cold when displeased. Some are emotionally dependent on their own kids. Some use strict rules to try to micromanage their kids' lives. Some compete with their children, or expect their children to parent them. Some are unstable and unpredictable. Some are abusive. Even though these behaviors are all different, they all have the effect of taking away the child's power over his own life.
Effects of Inappropriate Control
According to the University of Iowa's guidebook on "Controlling Parents," teens whose parents are inappropriately controlling can suffer from poor self-esteem, depression, high levels of self-criticism and an inability to make their own decisions. They can have problems making friends, establishing healthy dating relationships and working well with others. High levels of parental involvement can help teens to do well in life, but high levels of inappropriate control can sabotage their ability to make the transition to adulthood.