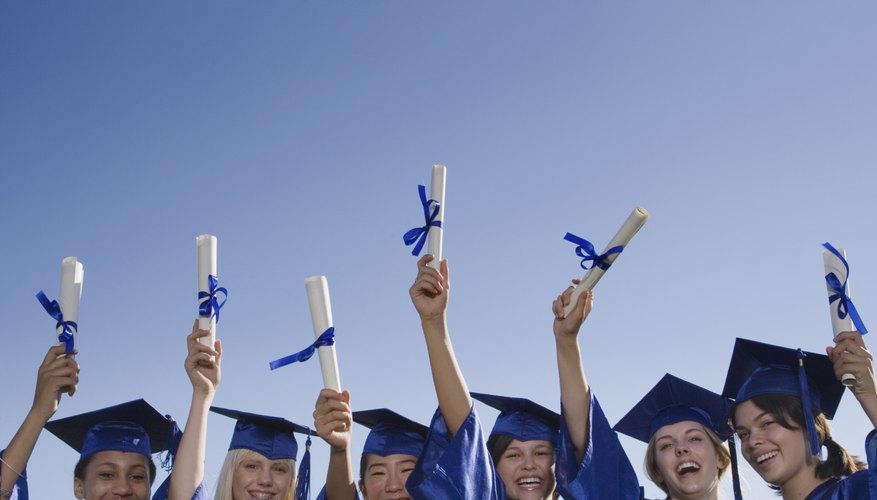 While whining and complaining about going to school isn't entirely uncommon for most teens, outright refusal to go to classes is a serious issue that you must attend to immediately. Whether your teen puts her foot down and tells you an emphatic no when you say it's time to go or she skips out after you drop her off, not going to school can put a quick end to your child's bright future. Understanding what to do when this happens is key to getting her back on track.
Understanding the Law
Depending on the severity of your teen's problem -- is he cutting a few classes or does he want to drop out? -- you may, or may not, have legal options. Some states don't require teens of a certain age to attend school and some may allow them to leave before graduating if there are special circumstances. Compulsory school attendance refers to the minimum and maximum age required by each state in which a student must be attending school. According to the Education Commission of the States, 28 states don't require teens to attend school after age 16; nine states have a compulsory maximum age of 17; and 17 states have laws mandating that all teens must stay in school -- unless there are extenuating circumstances such as permission by the school board or district court allowing the teen to leave school -- until they are 18. If your teen refuses to go to school, and is older than compulsory age, you may have no legal recourse when it comes to forcing your teen to attend school.
Present the Facts
Although leaving the confines of high school for a life of freedom from education may seem ideal to your teen, you can't allow her to live in this type of fantasy world. If your teen thinks that leaving high school means that she can do what she wants, when she wants and still be able to afford to maintain her lifestyle, present the facts about how not having a diploma will impact her life. According to the National Center for Education Statistics, in 2011, the median income of a high-school drop out averaged $22,860. In comparison, the average income of a person with a high-school diploma was $29,950 and the annual salary of a college graduate averaged $50,000. When your teen tells you that she's not going back to school, show her the stats and ask her if she would rather eventually go to college and make a decent wage or end up living from check to check.
Talk to the Teachers
The American Academy of Pediatrics, on its HealthyChildren.org website, suggests that parents of potential high-school drop outs work with the educational experts to keep their kids in school. Your teen's teachers, or the principal, have experience with this type of issue. Invite the school staff to give you advice or ideas on how to get your teen re-engaged in school. Additionally, the school staff may have alternative ideas such as a work-study program or a vocational course of study that may appeal to your teen.
Stop the Free Ride
Staying home from school shouldn't mean that your teen gets a free ride. The AAP notes that financially supporting a drop out gives the teen the unrealistic notion that she is functioning independently. If your teen is older than the legal age for school attendance and absolutely refuses to go to school, let her see what it's like to support herself without a diploma. Insist that she get a job, pay rent, contribute to your household's bills -- such as water, electricity and food -- and use her own money for all entertainment and leisure-time activities. Seeing first-hand how difficult it is to financially support herself without a high-school education may give your teen cause to return to classes and finish her degree.