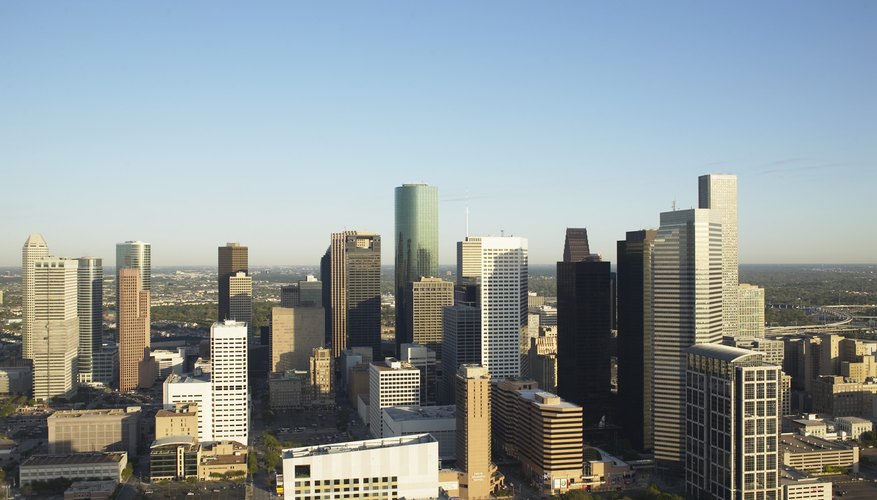 They say everything is bigger in Texas and as the largest city in the state, Houston is the biggest of them all. Houston's eye-catching skyscrapers, famous sights such as the Johnson Space Center and its highly regarded arts scene, offer plenty for both visitors and residents to enjoy. When you've got fickle teenagers however, none of Houston's appeal matters if it doesn't entertain them. Fortunately, as the fourth-largest city in the country, Houston doesn't disappoint for teens, offering teen-friendly venues for high-action thrills, a hip and young art culture and a prime location close to the beaches of Galveston Bay for beach fun in the sun.
Cultural Attractions
The Houston Museum of Natural Science has exhibits that will appeal to teens, including the visually appealing Cochrell Butterfly Center that has a floor-to-ceiling glass-enclosed rainforest landscape and a 50-foot waterfall. The Health Museum has plenty of hands-on activities to keep teens interested, including the Amazing Body Pavillion that makes you feel as though you are inside the human body and the 4D theater that features live-action films exploring the human body and diseases. Teens might also enjoy checking out the tricked-out, contemporary art cars at the Art Car Museum, which includes a life-size high-heel shoe car and a creepy alligator car.
Entertainment Centers
Your teens will can get their adrenaline pumping at K1 Speed, an indoor go-kart race track that has go-karts that reach speeds of nearly 45 mph. It also has a hangout lounge to watch races, a snack bar and pool tables. Another entertainment center ideal for teens is Track 21, which also has indoor go-karting, and an 8,000-square-foot laser tag arena and a cosmic, glow-in-the-dark miniature golf course. It also includes an arcade and snack area.
Sports Arenas
Teens who are sports fanatics would be thrilled to tour Houston's major sports arenas. Take your basketball-loving teen to the Toyota Center stadium to see the Houston Rockets. The tour includes the opportunity to stand on the basketball court and tours of the luxury courtside and balcony suites. Take your football fanatic teen to Reliant Stadium to see where the Houston Texans play and see a side view of the field, visit the Texan's locker room, the press box and see a few luxury suites.
Amusement and Water Parks
When the Texas heat becomes unbearable, head to the area's largest waterpark, Splashtown, which has a wave pool, speed slides and exciting thrill water rides. Your teens will find plenty of other teens at the Kemah Boardwalk, just 20 miles southeast of downtown, on the coast of Galveston Bay. The boardwalk features a ton carnival-style rides, including two roller coasters and Ferris wheel. as well as midway games and an arcade. The boardwalk also offers a high-speed boat ride and a hands-on stingray exhibit.