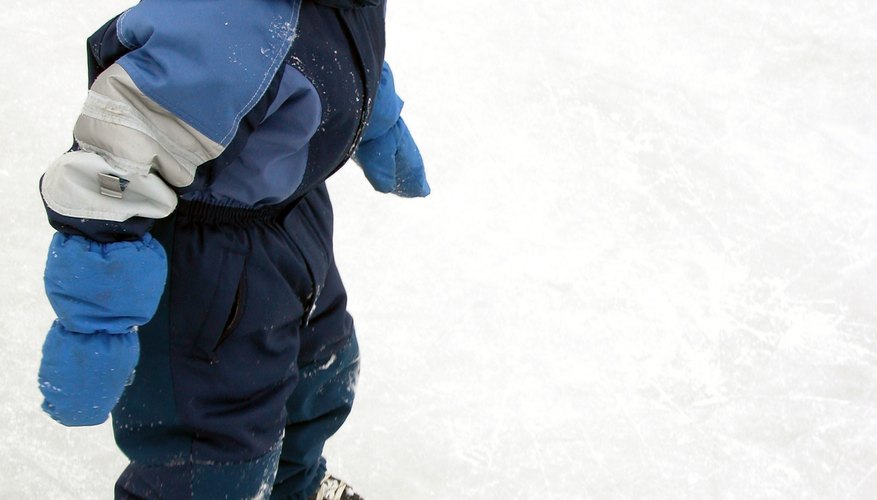 You might have fond memories of winters spent gliding along a nearby pond, and want nothing more than to create similar experiences with your own child. Aside from being enjoyable, ice skating is also great exercise, and can help improve your young child's balance and coordination. In a perfect world, you'd strap on the skates and your child would glide gracefully on the frozen water, but in reality he'll probably spend more time with a sore, frozen behind. When it comes to teaching a small child to skate, it's all about finding the right equipment, and keeping your dreams of a future NHL player in check.
Ensure the ice skates fit properly before embarking on your adventure. They should be comfortable and fit snugly, but loose enough so as not to restrict your child's movement. If you're skating indoors, a pair of comfortable pants and a coat will do. If you're outside, dress your child appropriately for the weather. A helmet, knee pads and elbow pads will also help prevent injury.
Hold your child's hands and tell him to take big steps like he's marching in a parade. Do this on a pliable surface, such as the rubber mats around the ice skating rink to get him accustomed to wearing the skates. Once your toddler or preschooler can march without holding your hands, it's time to bring him on the ice.
Help your child on the ice with the aid of a sliding walker. Many ice rinks have these walkers available, but they're also available for purchase at sporting goods stores. Hand your child the walker and instruct her to march on the ice.
Bend your knees slightly and keep your head up. Take two or three small steps before pushing forward with either foot and gliding on both of your feet for three seconds, to teach your toddler how to two-foot glide. Attempt this only when she's comfortable with using the walker.
Show your child to fall on his side, instead of his face or back, to avoid injuring the tailbone. Once on the ground, show your child to put his behind and hands on the ice and to stand up slowly. Falling is an unfortunate part of ice skating, and learning the proper technique can save your child from a lot of unnecessary injury.
Tip
Consider hiring a professional to teach your toddler or preschooler to skate.