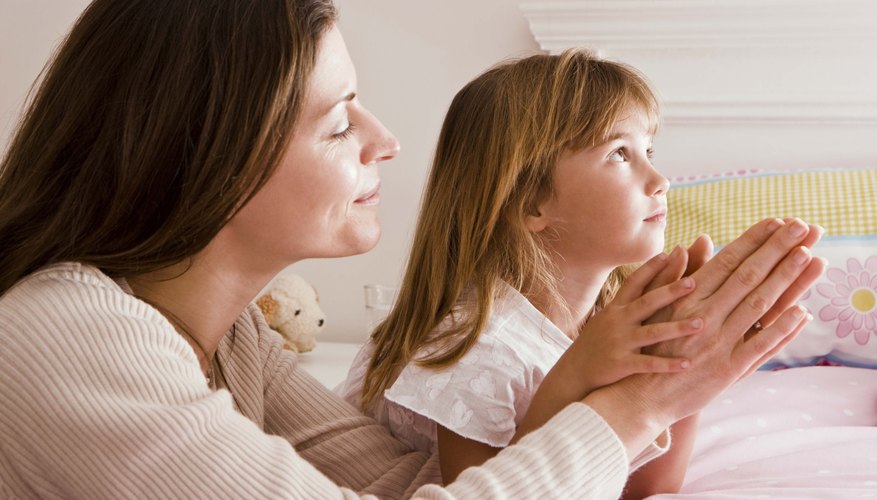 The Lord's Prayer is considered the model prayer for Christians. You may remember having to recite it in Sunday School or repeat it during the worship service without having a clue about its meaning. However, the Lord's Prayer is more than just a reverent, religious quote. Jesus authored this prayer when His disciples asked Him how to pray. This prayer is not just for adults. Even very young children can memorize it. If you are trying to teach your child to pray, begin with the Lord's Prayer. Many children love to learn and recite the Lord's Prayer. If your child is one who seems reticent . . . be patient.
Teach one phrase at a time. There are 10 phrases in the Lord's Prayer. Recite each phrase and have your child repeat it. Make sure she can say most of it correctly before moving on to the next one. To help a child remember the 10 phrases, have her hold up one finger at a time while reciting it. Then she can clap after saying the closing line of the prayer.
Use creative methods to teach each part of the Lord's Prayer. Help your child make a book with drawings to represent each part of the prayer. For example, ask your child to draw a picture of the world as he sees it, to represent God's kingdom. Make homemade bread and discuss how God provides everything including "our daily bread." Ask your child for a definition of temptation and evil, and be prepared for some imaginative answers.
Pray the Lord's Prayer with your child. Let your child see that the prayer is important for grown-ups too. Give your child the choice of location and posture for praying. He may want to kneel by the bed or sit on the couch. You may want to use a prayer from a more modern translation of the Bible like The Message or The Living Bible. This makes it easier to explain words like "debtor" and "trespasses." Expand your prayers by including your own words. Hopefully, your child will emulate your example as his prayer life matures.
Explain the purpose and importance of prayer. Your child may think that praying sounds awkward and mysterious. Tell your child that prayer is how people talk to God and listen for His guidance about their lives. Impress upon your child that the Lord's Prayer is not just something to recite and then forget. Encourage him to pray often. Maybe he will ask you to be present when he prays. Be patient, even if it takes him 15 minutes to pray for every kitten and tree in the neighborhood.