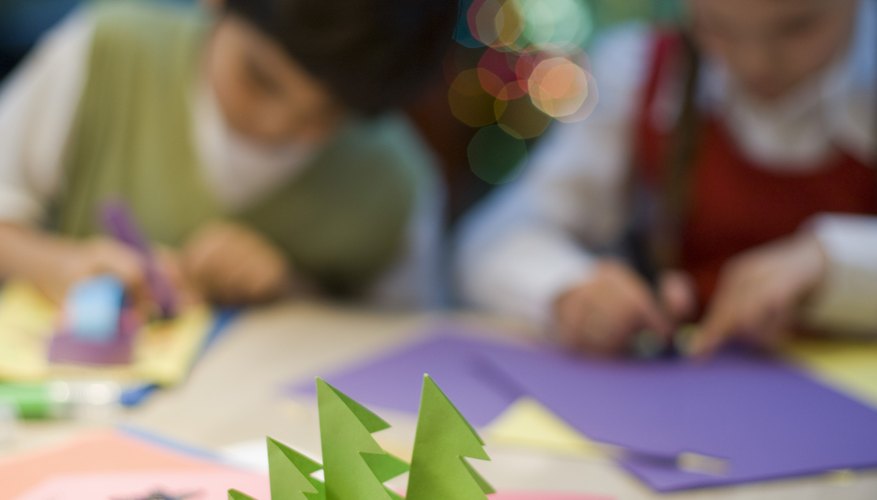 Verses throughout the Bible indicate the importance of encouraging others in their faith and in their lives. Verses such as Hebrews 3:13, Ephesians 4:29 and 1 Thessalonians 5:11 tell Christians to always be encouraging in word and deed. Teach your church youth how to express such compassion through the sending of cards to ailing church members, deployed troops overseas, nursing home residents and others in need of encouragement.
Discuss what it means to be encouraging to others. Young children might relate to the "atta boys" they receive when learning sports or mastering a new skill. Older kids cheer each other on during basketball tryouts, visit sick friends at home and encourage their parents when they start a new job. Read Bible passages with them that discuss encouragement, to ensure they understand what it means. Tell them it's not just a nice thing to do, but something Jesus calls on his followers to do.
Explain the project. Tell the kids you want their help in spreading encouragement to others as part of a card ministry. With their input, select a group or groups of people who they think could use some encouragement. Start with members of the congregation who are home-bound or ill, then consider nursing or veterans' home residents. Older church teens who are away at college or military personnel deployed overseas probably also would welcome encouraging notes and cards from the church's young people, too.
Help kids buy colorful cards with encouraging messages in them. An even more meaningful way to teach the importance of encouraging others is for the kids to make the cards themselves, from card stock and markers or using construction paper. Help younger children write encouraging messages in the cards such as "thinking of you" or "smile." Older kids might write longer encouraging messages, along with a relevant Bible verse or quotation. Remind them that it's important to put some thought and care into the cards. Help the children correctly address and mail the cards. In the case of a nursing home or similar facility, arrange for the kids to deliver the cards in person.
Start a "big card" ministry with the church kids. Create big cards to deliver to ailing or grieving church members. Fold pieces of poster paper in half, have the kids decorate the front and write messages inside, then set them out during church fellowship time, along with some markers, for church members to add their own notes and names. The kids can then deliver these in person to the addressees to brighten their day and remind them that their church family is thinking of them.
Tip
Get permission from the appropriate authorities before taking children on a visit to a nursing home or other facility.