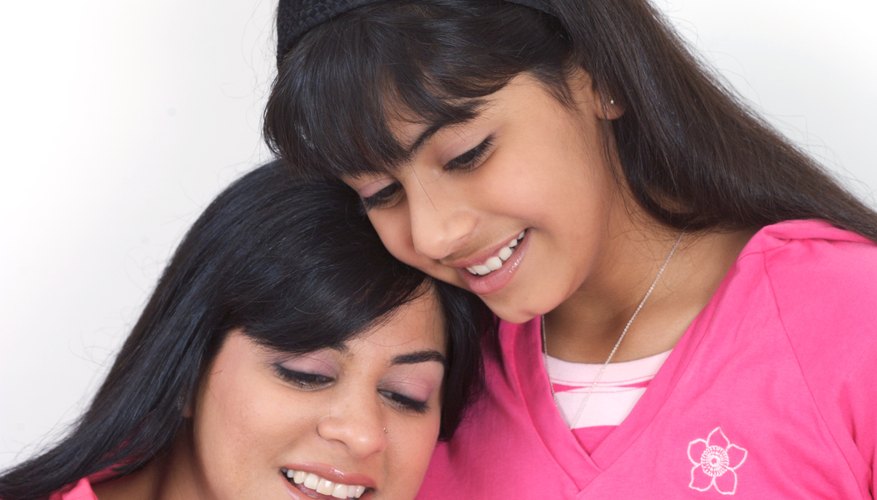 Putting forth effort is necessary to succeed. As you support and encourage your child, it'll be necessary to bolster your child's motivation occasionally. By keeping your motivational techniques positive, you can encourage achievement and teach your child that effort usually brings satisfaction.
Communicate Expectations
Children need to understand expectations in order for them to work toward goals. As you teach your child how to achieve goals, set realistically high expectations that your child can achieve. Once you set your expectations, communicate them clearly with your child so your child understands, suggests educator Robert W. Cole, author of "Educating Everybody's Children." Show your child that you believe he can learn something or achieve a goal.
Positive Encouragement
Positive encouragement can be a powerful motivator for children, according to professor and psychologist Jim Taylor. By providing positive, affirming and uplifting messages to your child about her efforts and activities, she likely will feel empowered to achieve based on your contagious spirit. Encourage your children with positive messages about trying ("You worked so hard on that song! I can hear the difference!"), perseverance ("That's OK -- keep working on it.") and mistakes ("I know that didn't turn out like you wanted, but let's figure out what you learned").
Internal Motivation
Although parents can be powerful cheerleaders for a child, the child also needs internal motivation to succeed. If a child has an internal belief that he can achieve or succeed and if the child derives some enjoyment from the process, he is likely to feel personally motivated to keep trying and putting forth effort, according to the Arkansas State Parental Information & Resource Center. Internal motivation usually develops over time as a child experiences positive results of effort. The child will learn he has skills, understanding and abilities that enable him to achieve goals. Find opportunities for your child to succeed to build internal motivation.
Positive Environment
Children need a positive environment in which to succeed, according to the Public School Review website. With a predictable routine, a child will have the security she needs to focus on goals. School, meals, play, homework and sleep times should be regular and predictable for a child. Encourage your child to develop personal responsibility for achieving goals and following rules by stepping back enough to allow some independence. Communicate daily with your child to assess her feelings of confidence and ability to meet goals. If your child needs help and support, offer help.