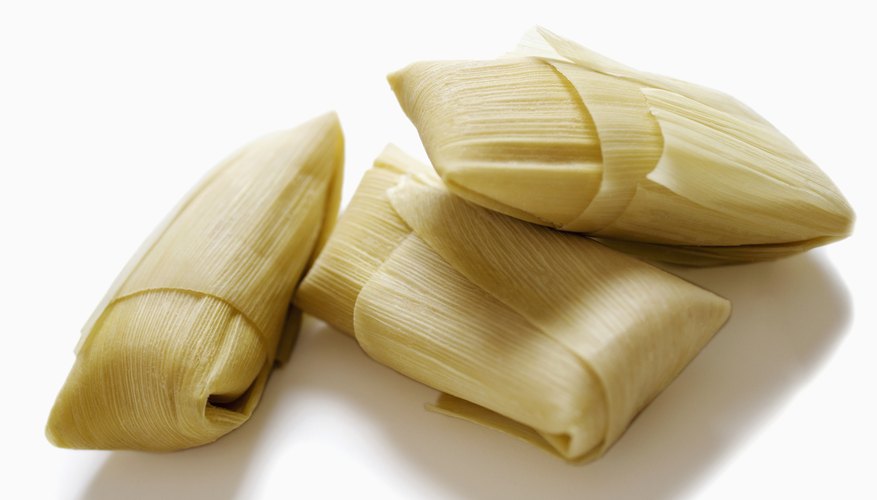 If hot tamales sound tasty but you have a little one who likes his food a little more on the mild side, get creative. The possibilities for tamale fillings extend as far as your imagination can take you. Make some kid-friendly tamales for the family, and your kiddo might just have a new ethnic favorite.
Traditional Tamales
Traditional tamales take some time and effort to make, with the filling ingredients, the corn dough, the wrapping and the steaming. Corn husks or banana leaves are the wrappers of choice for traditional tamales; you can buy either at an ethnic grocery store or online. Traditional corn dough generally contains masa harina (a fine cornmeal), water, baking powder, salt and pork lard. Standard tamale filling would probably bring tears to your tot's eyes, with lots of hot peppers, garlic, onions and spices. All of these tamale traditions are easily modified, though, to make a dish your little one will love.
Kid-Friendly Ingredients
To modify the corn dough ingredients, swap out the lard for healthier cooking oil so you can feel good about serving tamales to your little one. Filling suggestions for yummy tamales include shredded chicken and white cheddar cheese, smashed black beans and cream cheese, mashed sweet potatoes and maple syrup or ground turkey, tomato sauce and Monterey Jack cheese. Virtually any savory or sweet combination your little one likes could be tucked away into tamales for an entree he's sure to love.
Preparing
Place eight corn husks or banana leaves into a large bowl and cover them with cool water to soften them. It's fine to leave them soaking until you're ready to wrap the tamales. Mix together the ingredients for the corn dough: about 2 cups of masa harina, 1 cup of water, 1 tablespoon of corn oil, 1/2 teaspoon of salt and 1/2 teaspoon of baking powder. The dough should be sticky enough to form into eight small balls. Mix together your filling ingredients -- whatever combination floats your boat.
The Corn Husks
Take the corn husks out of the water and pat them dry gently. Spread out the corn husks out on the counter and put a dough ball on each husk. Press the dough out so it covers the corn husk in a flat circle, about 4 inches in diameter. Place a generous dollop of filling into the center of the dough and fold the dough around the filling. Wrap the corn husk around the tamale, folding it snugly. Some people like to tie the corn husk with string to keep it in place.
Cooking
Put a steamer insert into a large pot and fill it with a few inches of water. Heat the water until it boils and then put the tamales into the steamer insert so they're standing on end. Cover the pot and steam the tamales for 15 to 20 minutes, until the corn dough cooks through and the filling is hot. Remove the tamales from the steamer.
Yummy Serving Suggestions
The corn husks should pull away neatly as long as the tamales are done steaming. One of the best parts of tamales is the sauces for dipping. Try a cheese sauce for a surefire winner with kids. Another possibility might be a sweet-and-sour sauce or a barbecue sauce. Again, there are no rules: go with what your kiddo likes, and you'll have created a new tamale fan.