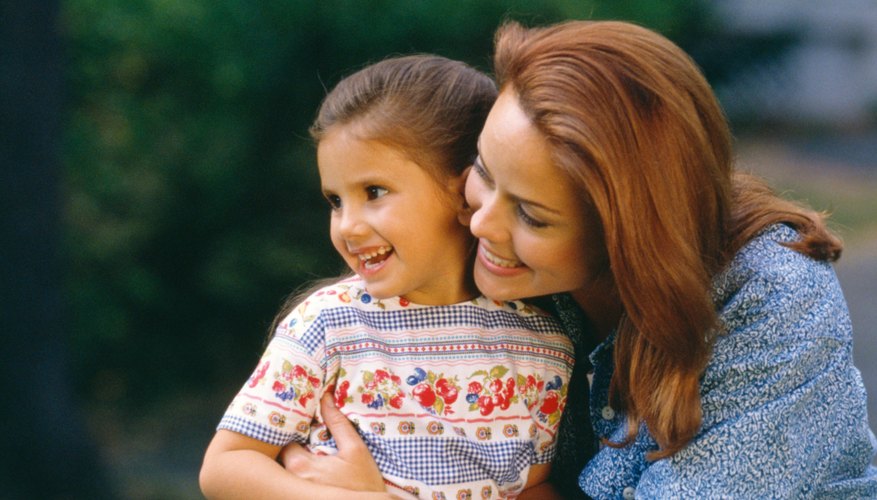 There are a variety of reasons for a father to become absent from a child's life. Some reasons may be positive and admirable, such as a military deployment, while other reasons may be more difficult to explain or navigate with children. Regardless of the reason, if your child has a father who is not present in his life, communication and support from a trusted adult is imperative to ensure that the child adjusts to and processes the absence.
Try to eliminate all emotion from your demeanor as you speak with your child about her absent father, recommends OneFamily, Ireland's leading organization for single parents. Ideally, you'd already have resolved any feelings of anger, frustration or sadness about the absence to enable you to discuss it openly with your child.
Answer questions as honestly and completely as possible. Children often need or want a concrete idea of where Dad is and what he is doing with his life. If you don't know, you'll have to tell your child this. If you do know, give your child general information that won't cause additional confusion or upset. If your child asks questions such as, "Does Dad love me?" or "Why isn't he here?" reply as positively as possible and explain to your child that your family may be a little different from some other families you know, but that doesn't make it any less of a family.
Empathize with your child's feelings in response to the information about her absent father. Whether your child feels sad or angry or isn't sure how to feel, tell her you understand and that you want to help her feel better. Grieving for a missing father is a very natural response for children.
Assess your child's response to the situation based on the explanations you provide and the questions asked. If you discern significant sadness, despondency, anger, frustration or depression, you may need to connect your child with a therapist or counselor who can help her accept and adjust to the absence. In addition, if your child begins to have trouble in school or in social situations, these symptoms may also indicate that she needs to explore her feelings further with a professional.
Tell your child that you will always be available to talk, listen or answer questions about her father. Promise that you will provide accurate information about him, if possible. Building and maintaining trust between you and your child about the absent parent is an important part of her adjustment and acceptance of the situation.
Tip
The absence of a father in a child's life can have disastrous effects on a child, including issues of abandonment, behavioral problems, academic performance, youth crime, negative risk taking, mental and physical health issues, and problems with future relationships, according to Edward Kruk, PhD, writing for "Psychology Today." Your active support, as well as facilitating professional counseling for your child, may be important to help him adjust effectively.