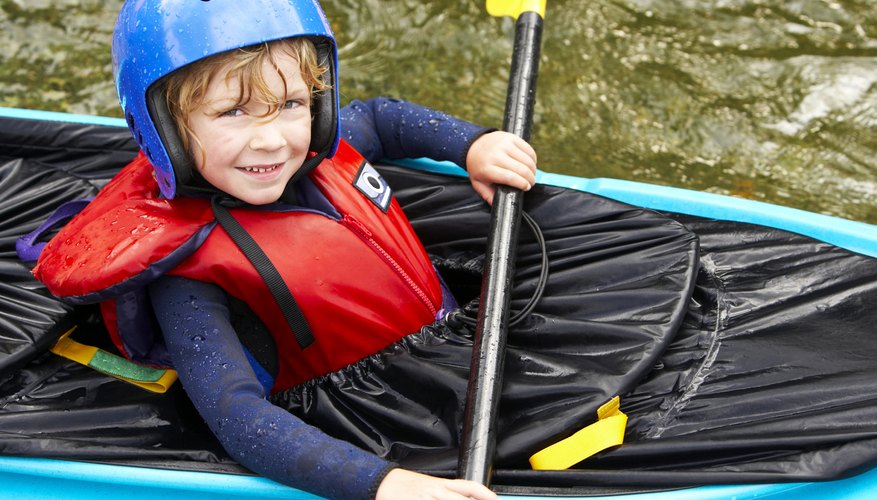 Grand Haven, Michigan, is a picturesque community surrounded by miles of pristine beaches, sparkling water and thick forests. For kids who have been busy with school and extracurricular activities all year, a summer without plans can lead to crushing boredom. Because of Grand Haven's proximity to such a variety of environments, many summer camps are tailored to outdoor activities such as kayaking or hiking, but the community also boasts a significant number of educational and creative summer camps.
Sports Camps
Bucs for Better Basketball offers a summer camp for competitive basketball. Register your child for this basketball summer camp and let your child focus on her basketball skill development. Camps are offered for boys and girls. At the Tri-Cities YMCA, children as young as 3 years old can enroll in gymnastics camp. Children will engage in games, crafts and dance while spending time working on fundamental gymnastics equipment such as the bars, beam and vault. Baseball, soccer and volleyball are also offered to young children interested in summer camp at the Tri-Cities YMCA.
Learning Camps
Register your child for summer camp at the Conductive Learning Center for five weeks of conductive learning. This type of camp is specially designed for children with neurological or motor disabilities such as cerebral palsy. During the five weeks at the learning center, your child will practice daily living skills and motor development in a group with other children of similar ability. The center strives to provide a supportive environment for children of all needs. Offered by teachers and youth assistants, the Tri-Cities YMCA offers a multitude of options for learning camps for all children. Learning camps such as Creepy Crawlers and Fairy Tale Princess are designed to stimulate the imaginations of children ages 2 to 7. Children will engage is a variety of hands-on activities, craft projects and games all tailored to the weekly theme.
Outdoor Camps
Offered by the Tri-Cities Family YMCA, strong swimmers who are between the ages of 9 and 15 can learn to kayak along waterways and in lakes. The Outdoor Kayak Adventure is offered in August at Lakeshore Kayak. Travel about 30 miles to Grand Rapids for a fun, Christian experience at Camp Tall Turf. Camp Tall Turf offers children the opportunity to connect with their faith and nature in a supportive environment. Kids will have the option to engage is a variety of sports and learning activities. Thirty miles away in Grand Rapids is the John Ball Zoo Society, where children can attend day or overnight summer camp. Children ages 3 to entering ninth grade can participate in role-playing, learning activities, animal exploration and crafts all centered around an animal theme.
Specialty Camps
The Tri-Cities Family YMCA offers a variety of specialty summer camps. A themed dance camp such as the Princess Dance Camp or the Animal Boogie Dance Camp are offered for children as young as 3 years old and focus on having fun with music and games. Kids ages 11 to 15 might also attend a babysitting camp to learn how to care for infants and toddlers, handle emergencies and treat illness. This camp also provides valuable information on being a good role model, how to create a resume and basic interview skills. For children ages 6 to 13 years old, the Tri-Cities Family YMCA has an underwater robotics camp in June where your child will learn how to build a remotely controlled vehicle capable of going in the water. Kids will then have the opportunity to drive it in the pool.