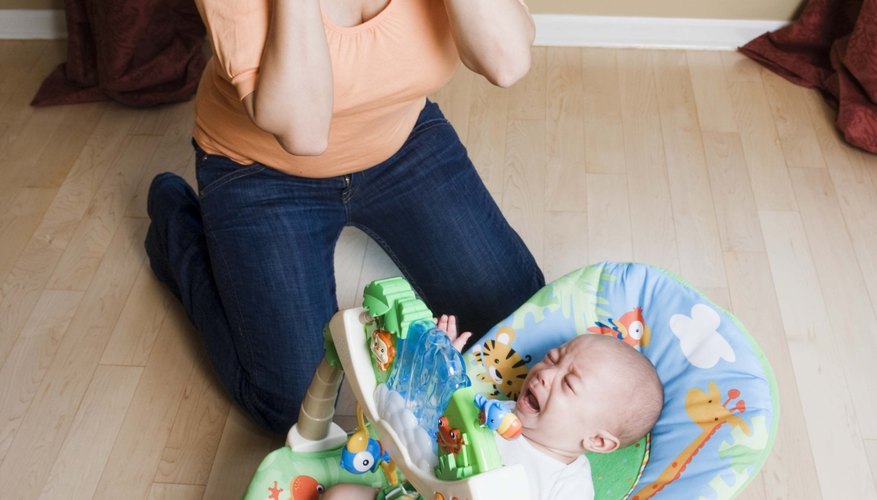 State sponsored parenting classes may be court-ordered after a divorce or may be required to close a child abuse or neglect case. Other state sponsored parenting classes are voluntary and offered to any families who want to learn more about child development or a particular parenting issue. The classes available vary between states cover a broad range of topics -- everything from basic child development to how to deal with complex adolescent behavioral issues. Many states offer parenting classes through local social service agencies or court systems, but some contract the courses through private mental health providers or hospitals.
Co-Parenting Classes
Many states require parents who are divorcing to take courses designed to facilitate cooperative parenting. For example, Connecticut's state-sponsored parenting classes for divorcing parents "include information about children's developmental stages, helping children adjust to parent separation, cooperative parenting, conflict management and dispute resolution techniques, guidelines for visitation and parent access." These divorce-specific co-parenting classes may also focus on helping both you and your child adjust to the stress of the new family arrangement.
Courses for New Parents
Some states offer classes in child development geared toward new parents or the parents of toddlers. The courses may cover issues such as basic childcare, nutrition, how to interact with your child and how to bond with your young child. Some of these programs, such as those offered through Head Start, are available only to families meeting specific income requirements. Additionally, some courses for new parents may be available only to those families with children who have displayed early signs of developmental delays.
Behavioral Issues
Most states offer parenting courses that will help you navigate complex behavior issues, whether they stem from a mental health condition such as Attention-Deficit Hyperactivity Disorder or developmentally expected defiant behaviors. For instance, South Dakota offers a "Common Sense Parenting Program" that focuses both on effective behavior management strategies for parents as well as ideas on how to create healthier family dynamics.
In-Home Parenting Classes
Some states offer in-home parenting classes. In these classes, a trained therapist or educator visits the family and works with both the parents and children on issues such as behavior, communication and family dynamics. Parents as Teachers is one such in-home program that focuses on parenting young children. This program is comprehensive and covers many topics, including sleep, nutrition, parent-child bonding and safety. These comprehensive in-home programs are generally available only to at-risk families, such as those with open child protection cases.