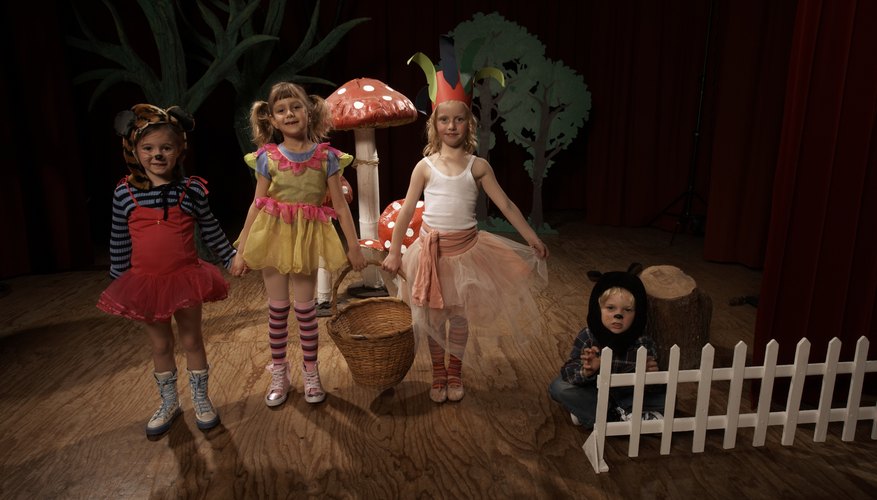 Does your preschooler love to be the center of attention, and do you often find her acting out emotions in the mirror? If this describes your little one, then you may want to consider getting her into acting, so that she has an outlet for all that creative energy. In order to do it right, you must find her a sponsor, or agent, that is willing to promote her to others and book acting jobs. Agents focusing on children will sign all ages, but generally look for children ages 4 or 5 and up.
Enroll your preschooler in acting lessons or find a children's theater company where she can practice performing. In order to wow a talent agent into sponsoring your bright-eyed little one, she needs to be comfortable enough to perform in front of an audience. If you want to find a local theater, a good source is Children's Theater Links (childrenstheaterlinks.org/), which lists many local theaters on one page so that you can find one in your area. If you don't find a listing on this site for your area, contact your local Chamber of Commerce and ask if they know of a children's theater in the area. Acting lessons are generally offered at children's theaters, even if the child doesn't want to try out for stage parts. Also, Children In Theater (childreninfilm.com/Cast-Acting-Coaches-Classes.aspx) offers a search for acting teachers, which requires you to set up an account to do the search, but the account is free.
Develop an acting resume for your talented child that lists her lessons and performances. The resume should also mention any special skills that she may have. Although young, you might have her in dance classes or she may already know how to ride a bike. When agencies look for specific skills, your child will pop up. Free templates are available online (see Resources).
Take a few snap shots of your child. This shouldn't be difficult, since she already loves being in the spot light. Include at least one close up of her head and shoulders only. Since young children grow so rapidly, agents that are looking to sponsor young talent do not expect professional photos to accompany interview requests.
Look up the names of agencies in your area and the closest large cities. It is best to start close by, since booking with an agency can mean a lot of running around on your part. You can find the names of agents listed with the Screen Actors Guild (recently merged with another union, AFTRA), which is a labor union that represents most acting talent (sagaftra.org). Under "Union Info" on the website, select "Agency Relations," then select "SAG Franchised Agents" or AFTRA Franchised Agents" to search for reputable agencies in your area. Never go to an agency that requires money up front. Agents make their money from booking gigs for the actors. Although there may be some legitimate agencies that charge fees, there are also many of them out there that don't. Also, avoid an agency that always broadcasts television and radio spots about auditions and how your child could be the next Disney star. These companies are not completely on the up and up, and will charge enormous fees for acting lessons and other classes, with little to show for it. Agents that are franchised through SAG are your best choice, since they have been approved by the guild as reputable agencies.
Mail your shining star's resume to the agencies that you select. Include copies of the snap shots as well as a cover letter explaining who she is and your interest in getting her into acting. Do not call the agencies. Wait for a reply, which could take up to a month. If no reply comes, wait three months from the date of the first mailing, and send an updated resume and snap shots. Agents and sponsors don't like to be bothered with constant phone calls, and are more likely to respond to mailings if they don't have a negative view of you. You might have gotten no response at first because the agency had no current need for a child that looked like yours or had her talents. Things change rapidly, and three months later, they may have use for her.
Tip
To get an agent to take an interest in your child, it helps if she can do more than act. Consider placing her in beginner dance classes or getting her some singing lessons. If you can find other lessons for her age, such as horseback riding, playing a musical instrument or modeling, it will help her be a more well-rounded candidate. Additionally, if your local mall or department store holds a fashion show every year, sign your preschooler up for her age group, and add that to her experience. You can also talk with department stores and companies that often place ads in local papers, to see about using your child as the model in the photos.
When you finally get an audition with an agent, your little one's personality is going to be a strong factor in getting signed. Make sure she gets a good night's sleep and is in a good mood before walking into the agency. Practice with her at home saying lines. If she isn't old enough to read yet, the agent will skip that portion of the audition process, but may want her to memorize a simple line and repeat it back to him. You can practice this at home by taking simple lines from kids in commercials and getting your child to act them out.