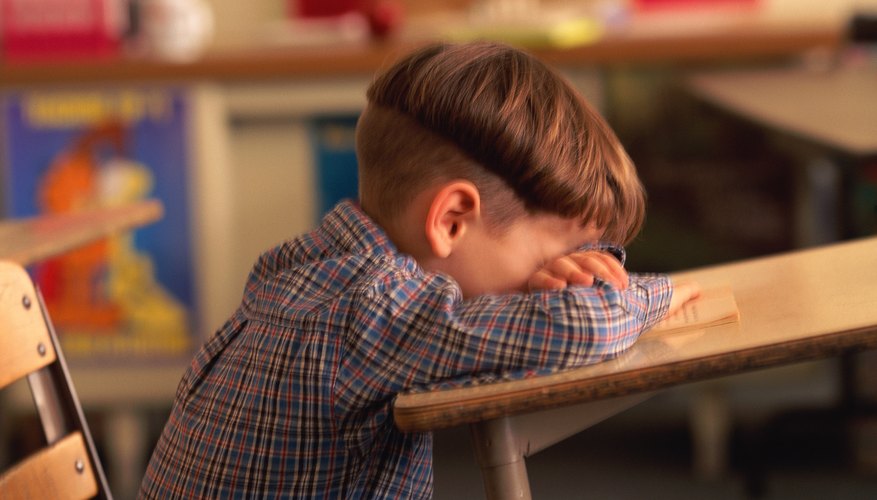 Children diagnosed with emotional problems such as anxiety, conduct, eating, mood and psychiatric disorders need special help to change their behavior. Parents of kids struggling with emotional disorders frequently find help at special schools with counselors, teachers and administrators trained specifically to deal with the problems. Special education helps both the child and the child's family handle difficult behavior. Special schools designed for children with emotional problems use different approaches and programs to modify behavior.
Home Away from Home
Residential schools for kids with emotional problems take children out of the home and create a controlled-learning atmosphere to develop self-regulating skills to manage emotions. Some special schools require residency for a full school year, while others allow children to attend for a short period of time and then return to regular schools. Schools frequently focus on activities such as military training and outdoor adventure or study themes, including art, dance or science. Special residential schools also offer services for students with both emotional and other diagnosed challenges, including autism or delayed mental development.
Special Instruction
The Americans with Disabilities Act of 1990, a federal law that applies to all states, and the landmark court case "Honig V. Doe" decided in 1988, require public school systems to offer special instruction for students with diagnosed problems, including emotional difficulties. School districts occasionally assign students to special private schools due to the lack of specialized district instruction. Districts also create special programs at public schools to offer kids techniques to tame emotions in the classroom, according to the National Dissemination Center for Children with Disabilities. Inclusion programs assign students to regular classrooms for core instruction with one or two classes in the special education teacher during the school day. Extremely large districts occasionally offer special schools reserved for students with emotional disabilities.
Summer Only
Special schools with curricula designed to teach children with emotional problems frequently offer summer school programs to teach kids self-monitoring behavior. This arrangement sometimes takes students away from the regular school, where they may feel a stigma for failing to handle emotions. Teachers in special summer schools have advanced training and special credentials to motivate children to handle anger and anxiety. KidsHealth says the special summer programs help build confidence and independence and give kids a chance to interact with other children to build friendships.
Treatment Centers
Special treatment centers and school camps integrate counseling and behavioral interventions for children with emotional problems with regular education provided by teachers at schools in the local school districts. Programs focus on changing behavior and allow students to attend classes based on personalized schedules. Kids unable to handle anxiety and stress might take only one class, while students mastering the program training enroll for a full day of classes at a nearby school. Center staff members monitor students and require teachers to submit daily progress reports for the children enrolled in the program.