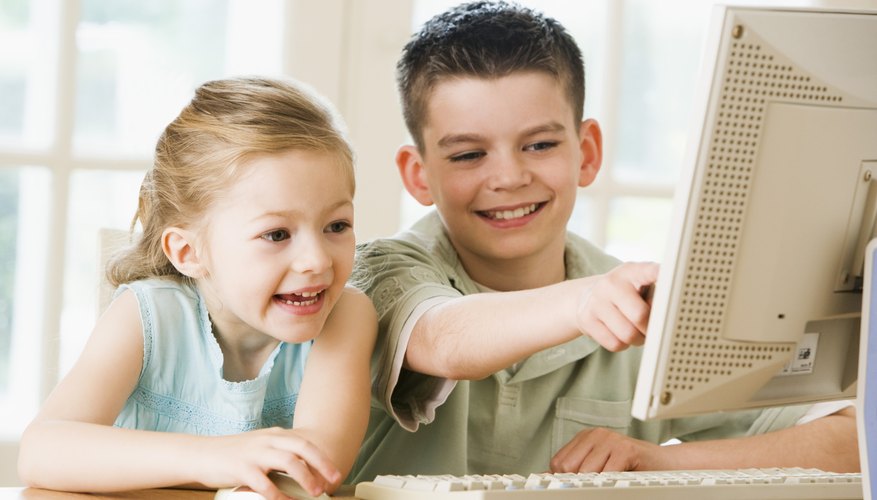 Teaching children the Spanish language doesn't have to be restricted to a classroom. There are a variety of online Spanish activities that can be utilized for children of all ages. Online games and visual learning tools on the computer have been shown to increase retention of foreign languages and proper pronunciation. Online foreign-language tools work for children by bringing the activities to life in a visually appealing and interactive platform.
Preschool Age
It is never too early to start submerging a child into a foreign-language program. Studies have demonstrated the benefits of second-language learning not only on students' linguistic abilities but on cognitive and creative abilities as well. Preschoolers have a variety of online Spanish activity options that can provide a base knowledge of the language. Spanish read-aloud programs can offer preschoolers the opportunity to hear another language spoken correctly. Scholastic offers books like "Clifford the Big Red Dog" in both Spanish and English. Allow your child to listen to the English version, then play the Spanish version. StoryPlace.org offers a large library of Spanish books that covers a variety of topics and allows preschoolers to mentally link the words they are hearing to a photo on a page.
Elementary Age
Children in elementary school can benefit from the read-aloud programs mentioned for preschoolers. However, they can also easily utilize interactive language programs. Scholastic offers a program called "Maggie's Earth Adventure" that includes Spanish activities aimed at improving grammar and memorization skills. Petralingua.com offers a full Spanish curriculum online that is designed for young children. The program teaches basic vocabulary in a fun and interactive manner. SpanishwithJudith.com is a website that offers many different activities to engage children in the Spanish language. The site includes songs, games, stories, riddles and poems that are spoken in Spanish utilizing a variety of teaching tools.
Middle School and High School
Middle-school and high-school children can utilize video-game style learning programs and more advanced programs. SpanishHour.com offers games to increase vocabulary, grammar and proper use of conjunctions. The games are advanced enough to keep older children engaged while promoting Spanish language skills. DigitalDialects.com is a website that allows teens to explore at their own pace. The site provides vocabulary for common terms and phrases in multiple categories.
Advanced Spanish
Many universities offer online Spanish programs for teens who are wanting to take their Spanish skills to the next level. Contact a local university to inquire about online Spanish programs that may be available to teens. Instituto Cervantes, in Chicago, offers a Spanish virtual classroom with online courses that can be completed through independent self study and a certificate that is provided upon completion.