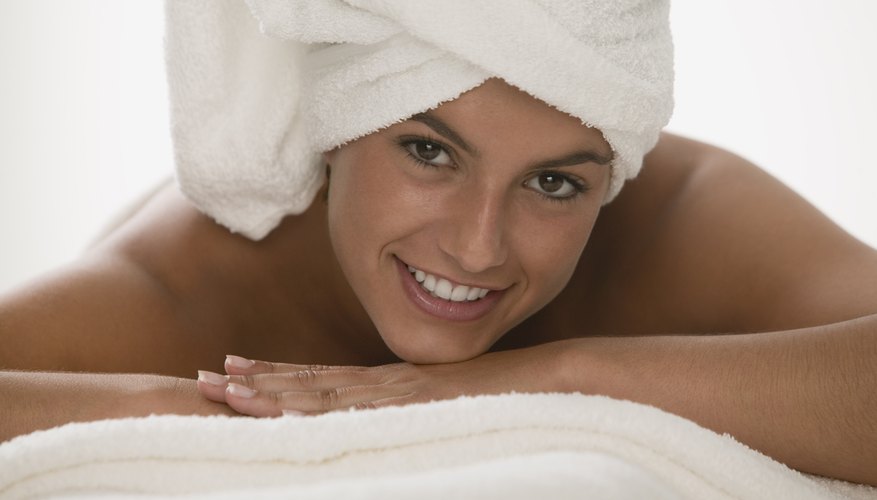 Just because your teen doesn't have any wrinkles or sun spots doesn't mean she and her friends can't enjoy a girls' spa night. Although many spas will be happy to host your daughter and her friends for the evening, other spas will be equally happy to perform services directly in your home. You can also create a spa scene without hiring outside help. The types of spa activities available can determine the pain or pleasure at the event, so discuss with your daughter in advance what she would like before you hire anyone or purchase any materials.
Nails Galore
Manicures, pedicures and nail polish are just the beginning of your teens' spa night. Gather and sterilize all the necessary tools for performing an in-home mani-pedi, including a nail clipper, nail file and cuticle trimmer. Sterilize the tools between teen users, using a jar of cosmetic sanitizer. A few feet of gauze rope and some festive hues of nail polish will let your teen and her friends take turns painting each others' nails.
Facial Care
Depending on your teen's age, she and her friends may enjoy a gentle scrubbing mask designed to exfoliate; or a clay mask, designed to remove and absorb impurities and oils deep inside the skin. If you're staging the spa night yourself, provide facial products for several skin types such as sensitive, dry and oily. Remember that what works well for your teen may cause her best friend to break out in an irritated rash. Chemical peels done by a professional can be specially formulated to treat teen acne.
Hand Treatments
If your teen and her friends play field hockey, lacrosse or gymnastics, their hands can take quite a beating. Paraffin gloves and a pumice stone can help restore moisture and protect delicate hand skin. If you don't have access to paraffin, let the girls apply a thick hypoallergenic cream and give them each a pair of spa gloves to wear, to optimize moisture absorption.
Foot Treatments
Your teen and her friend's will want to optimize their feet for moisturizing before donning paraffin booties. A foot file or foot grater can help remove dead skin from heels and balls of their feet, though you should ensure to sanitize the instrument between users. If dead skin is nonexistent, offer paraffin booties or thick foot cream and no-slip spa socks so the moisture soaks in properly.