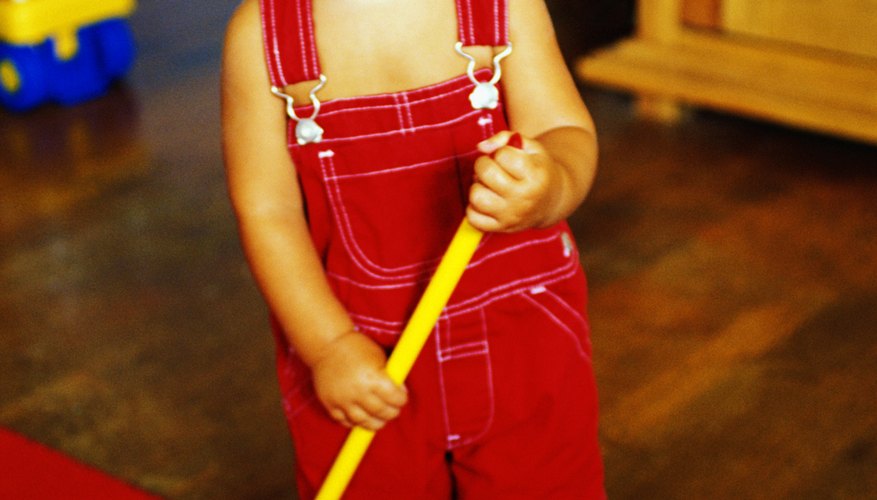 Some toddlers enjoy cleaning up about as much as they like going to bed – which is to say, not at all. After all, Mom, it's much more fun to dump the 240-piece block set out onto the floor than it is to scoop them all back up! It also doesn't help that "clean up time" can signal the transition into something much less fun, be it dinner time, bath time or bedtime. To help make cleaning up more fun for both you and your tot, take a cue from clever preschool teachers and learn a few songs to sing while cleaning up. Toddlers love music, and they love to dance; learning a few cute or silly clean up songs can make even a mundane task like cleaning more fun.
Barney's "Clean Up" Song
One of the most popular clean up songs is "Clean Up" sung by the beloved (or, utterly annoying, depending on your perspective) Barney, the giant purple dinosaur. The lyrics are simple and easy to remember -- and easy to repeat over and over if your little one moves at a snail's pace:
Clean up, clean up, everybody everywhere. Clean up, clean up everybody do their share.
"Let's Clean Up"
"Let's Clean Up" is a great song to sing if you typically ask your toddler to clean up at the end of the day before bed or bath time. The lyrics follow the tune of "The Farmer in the Dell," so it's easy for both you and your tot to remember, especially when you're wiped out at the end of a long day.
Let's clean up today Let's clean up today We've had our fun Our day is done. So, let's clean up today.
Sprout Clean Up Song
If your toddler is a fan of Nina and Star on PBS Sprout, he's probably like the popular clean up song from the channel's "Good Night Show." This is another great song for young kiddos to learn to sing before bed.
Get your toys up off the floor, doodley-doodley-do Put them in a box or put them in a drawer, doodley-doodely-do Put your things where they belong Sing our nightly clean up song Bit by bit and one by one Until you're done If you make a mess, clean it up and then Tomorrow we can do this all again.
Make Your Own Song
Finally, if you're even slightly musically inclined -- or, let's be honest, even if you're not -- you can take just about any popular melody and change the lyrics around to turn it into a clean up song. You could even insert your child's name to make it more personal. For instance, use a song like "London Bridge" and change the lyrics to:
Sally put your toys away, Toys away, toys away. Sally put your toys away, It's time to go to bed.
You get the idea. The point is to have fun and make it silly. If you're feeling really daring, you could even throw in a few dance moves while you're at it.