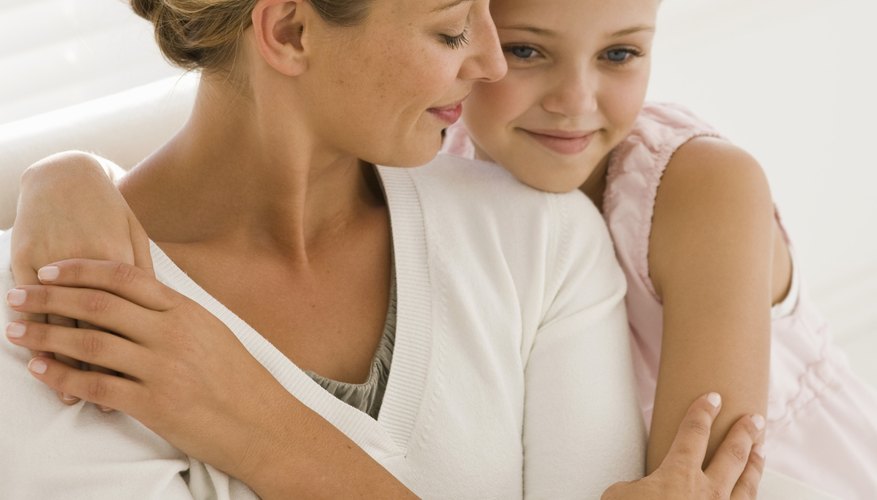 Of the various types of parenting situations possible -- such as single parents, married couples or grandparents raising children -- single mother situations account for slightly over 12 percent of American families, according to the 2012 U.S. Census Bureau statistics. With more than 10 million single mother-headed families in the United States, you are not facing the facts of raising a child alone. But if you are new to single parenting, getting situated often means taking steps to secure your financial independence, come up with a household budget and make time for your child.
Find appropriate housing. If you don't plan on staying in your current housing arrangement, immediately start to look for a new place to live. Depending on your child's age, you will need to look for specific amenities. For example, if you have a young child, you will need to find a house or apartment that is near a school -- preferably in a quality school district. Factor in your overall budget, income -- subtract your child's father's earnings if he isn't contributing to child raising costs yet, or recalculate based on your income plus any child support -- and figure out what you can afford to pay for rent or mortgage. Look for a place that not only fits your budget, but also is an acceptable size for your new family and includes any other extras you need -- such as a fenced-in backyard. If you can't afford your own housing, look to government grants for rental help -- such as Section 8 housing -- or mortgage assistance, such as the Hope for Homeowners program.
Ensure that you can financially support yourself and your child. According to the American Academy of Pediatrics, on their Healthy Children website, the majority of single mothers either already worked -- before becoming a lone parent -- or must find work after a divorce or breakup. Avoid feeling bad or shameful for leaving your child in day care or with an after-school sitter when you go to work. Although your new work schedule is a change for your family, the pediatrics group notes that working moms can act as role models for young girls to look up to and show their children that women can bring home a paycheck just like men do. Budget your money. If you aren't used to handling your own finances, sit down and figure out how much you have and what you can spend.
Talk to your child about your new situation. Avoid keeping her in the dark or giving dumbed-down versions of real answers. Ask your child to voice her feelings about your becoming a single-parent feeling. Encourage her to express any questions or concerns she may have. Support her emotionally and make sure she knows you are always there for her.
Make together time for your child. The American Academy of Pediatrics notes that single parents may actually develop a closer bond with their kids, spending more one-on-one quality time together. Plan activities together, such as going to the zoo or visiting an art museum, that fit into your new schedule. Allow for some flexibility and realize you may now have to plan around your new work schedule or the times when your little one is staying with dad.
Maintain your daily routines and rules. Instill a sense of security in your child by keeping as much of your life the same as possible. This may mean you consistently have dinner at your regular time of 6 o'clock or that her 8:30 bedtime stays the same. Keep discipline techniques the same as before the single-parent days. Work with your ex-spouse to establish rules you both enforce in the same ways in your separate homes. For example, if you have always used timeouts when your child refuses to share with her sister, continue with this strategy at your house and at dad's.
Tip
Take time out for yourself. Getting situated as a single-parent family is a challenge for all of you. Use your down time to read a book, go to a movie or have dinner out with friends.
Enlist the help of family and friends. You don't have to do all the child-rearing yourself. Grandma can help out and babysit after school if you are still at work, or Aunt Jane can watch the little one once in awhile when you have a girls' night out with friends.
Warning
Resist the urge to badmouth your child's father. While getting situated as a single mother is certainly difficult, telling your child that it's daddy's fault isn't going to help things get easier.