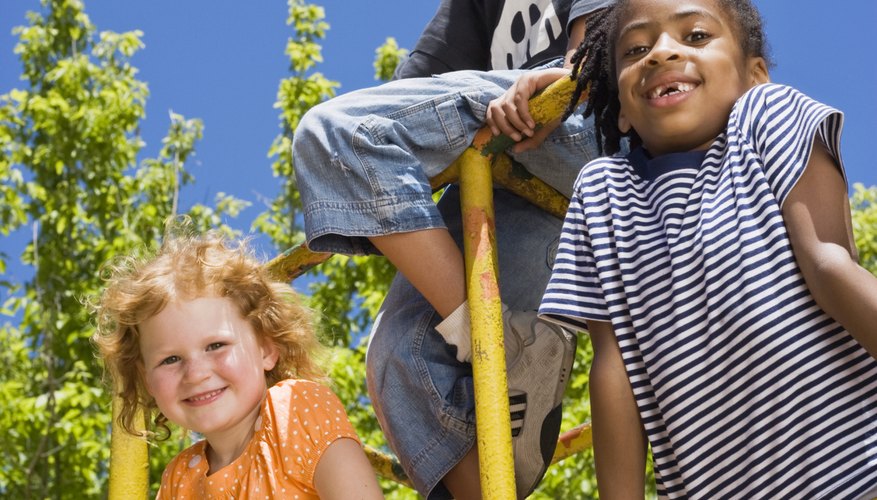 It's important for children to engage in physical activity throughout the day, and Scholastic.com says that recess for elementary school students not only improves academic performance, but also helps to combat childhood obesity. Many schools provide parents, teachers and students with a list of playground rules that keeps children safe, and encourages them to learn new skills. Information can generally be found on a school's website, or obtained by officials at your child's school.
Safety
Keeping the rules simple, general safety rules for elementary school playgrounds include no participation in contact sports, no playing tag in the playground area and no climbing on equipment that is not intended for climbing. Some elementary schools enforce dress codes to keep children safe, such as no flip flops or open-toed and open-heeled sandals. Students should also inform an adult if a ball goes over a fence during play to avoid the dangers of children running into the street.
Play Structures
Kids may be instructed to count to a designated number while playing on a swing to ensure fairness among everyone who wishes to participate in this activity. On monkey bars, students may be required to proceed one at a time, and may not be permitted to swing upside down on this equipment. On slides, students may be asked to slide down facing forward, and to move completely out of the way once they are finished.
Playground Games
Many playgrounds offer games such as basketball, kickball and four square. As some children may be unfamiliar with how to play these games, rules are often provided by teaching staff, in an official school document or on the school's website. Rules that are common among these sports may include the number of players permitted on each team, and appropriate use of the balls in these games, such as no kicking balls that are not intended for this purpose.
Social Interaction
Time spent on the playground is essential to helping children develop positive social skills. Playground rules that facilitate healthy social interaction among students include taking turns and resolving conflicts in an appropriate manner, such as using "rock, paper, scissors" to determine who will go first during play. Another important rule that many elementary school playgrounds may use is "no lock-outs," which means that no child may be locked out of an activity.