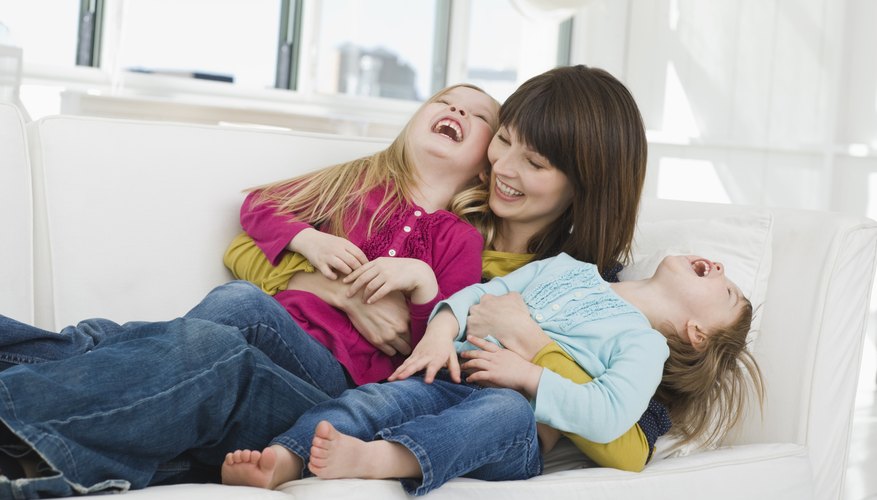 There's no denying that the thought of you not being around to raise your children can cause fear to run through you. No one else on earth could possibly care for your small children the way you do -- right? Although you shouldn't dwell on a negative future, it's wise to write a letter of intent to communicate your desires for your children if both parents die. Once you get the unpleasant details over with, you can focus on living every precious moment with your kids. Keep in mind, however, that a letter of intent is not a legally binding document, such as a contract or a will, but '"courts and future care providers will rely on it for guidance and insight into the needs of a child who can no longer be cared for by his or her parents. It serves as a voice on behalf of a child whose parents can no longer be that voice,'' according to the Bacon Wilson law blog on Bacon Wilson, PC.
Personal Information
Start the letter with personal information about your kids, according to the Bacon Wilson law blog. This includes the full names of your kids, their birth dates and their Social Security Numbers. If there are important relatives or friends of the family that you want contacted to be involved with your kids after your death, include these names and contact information to make it possible to reach these folks. These would be people your kids have a special connection with – grandparents, godparents, aunts or uncles, perhaps -- who can provide support and assistance for your kids while they deal with the shock of your death.
Financial Details
If your kids receive benefits from government programs or if you have set up trusts for your children, add these details to the letter to make sure that people know this information after your death. If you have bank accounts for your kids, include this information to ensure that your kids don't lose out on funds that are theirs. Include all the necessary information, so that those you name in your letter of intent will be able to act upon your recommendations. Seek the advice of an attorney, if necessary.
Housing Recommendations
This is where you give your recommendation on where and with whom you want your kids to live. You know your kids better than anyone else. If you think they should live with Aunt Gertie out in the country, say so in your letter. List your reasons, so your survivors can see the wisdom of your recommendation. For example, if your kids and Aunt Gertie have a special relationship and she can provide the type of living situation that you want for your kids – with horses and sheep and chickens in the farmyard – make these details abundantly clear. If you think your children may be served best by living with your brother's family in the heart of a culturally rich city, state that in your letter.
Children's Details and Activities
Spend some time writing down all the quirky details that you know about your kids because you've been raising them from the beginning. Does one child have a milk allergy? Write about it in this section of the letter. Does another kid hate beans and cucumbers? Provide these important details in the letter. Take time to give pertinent information about favorite foods, special toys, sleep routines, clothes your kids like and other daily routines. If your kids take tumbling classes or go to a playtime-at-the-park program, give these details. If your kids have any quirks or special needs, it's important to share this information in the letter.
Update It
Think of your letter of intent as an evolving letter that grows with your kids. Your kids won't be the same this year as preschoolers as they will in a few years in elementary school. Nicole Livingston, an Estate Planning Attorney, recommends that parents should update a letter of intent every year as kids grow and change. Save those outdated letters, too, because they'll be an interesting record of your kids' childhoods.