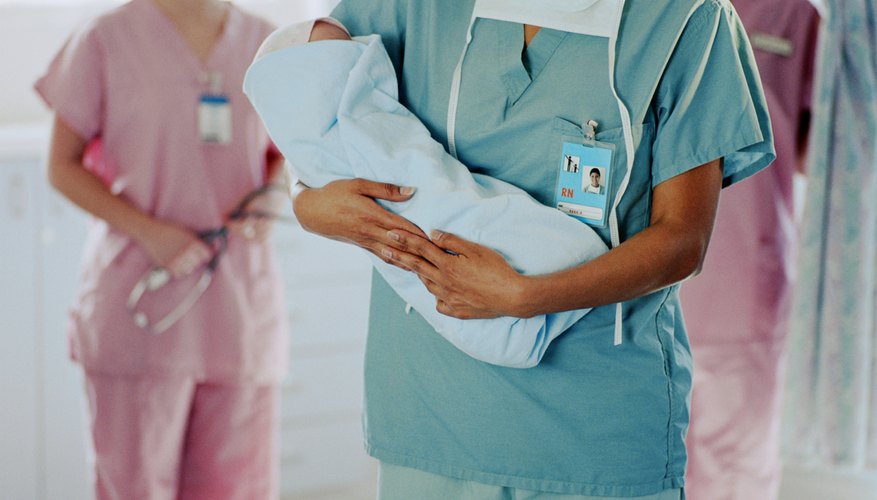 While general information about labor and delivery can help you mentally prepare, know two pregnancies and deliveries are exactly the same. The American Academy of Pediatrics encourages a new mom to have neonatal care from the time she considers the pregnancy through delivery. Your health history, as well as your family's, helps you and your doctor plan for your birthing experience. Your age and physical condition, and the development of your baby at the time of the delivery, determine the success or difficulty of the labor and delivery.
Signals Baby's Ready
Your obstetrician gives you an approximate date for natural birth, but your baby will come when she's ready -- and that may not match the official calendar. The March of Dimes tells new moms that labor has three stages, including contractions, baby moving into the pelvis, and the thinning and opening of the cervix. The time spent in labor varies widely from pregnancy to pregnancy. Your doctor may want to induce labor if you or your baby have complications or are expected to have them should labor not be induced.
Delivery Methods
There are various types of delivery you can select, but your health or your baby's development might make some delivery procedures more attractive to you and your doctor compared to others. The Cleveland Clinic reports that vaginal delivery is the most common type of birth procedure, but your doctor may need to help you in the birthing process by enlarging the vaginal opening with an episiotomy, breaking your water with an amniotomy procedure, helping with forceps or a vacuum or performing a cesarean section, a surgical procedure used to remove your baby through an incision in the abdomen and uterus.
Delivery Assistance
Your baby may need some medical assistance during the delivery, and your obstetrician can discuss the risks and possible treatments. At birth, approximately 1 in 10 newborns need some help in breathing, according to the American Academy of Pediatrics. Another common problem at birth is jaundice, a liver condition that sometimes combines with other diseases. Your doctor will immediately evaluate your baby, determine the severity and plan an appropriate treatment. This sometimes involves hospitalization in severe cases.
Getting Ready
Childbirth classes offer a way to learn about the birthing process, usually through video, instruction and talking to mothers about their experiences. These take the mystery out of labor and delivery and also help you in preparing yourself for the special event. The classes teach relaxation and other techniques that help you in labor, pregnancy exercises and other helpful knowledge and skills. A regular schedule of clinic or doctor appointments also helps you get ready for your baby's birth. Your doctor evaluates your unborn baby to determine development, and may move your delivery date forward or delay the event based on the medical examinations. Your visits also help your doctor plan necessary procedures for your specific delivery. Prenatal visits to your doctor are very important to your health and your baby's health.