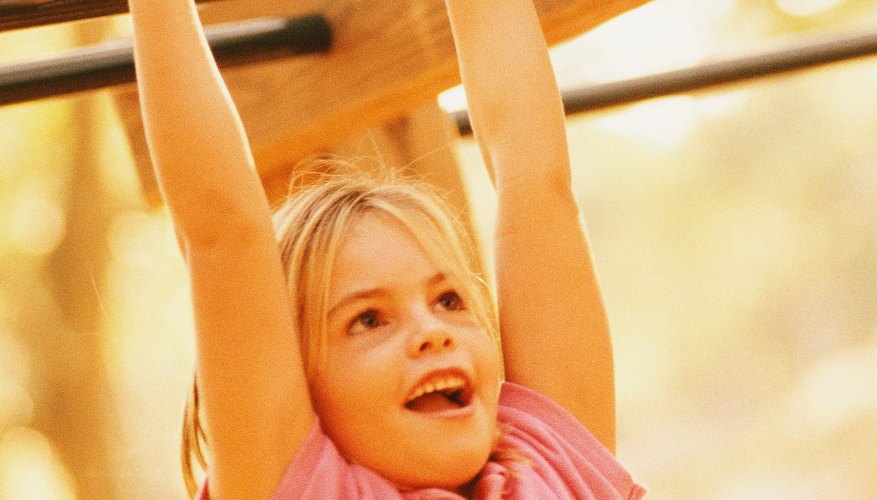 When you drop your little one off at day care or preschool, you probably don't just cross your fingers and hope that she stays safe while she is away from home. To keep kids safe while in child care, licensed centers must follow state or local public welfare or child services regulations for play equipment that the children use both inside and out. A school playground safety checklist should include licensing, regulatory and safety items.
Playground Surface
Playground safety at day care or preschool isn't just about climbers and other equipment. Any school checklist for outdoor play areas should include surfacing materials. If you have not-so-fond memories of your childhood playground's concrete surface -- and the resulting scraped and skinned knees -- your child's playground won't have this problem. The Consumer Product Safety Commission issues guidelines for schools to follow that ensure the safety of the surfacing materials. Your little one's playground should have a shock-absorbing surface, such as wood chips, mulch, sand or pea gravel. Asphalt, concrete, dirt and even grass are too hard and aren't fit for safe children's playgrounds.
Equipment Materials
If you see that your child's preschool playground's equipment has peeling paint or old-looking wood, take note of what is -- and isn't -- safe for young children. Any licensed child care center should have equipment that is intact and has no peeling paint or rust. On the other hand, bare metals -- according to the CPSC -- aren't acceptable either. These may heat up in direct sunlight and cause burns to little hands. Wooden play sets are perfectly allowable, as long as they have naturally rot- and pest-resistant treatments. Pressure treated wood that contains caustic or toxic chemicals is not safe for young children. While it's unlikely that even the most adventurous toddler will try to eat the wooden playground equipment, it's not out of the question that your child would put his hands in his mouth after a morning on the pressure-treated climber.
Climbers and Equipment
Not every child can use exactly the same playground equipment. A safety checklist should evaluate the equipment in terms of the children's ages. For example, the CPSC notes that ramps, straight stairways and step ladders are acceptable for toddlers, while rung ladders aren't safe until the child reaches preschool age. When it comes to climbers, arched styles and flexible versions that use ropes or cables are only for use on playgrounds for kids in preschool and up.
Supervision
Aside from the actual equipment and makeup of the outdoor play area, a school playground safety checklist should cover supervision. You should expect to see the same number of staff members outdoors as you would see indoors during class time when it comes to adult-child ratio. The specific for licensed centers vary by state or local agency, but should include enough teachers and assistants to cover every area of the playground. Additionally, the staff should actually supervise the children at play and not use outdoor time as an opportunity to gossip with each other or text friends on a cell phone.