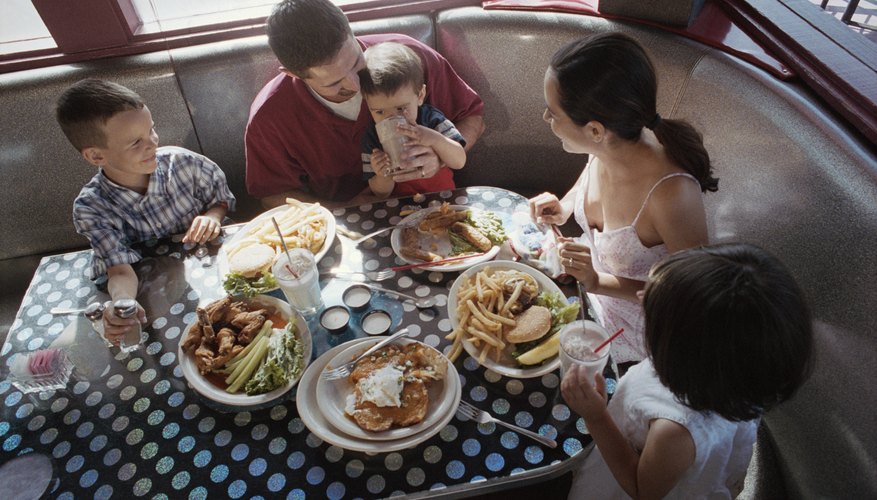 If you're the mom of a toddler or preschooler, you definitely deserve a break from cooking every now and then! As much as going to a restaurant and being served a meal instead of cooking one yourself is a treat, eating out can get expensive. To make it more affordable, you can choose one of the restaurants in the St. Louis area where the kiddos eat free.
Every Day
Some restaurants in St. Louis offer kids eat-free deals every day. If your cutie pie is age 3 or under, he can eat free any day of the week at Golden Corral (goldencorral.net). This eatery has a huge buffet with food choices like pot roast, chicken, veggies, macaroni and cheese, spaghetti and tons of desserts. At O'Charley's, every kiddo age 10 and under eats free with one adult-meal purchase. Your sweet pea can choose from a hamburger, grilled chicken breast, shrimp or chicken tenders, all with a side item. All little ones ages 3 and under eat free at CiCi's Pizza (cicispizza.com) every day. This restaurant has a buffet with pizzas, pasta, salad, soup and desserts.
Weekends
On Saturdays, you can take the family to Lone Star Steakhouse (lonestarsteakhouse.com) from 11 a.m. to 4 p.m. for free kids' meals. Kids' meal choices include chicken tenders, a hamburger or grilled cheese with a side. Visit The Pasta House Co. (pastahouse.com) on a Sunday for free kids' meals. Your little monkey can choose from spaghetti with a choice of sauce, fettuccine Alfredo, pizza, cheese tortellini, mac and cheese or ravioli. Dickey's Barbecue Pit (dickeys.com) offers free kids' meals on Sundays as well. Kids' meals include chicken nuggets and fries, a plate with barbecue meat, or a barbecue sandwich, along with macaroni and cheese. All three meals come with a hot roll.
Monday to Wednesday
On Mondays, you can get free kids' meals at Culpepper's (culpeppers.com). The kids' menu has toasted ravioli, grilled cheese, chicken strips and cheeseburgers. On Tuesday, enjoy lunch or dinner at Chevys Fresh Mex (chevys.com) where kids eat free with an adult purchase. Your little busy body has the choice of a bean and cheese burrito, soft taco, cheese quesadilla or crispy taco. Sides include grilled veggies, sweet corn tamalito and fresh fruit. For dinner, after 4 p.m. on Wednesday, take your family to Lazy River Grill (lazyyellow.com). The kids-free menu includes burgers, grilled cheese or fish.
Thursday and Friday
On Thursdays, you can feed your little princess for free at Rich and Charlie's (richandcharlies.com). She can have pasta, chicken or a hamburger. Eat at IHOP (ihop.com) on Friday after 4 p.m. for free kids' meals. Your sweetie pie can have pancakes, french toast, fish or crispy chicken strips. You can also take her to Incredible Pizza Company, where kiddos age 3 and under eat free. The Incredible buffet has a pizza bar, pasta bar, homestyle bar, salad bar, fresh fruit and kids favorites, like macaroni and cheese and gelatin. Don't forget to visit the dessert bar after dinner for fresh cinnamon rolls, giant cookies, cobbler and ice cream.